I've been mostly inactive in the high-yield space, sitting on my holdings and rotating through bond closed-end funds (CEFs) as discounts declined. I have also stayed on the sidelines when it comes to business development corporations, or BDCs, as I felt the risk/reward profile of these was unfavorable after the recent run-up which caused them to blow away high-yield bond funds.
Yet one high-quality standout remained on my radar, and I finally dipped into it yesterday with plans to double my position sometime after it releases earnings. That standout is TriplePoint Venture Growth BDC (NYSE:TPVG), a very small-cap fund yielding over 14%.

Click to enlarge
While most of its peers have recovered to trounce the S&P 500, let alone my bond funds, TPVG is clinging to 14% YTD declines which account for the majority of the fund's post-IPO slide, causing its discount-to-NAV to reach 38.5%. The market clearly sees trouble with TPVG, but I do not.
Why The Decline?
Recent bitter memories of dividend cuts at Prospect Capital (NASDAQ:PSEC), Medley Capital (NYSE:MCC) and Fifth Street Finance (NASDAQ:FSC) were alarm bells that poorly managed BDCs would underperform the better ones. Because of its youth, the management quality of TPVG is not terribly clear, so the market has reduced the stock price by 34% since its IPO, with most of that decline coming in the last 9 months.
There are bigger concerns with TPVG. Its debt-to-equity ratio remains far too low. It hasn't risen much since Q2 2015, when it was just 0.25 - far below any other publicly traded BDC. Now at about 0.39, it's still a massive underutilization of the company's leveraging capabilities.
Another concern is more systemic in nature. Rumors have been swirling around for some time that venture capital funding is drying up in Silicon Valley, causing valuations to decline and making the infamous "down round" become a more common reality. The story has been everywhere in the press for about a year; just look here, here, here, and here.
Since TPVG effectively acts as a venture capital fund, these lower valuations can theoretically hit the company's holdings.
Fund Characteristics
Or so the theory goes. In reality, TPVG's portfolio is significantly less exposed to this decline in VC funding than one would immediately assume. Of the company's 85 investments, 47 are debts and 31 are warrants, comprising 98.7% of the company's total portfolio. These investments will not decline in value even in a down round; falls in equity just don't affect debts if they are held to maturity.
Additionally, the company's risk of losses from loans is limited by its focus on high-quality, high-growth firms that need capital now to grow their operations: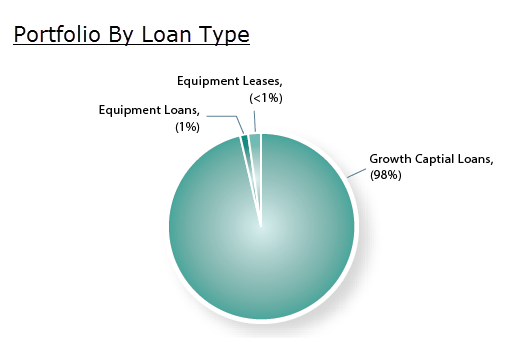 Source: TPVG.com
Portfolio Composition
The company's investments themselves are also quite boring by Silicon Valley standards. This is a good thing. Instead of facing 59% markdowns like bigger investment firms buying hot tech companies such as Dropbox, Airbnb and Uber, TPVG is seeing its NAV remain resilient. This in part thanks to its very diverse portfolio, ranging from database software to biomass firms: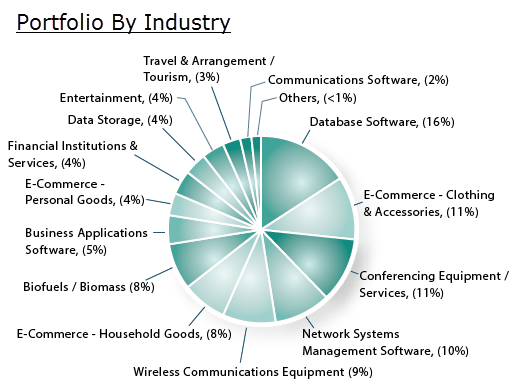 Source: TPVG.com
The actual firms that TPVG invests in are also benefitting from the demand from larger funds to buy high-growth startups, as CEO Jim Labe pointed out on their latest earnings call:
"Nutanix, they came out in confidentiality and announced the planned public IPO. Jasper announced the pending acquisition by Cisco. Hayneedle announced its acquisition by Jet.com. And ThinkingPhones announced the very large equity raise at a healthy uptick in valuation. All of these happened in the last two months."
Many other companies in the portfolio are what one could call steady growth stories in niche markets. Dollar Shave Club, for instance, has quickly stolen market share from Gillette, urging parent company Procter & Gamble (NYSE:PG) to sic the lawyers on them. Similarly, Birchbox is for female consumers what Dollar Shave Club is for men, and its monthly subscription model has been working for the firm. Wisely, Birchbox has "avoided the temptation of huge investors, opting rather to grow conservatively and strategically over the years," as Racked.com put it.
That means steady income growth, which is good for Birchbox's creditors. Which means it's good for TPVG shareholders, too.
Dividend Coverage and Dividend/NAV Ratio
With an emphasis on stable growth rather than high-profile multi-billion dollar valuations, TPVG's portfolio has seen its income stream remain strong even with a massive portfolio yield that appears unsustainable. The company's weighted average portfolio yield rose to 17.9% by the end of 2015, up from 16.9% the prior year. Net investment income in 2015 was $1.44 per share net of fees, up 8.3% from the prior year.
That means a 100% payout-to-NII ratio, which is high but not too big of a concern, if the company provides upside from equity stakes and more deployment of capital. Plus, the company's $25 million share repurchase program can also cut down on the payouts to shareholders, further increasing dividend coverage.
Most crucially, the firm's dividend-to-NAV ratio is 10.1%, as of the end of 2015. With that in mind, sustaining payouts should remain extremely easy for a company whose portfolio is yielding nearly 18%.
Conclusion
TPVG has become undervalued as a result of a broad-based worry about drying up venture capital, concerns about the BDC universe broadly and about the company's short, untested history. Yet the fundamentals of the company's strategy, portfolio makeup and investment strategy are far more impressive than you would expect from the stock's 14% yield and 38.5% discount-to-NAV.
For these reasons, I have purchased TPVG as a means of boosting my portfolio's overall yield and providing exposure to the technology sector which my CEF-focused portfolio does not offer. To hedge my bet on this name, I will wait until its earnings call; after that, I'll most likely buy more.
Disclosure: I am/we are long TPVG.
I wrote this article myself, and it expresses my own opinions. I am not receiving compensation for it (other than from Seeking Alpha). I have no business relationship with any company whose stock is mentioned in this article.