Company History
Bertrandt (OTC:BDGXF) was originally established in 1974 by Harry Bertrandt to design car components for local producers. In 1993, there was a management buy-out by Dietmar Bichler and Heinz Kenkmann and in 1996 the company was listed on the stock exchange. In 2000, Bertrandt expanded into aviation engineering followed by further expansions into new industries and additional service offerings. Today Bertrand has around 12,000 employees in 47 Locations worldwide.
Business Overview
Bertrandt is one of Europe's leading engineering partners, providing customers with specific and tailored solutions in Europe, Asia and the United States. The services for the automotive and aerospace industries include all process steps from the project phases of conceptual design, CAD, development, design modeling, tool production, vehicle construction and production planning right through production start and production support. Furthermore, the individual development steps are validated by simulation, prototype building and testing. Additionally, with its subsidiary Bertrandt Services, the Group provides technical and commercial services throughout Germany in future-oriented sectors such as electrical engineering, energy, mechanical engineering and medical technology.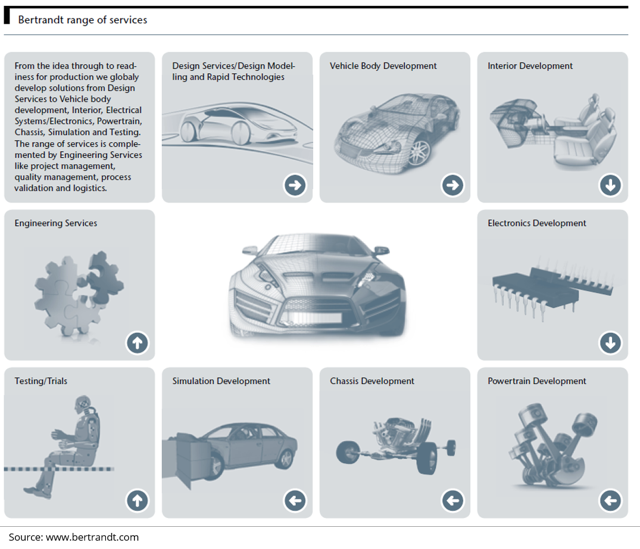 Following 3 practical business examples to make Bertrandt's service offering more comprehensible:
Car Development and Construction
For the development of the fifth Opel Corsa generation, Bertrandt was involved from the initial concept to the start of the volume production. Their expertise was demanded for the development and design of:
Interior (instrument panel, door trim, roof liner, floor coverings / insulation)
Body
Doors / closures (door, tail gate)
Exterior (bumpers, grille)
Lights (headlights, rear lights, third brake light, fog lights)
Electrics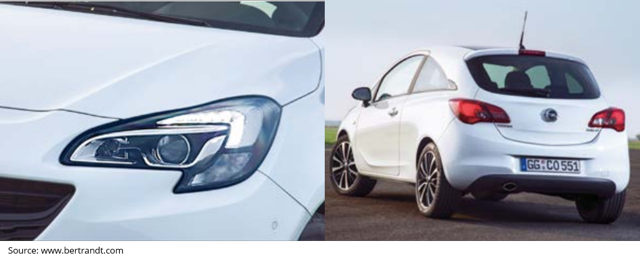 Testing and Simulation
Bertrandt offers a wide range of testing and simulation facilities. Recently it extended its test facility for heating, ventilation and air conditioning. Especially, the air conditioning of vehicle interiors is becoming more and more important. The widespread introduction of start / stop systems and the growing number of electric vehicles means that the level of noise emissions produced by air conditioning systems needs to be reduced. It is now possible to do specific tests for air vents and to analyze the flow noise during the development process.
Engineering Services
The last example is one outside the car industry, where Bertrandt supported Terex (NYSE:TEX), a provider of complete port equipment, such as crane systems, AGVs (automated guided vehicles) and indispensable automation know-how. For a new automated port logistics system for containers in Rotterdam, Bertrandt developed a tailor made control software together with Terex. The software controls the access at the gates, barriers and doors and also, in extreme cases ensures that all driving AGVs do not penetrate a "taboo zone" which has been blocked off to allow port staff to carry out maintenance work.
Financial Overview
The financial development of the last 5 years was very strong, with revenue more than doubling to EUR 930 million. It is also a positive sign that this strong revenue expansion did not lead to lower EBIT margins. Bertrandt achieves 90% of its revenue from the automotive industry and is therefore quite dependable on its development. Hence, a key driver were global car sales which increased from EUR 66 million in 2009 to EUR 88 million in 2014 and lead to record high earnings and large R&D budgets in the automotive industry. In addition, there is a general trend of increased outsourcing from which Bertrandt benefits directly.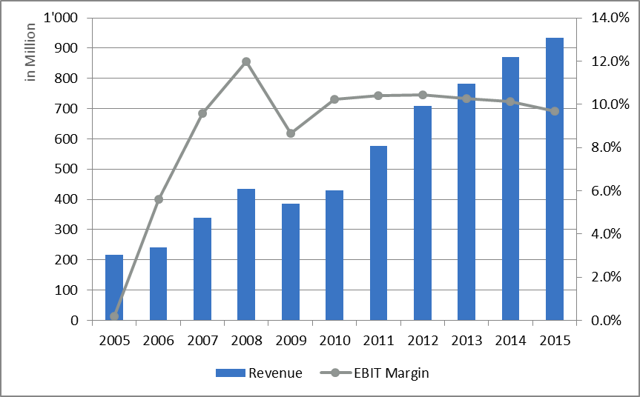 (Source: author's work)
The increased revenue is also reflected in the net income which doubled in the last 5 years from EUR 30 million to EUR 62 million in 2015. In the last fiscal year, the net margin decreased slightly and earnings were flat compared to 2014. The company reported that "several factors, including the unexpectedly severe flu outbreak in Germany during the first quarter of the calendar year as well as the structural and startup costs associated with record levels of investment" led to a lower level of profitability.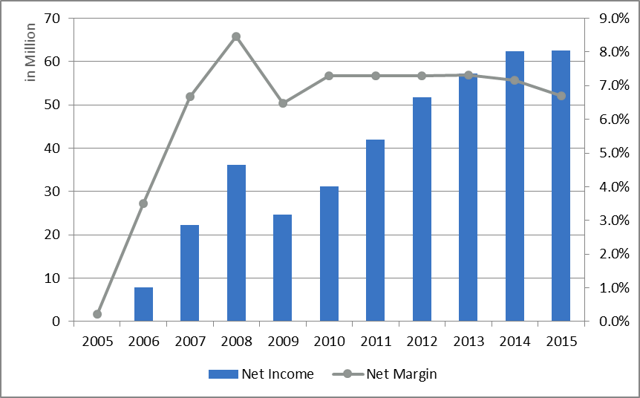 (Source: author's work)
To be able to operate successfully in the market and continuously expand the scope of products and services, Bertrandt invested heavily in infrastructure and facilities. In the last fiscal year it increased investments with another 27%, to a record high of EUR 85 million.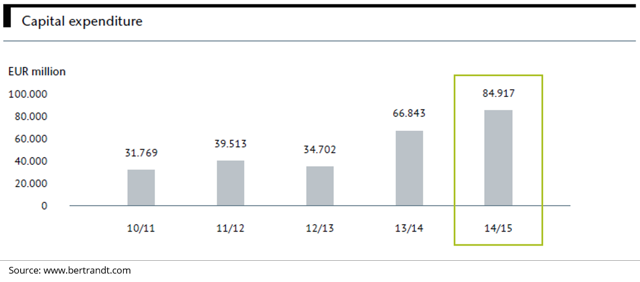 Due to the strong financial position, Bertrand financed all their investments with internal cash flows. The debt level is very low, with EUR 40 million of their EUR 180 million credit facility currently used. It is planned to keep the capital investments high which is also reflected in the current Q1 investments of EUR 27.5 million. To secure financing for further long-term investment decisions, a bonded loan of EUR 200 million was issued in the first quarter of FY 15/16. As a consequence, the equity ratio will decline to roughly 50% which still, is a healthy value.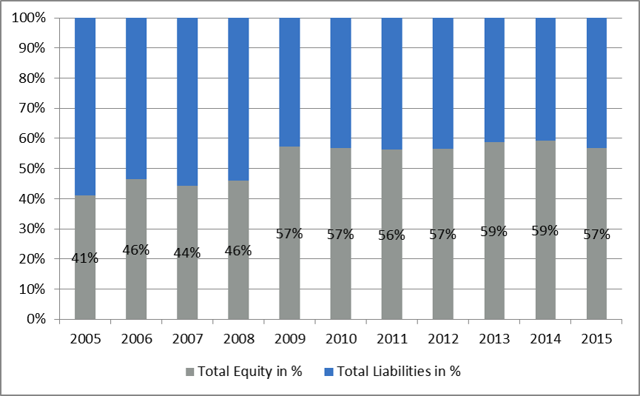 (Source: author's work)
The rapid growth the company has experienced in the last 5 years has clearly left its mark. One consequence of the rapid expansion are decreased rates of return. As shown below, the return on equity is 5% lower than the 25% in 2012. The same is true for the return on capital, however with 17.5% it is still an excellent value, and far above the average cost of capital. The company is clearly generating a lot of value and the continuously high rates of return are a sign, that there must be some sort competitive advantage.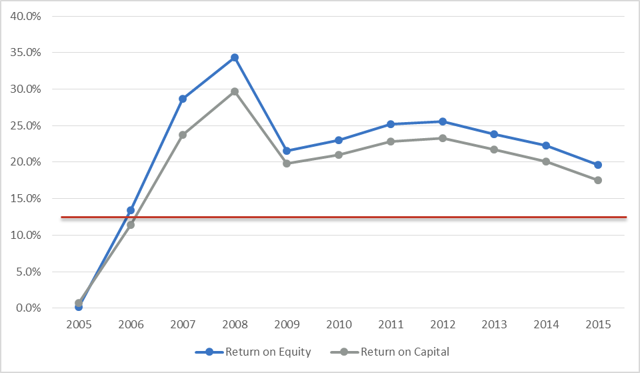 (Source: author's work)
Capital Allocation
From a capital allocation perspective, there is not so much to mention. Bertrandt pursued a consistent dividend policy with increasing payouts in the last 5 years. The positive free cash flow certainly stands out, given the high investments undertaken in the last couple of years. The negative free cash flow in 2015 was driven by an unexpectedly lower operating cash flow. The company noted that more funds were tied up in current assets due to operations related to one client and general increased operating activities. However, for the first quarter of FY 15/16 the reported free cash flow number was again positive.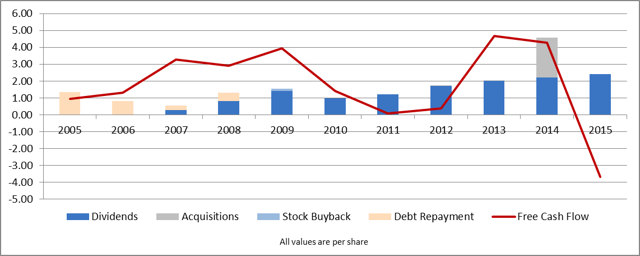 (Source: author's work)
Risks
Besides the more general risks such a financial risks, unknown price development, human resource and IT security, Bertrand faces 3 major risks currently:
Change in OEMS' outsourcing strategy and size of the awarded projects
There is the risk that OEMs will start again to render more engineering services themselves. In addition, there will be legislative changes in governing employee leasing or the contents of contracts for work. The impact of these changes cannot be conclusively assessed at this moment.
The end of the current growth cycle in the automotive industry
While the automotive industry has seen a 6-year growth period, the increase in global car sales started to slow down and was probably flat in 2015. Given the current economic conditions, particularly in emerging markets, a decline in global car sales in 2016 is possible.
Risks related to the growth strategy of the company
The rapid expansion of Bertrandt along with ever increasing capital investments could lead to financial or operational issues. So far Bertrand digested the growth well but with declining revenues it could have a temporary impact on the financials.
Valuation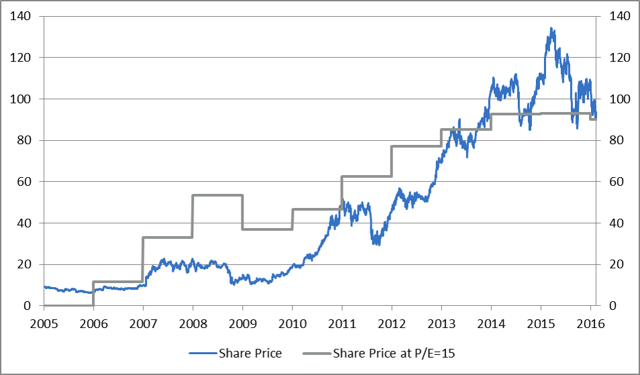 (Source: author's work)
The share price of Bertrandt had a great run, increasing from EUR 20 in 2010 to a high of almost EUR 140. In the same period, the dividend was increased every year to 2.45 Euros per share, providing investors with a yield of 2.6%.
The shareholder structure is quite stable with Porsche, the Friedrich Boysen Holding, management and employees holding together around 53% of all shares outstanding. It is also worth mentioning that there are no share option programs, and therefore no share dilutions.
Key Figures

(Source: author's work)
Conclusion
Bertrandt is a well-run business with a long-term oriented growth strategy. The revenue and income development over the last couple of years was impressive. Having return figures persistently above 20% shows that the company has created a lot of value. Therefore, Bertrandt certainly belongs on my Watchlist. At the current share price, I am however not a buyer. I feel like global car sales might have reached a temporary peak and a decline could have a negative revenue impact. Therefore, I wouldn't be surprised if we see slightly lower income numbers in this and maybe next year. But this could then offer investors the chance to buy this great company at a more attractive price.
Disclosure: I/we have no positions in any stocks mentioned, and no plans to initiate any positions within the next 72 hours.
I wrote this article myself, and it expresses my own opinions. I am not receiving compensation for it. I have no business relationship with any company whose stock is mentioned in this article.