If you're a long-time InterOil (NYSE:IOC) shareholder you've had plenty of chances to laugh at all the skeptics who over the years have derided the oil and natural gas exploration company for its fantastical claims and not so fantastic results. If you were lucky (and brave) enough to ride InterOil up from under $20 in 2009 to the mid sixties today, it may be high time to take profits.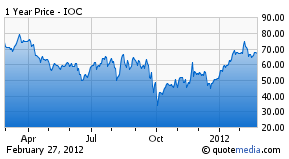 In case you haven't been paying attention, billionaire and hall-of-fame investor George Soros recently sold 2.56 million shares of InterOil, reducing his share of the company (which stood at around 12% a little over a year ago) to just over 3% currently. Now, it very well could be that Mr. Soros is simply taking some money off the table after realizing a gain over 100% on his holdings of IOC (he began accumulating his position in 2009 at around $33 per share according to the New York Times). However, it seems more likely that the legendary investor has some information the rest of us don't and I'm willing to bet it has something to do with the company's long record of failing to deliver on its grandiose promises.
In case you are unfamiliar with the InterOil saga, I'll give you the (very) short version courtesy of Business Insider:
Around a decade ago, the company acquired the rights to some land in Papua New Guinea that several other companies had explored and abandoned. Since then...it has been one exploration and press release after another, [promising record-breaking natural gas finds, none of which has come to fruition].
As noted in the New York Times, hedge fund manager and Warren Buffett disciple Whitney Tilson has called the company "one of the greatest promotions ever" and notes that InterOil "...has no reserves--not proven, not probable, not even possible." Some important things to remember about the company: it lost 40% more money ($19.8 million) in the third quarter of 2011 (MRQ) than it did in the same period in 2010 on lower margins and the company still has not found an operating partner for its Gulf LNG projects in Papua New Guinea despite numerous press releases promising that a partnership is in the works.
But perhaps the most important (and definitely the funniest) thing to know about InterOil is that it is a $65 oil and gas stock that "has no reserves as defined in Canadian National Instrument 51-101 Standards of Disclosure for Oil and Gas Activities." In other words, it's an oil and natural gas company with no proven oil or natural gas. As if that isn't cause enough for concern, consider the following suspicious statement which appears in the company's quarterly investor presentation: "...InterOil includes in this presentation information that the SEC's guidelines strictly prohibit InterOil from including in filings with the SEC." InterOil investors: take a page out of George Soros's book: quit while you're ahead. Short InterOil, it's just a matter of time before the company can no longer keep up the facade.
Disclosure: I have no positions in any stocks mentioned, but may initiate a short position in IOC over the next 72 hours.