MGM Resorts (NYSE:MGM) recently decided to spin off its real estate portfolios into a REIT known as MGM Growth Properties (Pending:MGP) that will have an IPO price of $21 and begin trading on Wednesday, April 20th. The IPO is expected to raise more than a billion dollars while MGM shareholdes retain 76% of MGP and its portfolio. MGM is now pushing near the 52-week high of $24 as the economy recovers from the February lows.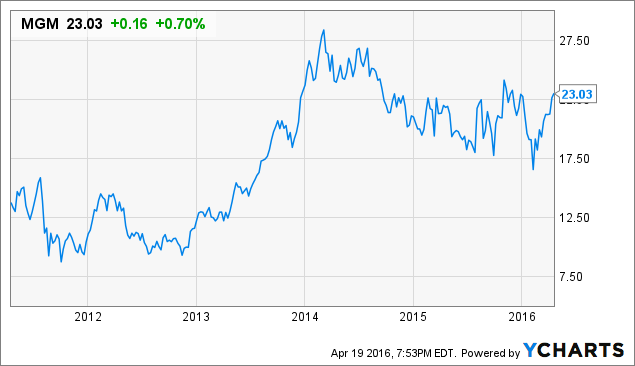 One of the criticisms of REIT's in general has been the high valuations that are difficult to accept as a buyer. Much of this has been attributed to systemically low interest rates which leads to investors chasing dividend stocks and REIT's. Below is the Dow Jones All REIT Index, consisting of REIT's that hold American properties. Investors can easily identify that the overall REIT market is approaching resistance levels not seen since 2007 before the market downturn. This April resistance is a common theme in many of the sectors of the market right now as the upward-holding pattern continues until the Fed tightens.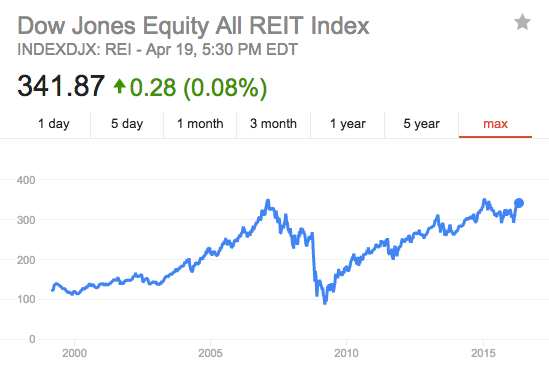 Pro Forma Results
A key tool for investors in evaluating an IPO is the pro forma publication that MGP has released. Over 2015, MGP estimated that the REIT would have had an EPS of $0.92 on revenues of $600.4mln. At $21 a share, this implies a P/E ratio of 22.83 on the pro forma 2015 results.
However, the Dow Jones All REIT Index trades at a projected P/E of 36.64 and trailing P/E of 41.80 as of the end of March. If investors were to attach these P/E ratios to MGP, the share price would be valued at $33.71 and $38.46 respectively. This would imply an upside of 60.5% and 83.1% at each P/E.
A key quality of MGP is the outlook for growth of the portfolio, not just generating earnings. The structure of the deal includes a 2% rent increase for 5 years which would give shareholders another $60mln in revenues.
Finally, since MGM is the tenant to the properties under MGP, the revenue stream of MGM must be called into question to fairly assess the risk. The corporate rent coverage ratio, or the ratio of earnings before interest and taxes to the rent (or fixed costs) is a simple way to see if a company can pay its bills.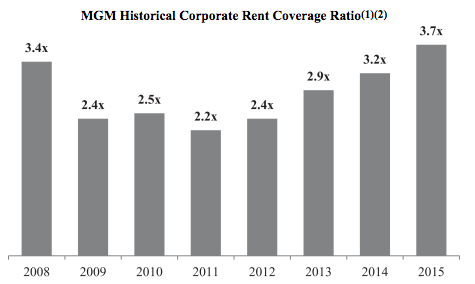 Personally, it is mildly impressive that MGM was able to maintain the ratio that it did over the downturn. MGM also operates in Macau, China and receives revenues from that business as well. MGM has a diversity in the revenue stream which helps the risk level. For example, MGM and MGP are not 100% reliant on one another (the property for sales and the sales for rent) due to MGM's other revenue streams that exist outside of MGP's portfolio. The Bellagio is another successful resort in Las Vegas that MGM profits from but is not included in the REIT, however MGM earnings from the Bellagio can flow into MGP shareholders.
Theoretically, MGP's stream of revenue is insured by the revenues from MGM's businesses in Macau, China as well. A recent article called Macau, China the next great gambling hub and said "compared to Macau, Vegas is just a drop in the bucket". Macau looks to expand further in gaming as China transitions to a consumer economy. MGM is well positioned in this market as well.
MGP Portfolio of Assets
First, the MGP portfolio includes 10 properties in the United States (7 in Las Vegas, 2 in Mississippi, 1 in Detroit). Also, MGM (and thus MGP) are planning on two additional properties to the REIT: MGM National Harbor (Washington D.C.) and MGM Springfield (Boston, MA). Below is the current list of assets (excluding the two planned resorts). MGM National Harbor is expected to cost $1.3bln in total while MGM Springfield should come in at $865mln. Both of these opportunities for MGP to show growth without an acquisition should increase the valuation as well.

Click to enlarge
MGM most likely observed the 'hot' REIT market and thought it was a good time to raise some capital to pay down debt and finance more projects (and I don't blame them!). This REIT raises an estimated $1bln in capital and MGM owns 50.6% of MGP and looks to profit as well (while possibly using the stake in MGP to secure financing).
A casino REIT clearly has sector exposure for investors if consumers decide to save or sentiment falls. However, the data at the moment points to a continued uptrend in Las Vegas tourism, and not just the gambling revenues! In fact, gambling revenues have remained relatively flat after the 2007-2009 crisis while the casino stocks get a boost from non-gaming revenues. This may be from the increasing costs to room rates in Las Vegas, however an increase in room rates to me means that casinos are having an easier time getting consumers in the doors.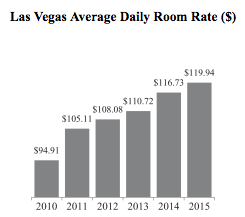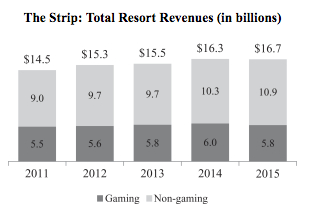 Gambling stocks often lead an economic downturn as consumers tend to cut discretionary (especially gambling) funds first. While MGM was able to continue making its payments to MGP as judged by the pro forma publication, a brief overview of the state of consumer spending can define the risk more.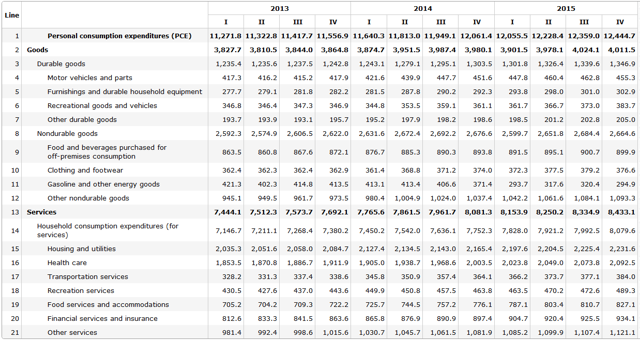 Click to enlarge
Source: Bureau of Economic Analysis
Overall, personal consumption expenditure is on the rise. However, the two pieces of data that stand out to me the most are: 1) food services and accommodations and 2) clothing and footwear.
Remember the increasing non-gaming revenues and stagnant gaming revenues chart from before? These two consumption categories will fuel MGM revenues which in turn lowers the risk of MGP and increasing the valuation (due to a decreased discount factor).
Valuation
I have already mentioned a price target using P/E ratios on the overall market for REIT's. However, MGM International currently holds a forward P/E of 22.6 and earnings are to be released on May 4th. The closest comparison to MGP is Gaming Leisure Properties Inc. (NASDAQ:GLPI) and their collection of 21 regional properties.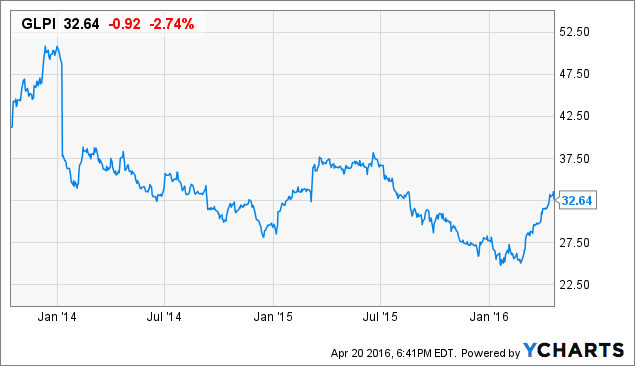 GLPI trades at a P/E of 30.86 and a dividend yield of 6.6%, however the portfolio composition of GLPI is much different from MGP. Much like MGP and MGM, GLPI is mostly controlled by Penn. National Gaming Inc. (NASDAQ:PENN) which in this structure is the "tenant". PENN is in the business of regional casinos which I believe attracts a very different intentioned consumer than those arriving in Las Vegas (or DC or Boston).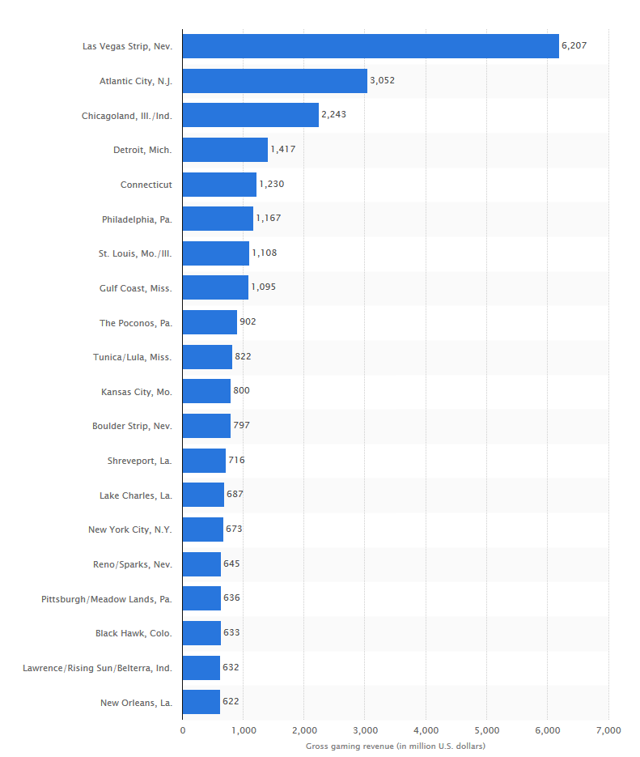 Click to enlarge
Source: Statista 2016
Above shows the 2012 revenue makeup of casinos in major markets in the United States. GLPI has properties in Louisiana, Maryland, Illinois, Missouri, New Mexico, Nevada (The M Resort), Indiana, Maine, Ohio, Mississippi, Pennsylvania, and West Virginia. However, none of these properties exist in the top two gaming markets: Las Vegas or Atlantic City.
The other contrast between GLPI and MGP is the difference in the businesses located on the property. Las Vegas is benefited by musicians, sports events, and services that contribute to the non-gaming revenue in various ways. However, it is much less clear how regional casinos will increase their non-gaming revenue without undergoing massive investments. Furthermore, many regional casinos lack the weather or draw that Las Vegas provides to many tourists.
Conclusion
The thesis of my analysis lies in the risk level of casinos located in Las Vegas. GLPI has managed to convince the market of its (in my opinion) high valuation and if MGP can do the same, investors may realize the upside and return on investment.
Therefore, because of the potential for MGP to reach the upside and the relatively low level of risk, I am initiating coverage on MGP as a Buy with a price target of $32 based on similar asset valuations, economic conditions, and the underlying strength of MGM.
Disclosure: I am/we are long MGP.
I wrote this article myself, and it expresses my own opinions. I am not receiving compensation for it (other than from Seeking Alpha). I have no business relationship with any company whose stock is mentioned in this article.