Is Union Pacific (NYSE:UNP) a buy after a troubled 2015, and what looks to be a troubled start to 2016? Do a few "bad" quarters an opportunity make? Are the fundamentals strong? Let's take a look...
First a Very Brief Overview of the Business
Union Pacific is a railroad operator connecting 23 US States. It makes money, as you may have guessed, by transporting goods for customers.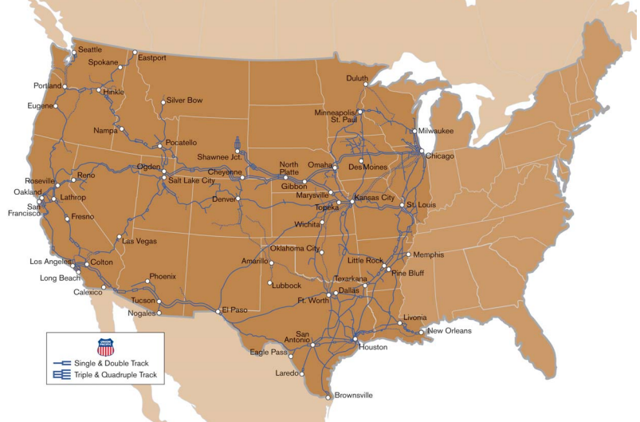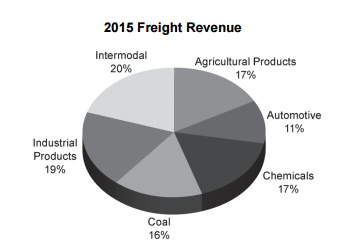 The primary areas of business mentioned in the most recent 10-K are Agricultural Products, Automotive, Chemicals, Coal, Industrial Products, and Intermodal. With a somewhat even mix of revenue coming from all segments.
2015 was a tough year for the railroads due to the commodity slump and a strong US dollar.
"Union Pacific experienced a 6 percent decline in volume last year. Carloadings declined in five of our six commodity groups. Low natural gas prices and high coal inventory levels led to a significant reduction in our Coal volumes. Declines in shale drilling activity due to lower energy prices drove reductions in frac sand shipments. Steel shipments also declined due to lower drilling activity as well as from the strength of the U.S. dollar. Lower grain commodity prices, abundant worldwide inventories, and a strong U.S. dollar negatively impacted grain shipments. International intermodal shipments declined as a result of the West Coast port work disruptions and higher than normal retail inventory levels. Crude oil shipments declined as a result of lower crude oil prices and unfavorable spreads, while fertilizer shipments also declined year-over-year due to the uncertainty of grain commodity prices. Increased auto production and vehicle sales drove strong growth in Automotive, our only business group which experienced volume growth in 2015." - (Letter to Shareholders, 10-K 02/05/2016)
So far 2016 doesn't seem to be shaping up much better as most of the factors that made 2015 so hard are still in play. Strong dollar? Yep. Commodity slump? You Bet.
The Fundamentals
Annual revenues have gone from $15,578 million in 2006 to $21,813 million in 2015, a 10-year annualized growth rate of 3.42%. The last five years have seen revenue go from $19,557 million in 2011 to $21,813 million in 2015, a five-year annualized growth rate of 2.21%.
Annual net income has gone from $1,606 million in 2006 to $4,772 million in 2015, a 10-year annualized growth rate of 11.51%. Over the last five years, net income has moved from $3,292 million in 2011 to $4,772 million in 2015, a five-year annualized growth rate of 7.71%.
Diluted annual EPS has gone from $1.48 in 2006 to $5.49 in 2015, a 10-year annualized growth rate of 14.01%. The last five years, EPS growth has slowed going from $3.36 in 2011 to $5.49 in 2015, a five-year annualized growth rate of 10.32%. A large share buyback program has had a positive influence on EPS.
Readers may have noticed a trend by now, the five-year results are worse than the 10-year results in terms of rate of growth. All of the series are affected by poor revenue performance on the end year of the series (2015). If we exclude 2015, things look much rosier. For example, the five-year annualized revenue growth rate jumps from 2.21% (2011-2015) to 7.17% (2010-2014). A big difference. However, 2015 did happen and 2016, at least so far, looks to be more of the same.
Long-Term Debt
UNP reported $13,607 million in long-term debt on its most recent 10-K. This is a very manageable debt level. Reported long-term debt levels over the last 10 years have ranged from $6,000 to $13,607 million. It would take UNP less than three years to pay off all long-term debt using the net income reported on the same 10-K. As a personal rule of thumb, I typically like to see pay off in less than four years for non-financials.
Cash & Cash Equivalents
UNP reported $1,391 million in cash and cash equivalents on its most recent 10-K.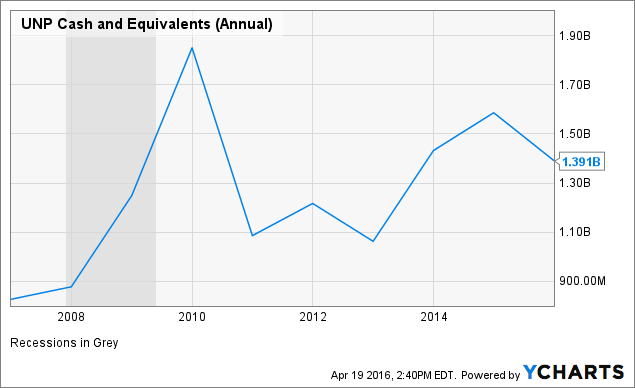 Margins
UNP's annual gross margin has consistently been above 59% for the last 10 years. The most recent five years show an upward trend in margins. From this, we may conclude that it has some pricing power. Competition has not been eating into margins.
Annual net margin has improved yoy every year since 2006. Going from 10.31% in 2006 to 21.88% in 2015. This is very impressive, and something I really like to see as an investor. The ability to grow net margin without damaging the underlying business implies that management is doing a good job running the business for shareholders. It is not resting on its laurels and letting unnecessary expenses affect the bottom line.
SG&A spending as a percent of gross profit has steadily improved over the last 10 years. It has gone from 47.95% in 2006 to 31.96% in 2015. Remember that in this case lower is better. Most definitely this has helped the net margin become what it is, and again indicates a focus on controlling costs.
ROE has risen sharply over the last seven years. In 2009, ROE was 11.72%. In 2015, it was 22.78%. This rise has been helped a lot by share buybacks. If buybacks are backed out, there still has been an improvement in ROE over the period, though not nearly as dramatic. When I adjust for the effects of buybacks, 2015 ROE was 13.17%; in 2009, it was 9.58%.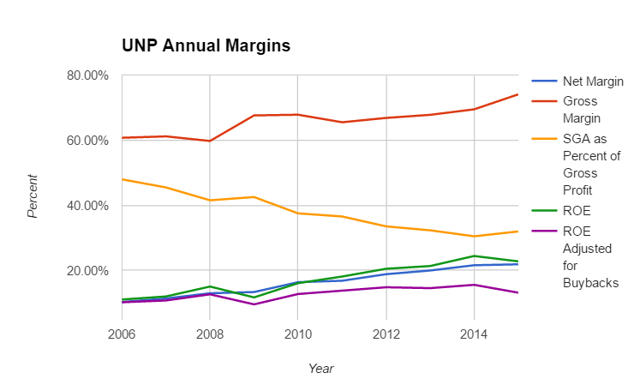 Click to enlarge
*Chart data sourced from GuruFocus
CapEx
UNP's annual CapEx spend was $4,650 million in 2015. Annual CapEx has ranged from $2,454 to $4,650 million since 2006. Union Pacific, and railroads in general, are certainly capital intensive businesses.
R&D
There has been no R&D spending over the 10-year period (2006-2015). This company does not have a competitive advantage based on technological innovation. An investor knows exactly what it will be doing in 10 years; it will be much the same as it has done for the last 50+ years.
To my mind, this level of predictability is a very appealing feature in a company. It allows me to rely much heavier on long-term forecasting than I might be able to with a technology-based company.
Shareholder Friendliness
UNP has been aggressively buying back shares. This has decreased the diluted annual average shares outstanding from 1.088 billion in 2006 to 869 million in 2015. UNP also has a very secure dividend with a current dividend yield of 2.71%.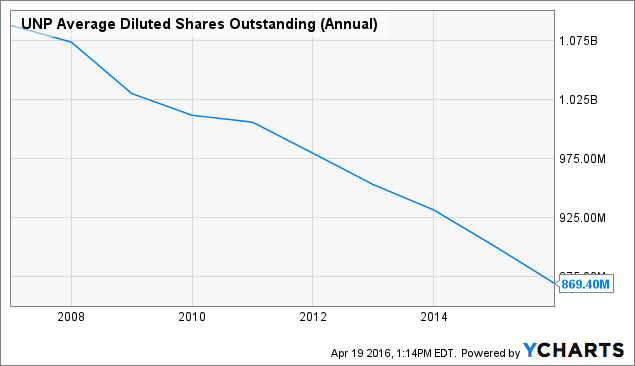 I absolutely loath investing in those companies with ever increasing share counts that constantly dilute my ownership. It is a deal breaker for me. Thankfully, UNP's management seems to prefer to increase all shareholders' ownership substantially.
Valuation
With a P/E ratio of 15.09, UNP is currently trading well below its 13-year median P/E of 17.11.
Earnings yield is currently 6.60%.
The difficulty in valuing UNP or any other company is in the assumptions that must be made. I'll take a stab at it anyway. Take from it what you will.
Scenario 1 (high) - Assumptions: A safe bond rate of 3.21% (the current AAA corporate bond yield), and a constant annual EPS growth rate of 14.01% (the current ten year average). Using these, I arrive at a current per share intrinsic value of $163.46. This is likely a bit rosy, as we know 2016 still has many of the issues that caused problems last year.
Scenario 2 (medium) - Assumptions: A safe bond rate of 3.21% (the current AAA corporate bond yield), and a constant annual EPS growth rate of 10.32% (the current five year average). Using these, I arrive at a current per share intrinsic value of $117.98.
Scenario 3 (low end) - Assumptions: A safe bond rate of 3.21% (the current AAA corporate bond yield), and a constant annual EPS growth rate of 7.00% (a guess at what further deterioration in EPS growth might look like). Using these, I arrive at a current per share intrinsic value of $87.15. This is very close to the current price.
Note to the reader: I estimate out 10 years. Meaning assumed EPS growth and interest rates have to stay stable over that period for these estimates to play out. My preferred valuation methodology (the one used here) is spelled out in the Buffettology book series.
Intrinsic value estimates are notoriously tricky and yield deceptively precise numbers. One should always try to make conservative assumptions and require a substantial margin of safety to the indicated price.
Which scenario is most likely to play out? It depends a lot on how global trade goes for the next 10 years. Personally, I think we'll end up with something between scenarios 2 and 3 as commodities recover.
Risks
There are risks with any company, but with UNP, I think that they are pretty low. Union Pacific is geographically diversified, has a good customer mix, is not easily disrupted by technological innovation, and investors know what it will be doing in 10 years (highly predictable).
That is not to imply that there are no risks, just that risks seem lower than other possible investments. Please read the UNP 10-K for a listing of real risks.
Conclusion
I believe Union Pacific to be a fine buy at current prices, and a better one at prices that are likely to be visited this year. If your goal is a relatively stable investment with opportunities for both income and growth, it is hard to do much better than a railroad like UNP.
Disclosure: I am/we are long UNP.
I wrote this article myself, and it expresses my own opinions. I am not receiving compensation for it (other than from Seeking Alpha). I have no business relationship with any company whose stock is mentioned in this article.