Kinder Morgan (NYSE:KMI) reported first quarter earnings on Wednesday, missing estimates for the top line and the bottom line. Cash generation was strong, but the outlook for the remainder of the year was lowered. Due to Kinder Morgan's share price growth over the last week I believe the company's shares are fully valued here.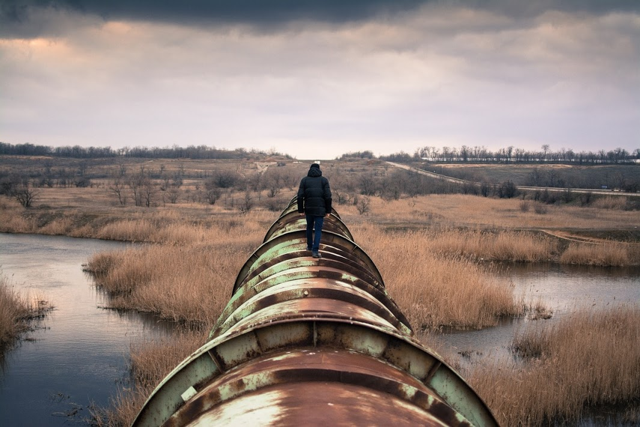 Click to enlarge
Kinder Morgan grossed revenues of $3.2 billion in the first quarter, down 11.1% year on year, representing a revenue miss of $540 million, or 14%. Kinder Morgan's segment earnings (before DD&A) totaled $1.94 billion, up one percent year on year. Distributable cash flows totaled $1.23 billion, down one percent year on year. Earnings per share came in at $0.12, missing estimates by $0.07 (or 37%). Some of these numbers are good, some are not, so let's have a closer look:
The fact that Kinder Morgan was able to grow its segment earnings despite a double digit revenue decline is a huge positive, and shows the company's control over its costs: Even as revenues declined at a substantial pace, the company was able to keep its earnings stable. This was primarily due to a strong showing of the company's natural gas pipelines division and its products pipelines division, whereas Kinder Morgan's CO2 segment had to report weaker results, which is not surprising, as Kinder Morgan's CO2 segment earnings depend on the price of oil a lot: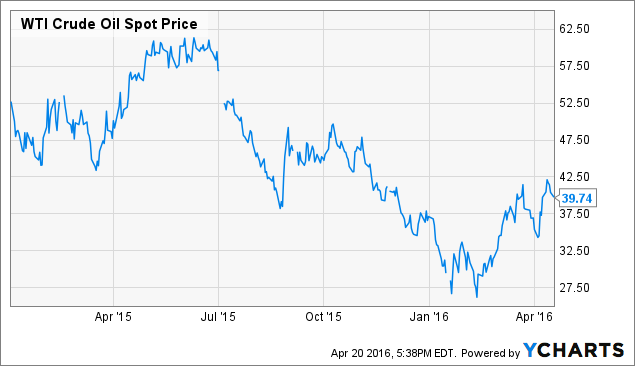 In Q1 2015 WTI averaged about $50, whereas WTI averaged about $35 in the first quarter of the current year -- revenue and earnings declines from Kinder Morgan's CO2 business are thus to be expected. Segment EBDA for Kinder Morgan's CO2 business thus dropped almost fifty percent from $340 million to $180 million, whereas segment EBDA for Kinder Morgan's natural gas pipeline division -- which is not dependent on high oil or gas prices due to the contracts structure (take or pay) -- was down just two percent to $990 million. Kinder Morgan's earnings (and segment earnings) did not perform especially well, but a lot better than the huge double digit revenue decline makes us believe.
Looking at Kinder Morgan's cash generation, we see EBITDA of $1.88 billion, up two percent year on year, which is a good result when we factor in the lower contribution of Kinder Morgan's CO2 business. Distributable cash flows came in at $1.23 billion, or $0.55 per ordinary share, which means the dividend (of $0.125 quarterly) is very well covered. After its dividend payments Kinder Morgan had $950 million in distributable cash flows left over, which allows for substantial growth investments and / or debt reduction. Kinder Morgan chose to go both ways, investing into growth capex and strengthening its balance sheet at the same time: The company has cut its growth capex forecast for the current year from $4.2 billion (guidance in December) to $2.9 billion (guidance from the earnings call), which reflects a shrinking project backlog (down from $18.2 billion in December to $14.1 billion right now). I believe this is a positive, as this shows Kinder Morgan is serious about high grading its backlog and going for the most profitable projects solely, whilst at the same time this move allows the company to start reducing its debt position. With annual dividend payments of $1.1 billion and $2.9 billion in growth capex, Kinder Morgan will be able to use every dollar above $4 billion in distributable cash flows they make to repay debt.
Kinder Morgan has previously guided for $4.7 billion in distributable cash flow for the current year, but lowered that number to $4.5 billion in the first quarter earnings call. This reflects a four percent reduction, which is not a positive at all, but which still means that Kinder Morgan will be able to do what the company plans to do with its cash flows this year:
- Paying out an annual dividend of $0.50 per share, for a dividend yield of 2.6% at the current price.
- Funding its growth capital expenditures of $2.9 billion in order to generate higher earnings and higher cash flows in the future.
- Reducing debt levels.
With $4.5 billion in distributable cash flows in 2016 Kinder Morgan would be able to reduce its debt pile by $500 million, which is not a large amount relative to how much debt Kinder Morgan has on its balance sheet (roughly $40 billion), but which still shows significant progress over the last years, when Kinder Morgan increased the amount of debt continuously. By doing so Kinder Morgan will, over time, become a safer and stronger company, and the growth capex will ultimately lead to higher earnings and higher cash flows in the future. Once oil prices are above the current level investors can expect a bigger contribution from Kinder Morgan's CO2 business again, too, which will be a substantial boost for the company's distributable cash flows.
Looking at Kinder Morgan's valuation, we can say that with a dividend yield of 2.6% the company's shares offer a higher yield than the broad market (the S&P500 yields 2.1% right now), but this is not an especially attractive dividend yield. There is, however, the chance for Kinder Morgan to increase its dividend in the next years, as the payout ratio (relative to the company's distributable cash flows) is pretty low at just 23%.
Kinder Morgan's price to distributable cash flow ratio is 8.6, which equals a distributable cash flow yield of 11.6%. This shows a rather low valuation, but in comparison to most other income stocks (think staples such as Pepsi or tech companies such as Microsoft) Kinder Morgan has a very high leverage and a low credit rating, thus a discount versus more secure investments in warranted. After growing its share price 70% from this year's lows and with the reduced guidance for the current year, I don't think there is a lot of upside left for the company's shares in the short term. In the long term Kinder Morgan's shares could see ample growth if the company is successful in developing its project backlog and strengthening its financial position.
Takeaway
Kinder Morgan missed estimates for the top and bottom line, but the company's cash generation was strong. Kinder Morgan should be able to reduce debt levels, invest heavily into growth capex and pay its dividend this year, despite lowering its cash flow guidance for 2016.
The company's shares are not unattractive for income investors with a long term horizon, but in the near term dividend increases are rather unlikely, and capital appreciation will be limited as well.
Disclosure: I/we have no positions in any stocks mentioned, and no plans to initiate any positions within the next 72 hours.
I wrote this article myself, and it expresses my own opinions. I am not receiving compensation for it (other than from Seeking Alpha). I have no business relationship with any company whose stock is mentioned in this article.