Union Pacific (NYSE:UNP) will report its first-quarter results on Thursday, before the market opens. I'll take a look at what investors can expect from the company for the first quarter of the current year.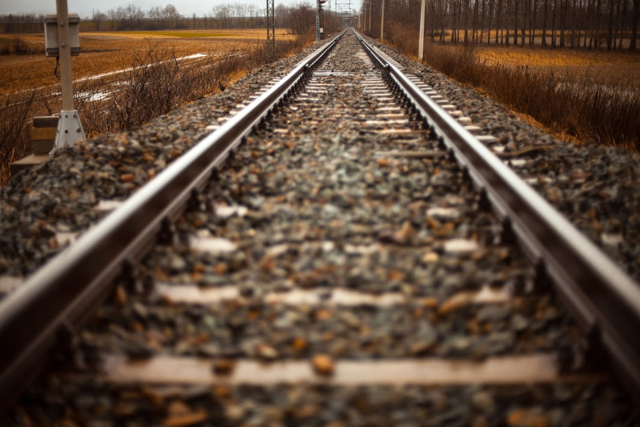 Click to enlarge
In the quarter, Union Pacific saw its volumes drop by nine percent year on year to 2.07 million carloads. This was primarily driven by lower volumes for coal (down 37% year on year) and for farm products (down 29% year on year). Excluding the impact of lower coal volumes, Union Pacific's total carloads would have declined by just 3% in the first quarter. Nevertheless, this doesn't put the company in a good position regarding its top line growth: a nine percent decline in the number of carloads will lead to lower revenues, and additional revenue declines will come from lower fuel surcharges. As oil prices (and thus, also fuel costs for Union Pacific) stood at multi-year lows during the first quarter, the company lowered the prices for its services, which adds to the already existent revenue decline we will see due to lower volumes.
Lower fuel surcharges are neutral to Union Pacific's bottom line, though, since its (fuel) expenses were lower as well. Some positive revenue impact will come from higher core pricing, which reflects the revenues per carload (excluding the impact of fuel prices). Over the past few years, Union Pacific was able to increase its core pricing substantially, and we will likely see this again in 2016. With lower volumes and lower fuel surcharges, partially offset by higher core pricing, I expect the company to report roughly $5.0 billion in revenues for the first quarter (which would mean an eleven percent decrease over the prior year's quarter).
Earnings will come in lower as well, and the net income decline will likely be bigger than the revenue decline (on a relative basis), due to Union Pacific's cost profile with substantial fixed costs. High fixed costs mean earnings grow faster than revenues in good times, but fall faster than revenues in bad times (fixed-cost digression effect). Union Pacific's earnings per share will show a better year on year comparison than the company's net income, due to a shrinking share count (due to its share repurchases).
This brings us to the next point - the company's cash flows and cash uses. Operating cash flows will be hurt by lower revenues and lower net income, but its free cash flows will be affected by two positive factors: Union Pacific has the opportunity to depreciate some of its assets faster this year, which will add about $400 million to the company's operating cash flows in 2016 (or about $100 million in each quarter). This bonus depreciation does affect the company's income (and thus leads to lower taxes), but does not decrease its cash flows, as depreciation is a non-cash expense. The lower taxes, however, mean lower cash expenses, and thus, higher operating cash flows. The other positive factor for the company's free cash flows are its capital expenditures, which will come in lower in 2016 than they did in 2015. Union Pacific plans to spend $3.75 billion on capex this year, which is $550 million below last year's number - this should lead to a free cash flow boost of about $140 million each quarter. In addition to the cash flow boost from this year's bonus depreciation, Union Pacific will see free cash flow grow $200-250 million year over year in the first quarter, all else equal.
The company will not declare any dividends this week. The next dividend declaration should come in mid-May (over the past years, the second quarter dividend was announced between May 10 and May 16). Union Pacific did pay out $0.55 per share for the first quarter, which was in line with the previous payout. It will likely have repurchased a lot of shares again during the first quarter, as the company did do in the previous two quarters. Union Pacific has spent $1.2 billion on share repurchases in the third quarter and $600 million on share repurchases in the fourth quarter. Since average share prices were a lot lower in the first quarter (bottoming at just $67) than in the second half of 2015, I believe Union Pacific will have utilized this chance to reduce the number of shares outstanding by a significant amount. After all, repurchasing shares makes the most sense when share prices are low - as they were during the first quarter of 2016.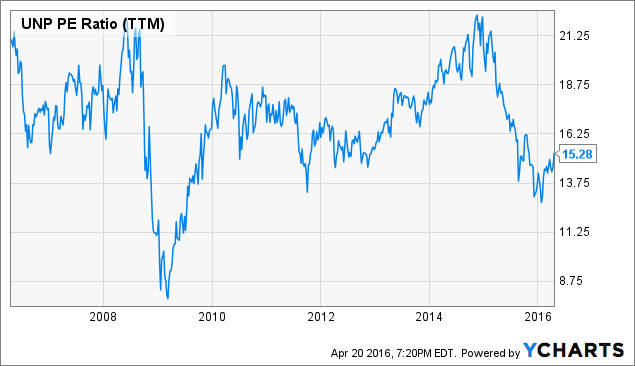 Looking at Union Pacific's valuation, we can say the company's shares are valued rather inexpensively right now. The shares trade at 15.3 times trailing earnings, which is about thirty percent below the broad market's valuation and also lower than Union Pacific's valuation over the past years. As we can see in the above chart, UNP was trading at a lower valuation for short periods of time only - during the financial crisis, for a very short period of time at the end of 2011 and during the current downturn. Apart from these times, the company's shares have usually traded around 16-20 times trailing earnings. With a forward earnings multiple of 14.3, Union Pacific does not look expensive in terms of future profitability either, which signifies the company's rather attractive price right now. Its dividend yields 2.6% right now, and the dividend could be increased in May, which means Union Pacific is not unattractive for income-seeking investors either (since its yield is on par with that of 30-year Treasuries, which will not provide any income growth at all).
Takeaway
Union Pacific's volumes declined in the first quarter, which will put pressure on the company's top line, along with lower fuel surcharges. Its net income will come in lower than in the previous year as well, but free cash flow will see some boost from lower capex and higher depreciation.
The company is trading at an inexpensive valuation before the earnings release, and its dividend yield is compelling as well (the dividend could be increased with the next announcement in mid-May).
Disclosure: I/we have no positions in any stocks mentioned, and no plans to initiate any positions within the next 72 hours.
I wrote this article myself, and it expresses my own opinions. I am not receiving compensation for it (other than from Seeking Alpha). I have no business relationship with any company whose stock is mentioned in this article.