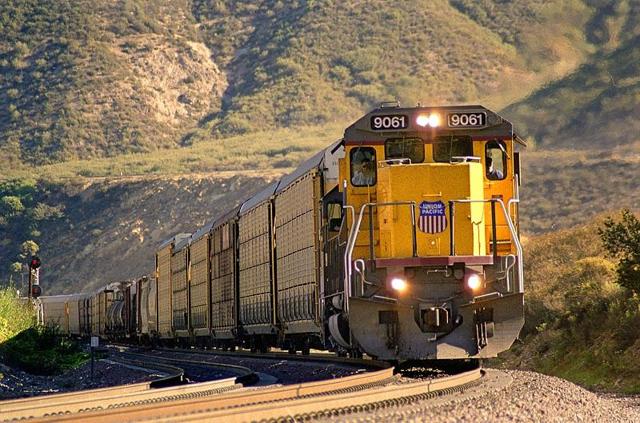 Click to enlarge
Union Pacific (NYSE:UNP) is set to report earnings on Thursday. Analysts expect revenue of $4.90 billion and EPS of $1.10. The revenue estimate implies a 6% decline sequentially versus the $5.2 billion reported last quarter. Investors should focus on the following items:
Declining Revenue
Like most railroads, Union Pacific's top line growth has been anemic. Q4 2015 revenue of $5.2 billion was off 4% sequentially and 15% Y/Y.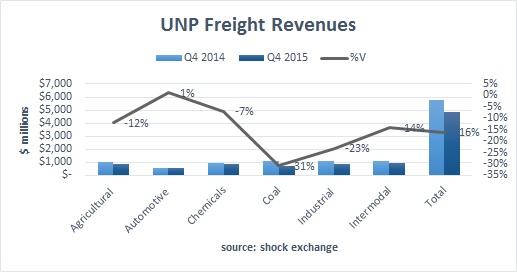 Core freight revenues were off 16% Y/Y. The biggest decliners were coal (down 31%) and industrial (down 23%). Automotive was the only segment that grew (up 1%). Manufacturing activity has been down in the U.S., but automotive sales have bucked the trend. Once banks reduce auto loans to subprime borrowers, auto sales and rail traffic for auto parts will likely fall as well.
Coal demand is going through structural changes as governments and businesses push for clean energy. Low natural gas prices have hastened the fall in demand for coal as well. Meanwhile, industrial activity has fallen with the decline in the global economy. Cumulative year-to-date U.S. rail traffic for the week ending April 9th was down 7%; coal traffic was off 33%. That portends that Union Pacific's volume will likely fall for the first half of 2016. Its exposure to coal (16% of Q4 carloads) could amplify that pain.
Cost-Cutting Efforts
Though revenue fell 15% Y/Y, the company's EBITDA margin was flat at 45% of revenue. Management was able to cut costs in lockstep with the revenue decline. The biggest driver was the reduction in fuel costs from 13% of revenue in Q4 2014 to 8% last quarter. The company might have to cut into compensation costs (23% of revenue) or purchased services (11% of revenue) going forward; these are the largest expense buckets and candidates for cost cuts. Maintaining margins could get tougher as the company is experiencing a reduction in carloads (down 9% Y/Y) and deflation in revenue per carload (down 8% Y/Y).
At 8.7x run-rate EBITDA, UNP appears slightly overvalued. That multiple could become untenable as revenue and EBITDA continue to fall. Falling railroad traffic is a harbinger of the recession to come and I don't see a reason to own UNP at these levels.
Disclosure: I am/we are short UNP.
I wrote this article myself, and it expresses my own opinions. I am not receiving compensation for it. I have no business relationship with any company whose stock is mentioned in this article.