Bank of the Ozarks (NASDAQ:OZRK) reported a solid set of first quarter results last week, again driven by the astonishing volume growth as well as the unprecedented asset quality metrics. An EPS of $0.57 was reported for the quarter had just ended, which beat the consensus by two cents. The stock has been up by 6% in seven trading days following the earnings announcement, yet still it has underperformed the US Regional Banks ETF (NYSEARCA:IAT) by 12% on a ytd basis.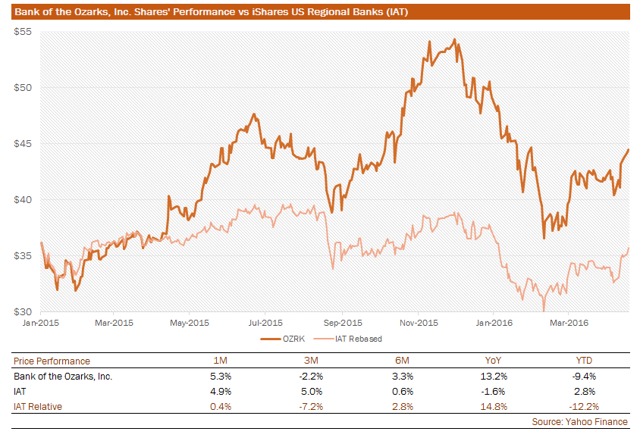 Ozarks' average non-purchased loan book saw an impressive increase of 71% in 1Q 2016 y/y which was led by the core segment of Real Estate Specialties Group. The growth in average earnings assets were 42% during this timeframe which yielded 5.32% in 1Q 2016 versus 5.76% in 2015. The decline was primarily driven by the drop in the yields of purchased loans which accounted for 19% of the total interest earning assets. Ultimately, we saw NIM coming down to 4.92% by 50 basis points which was still high when compared to Ozarks' peers. A further contraction in the margin is very likely for the rest of this year, however, the growth in loans will continue to ramp and more than offset the impact of lower yields. With that being said, any Fed rate hike would possibly slow down the margin contraction. Also, note that roughly 80% of the total non-purchased loan book of the bank is with variable rates of which 90% has a floor rate.
Net charge-offs in 1Q 2016 remained at a historic low of $1.11 million that was equaled to %0.05 of total loan book (NPL ratio was 0.15% when purchased loans excluded). Considering the growth in loans at such a fast pace, Ozarks' performance has been nothing short of spectacular regarding the asset quality. Once again Ozarks proved to be a fast and safe growing bank with tight underwriting standards. As a bank heavily engaged in real estate lending, unemployment figures have significant impact on the creditworthiness of borrowers. The rate of people without a job has come down by 50 bps to 4.2% in the first two months of 2016 in Arkansas where Bank of the Ozarks mainly operates in. This demonstrates that benign asset quality trends will probably continue in the upcoming quarters. Earlier this year the management introduced a guidance range of 10 bps to 25 bps for 2016E NCO ratio. I believe that the figure will be very close to the bottom end of that range. With that being said, the allocated money for credit losses will be higher this year as the bank will have to build more provisions for the new loan deals.
Going forward, Ozarks is very likely to continue to post great financial results in light of its robust growth momentum. The bank is currently holding an excess capital to put to work in order to keep its business growing. The management signaled that debt issuances may be on the agenda to finance the lending growth if it thinks the level of current capital falls short of the needed amount of funding resources. This scenario is very plausible with the way things are going at the business volume front. Also, Ozarks may be targeting new acquisitions this year, correspondingly, it will be looking for opportunities specifically in Texas, where the bank seems to have an improved pipeline this year. Epic era of business expansion for Ozarks will not surely end in the near future.
The risks to the outlook of Ozark's earnings are increased expenses related to acquisitions and higher funding costs. There will be unusual items of non-interest expense in the flowing quarters due to the closing and core system conversions of two pending acquisitions of Community & Southern Bank and C1 Bank. The management guided for those increases incurring in each remaining quarter this year. On the other hand, attention should be drawn to the potential down revisions on 2016E NIM, with the continued pressure on deposit and borrowing costs owing to the tight funding structure of the bank.
As it is well known, Ozarks is high-quality growth stock trading at a high valuation. At 18x 2016E P/E it currently trades with a premium of almost 50% to sector average earnings multiple. However, as discussed above, Ozarks underperformed its peers on a ytd basis resulting in a gap which, in my opinion, will be filled in the short term. Thus, I expect Ozarks should emerge as an outperformer in the rest of year as I remain bullish with a reiterated target price of $55.
Disclosure: I/we have no positions in any stocks mentioned, and no plans to initiate any positions within the next 72 hours.
I wrote this article myself, and it expresses my own opinions. I am not receiving compensation for it (other than from Seeking Alpha). I have no business relationship with any company whose stock is mentioned in this article.