Several developments took place since my previous article on Potash Corp. (NYSE:POT) was published. The stock suffered downgrades from Cowen and Barclays. Both firms named weak potash market and low prices as the reason for downgrades. As it often happens, short-term price action in the stock market made fun of analysts, and Potash Corp. shares enjoyed green days along with other commodity names.
In my previous article, I focused on potash projects that were about to hit the market plus perspective projects in Canada. However, as was pointed out in the comments section, the potash projects are not limited to Canada and there are ongoing projects in Africa. Instead of discussing day-to-day trading action and analysts' downgrades, let's go to Africa, the continent which certainly has the potential to decide the long-term future of the fertilizer industry.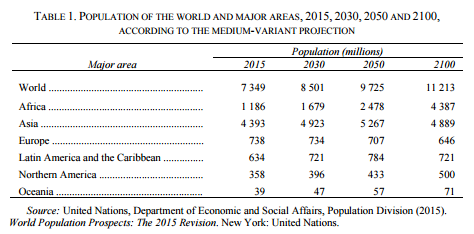 According to UN, Africa will provide the biggest part of world's population growth. More than half of global population growth between now and 2050 is expected to occur in Africa. Surely, these numbers are not left unnoticed by investors from all over the world, so potash projects in Africa do exist.
Ethiopia
In Ethiopia, Danakil Depression is the point of interest. Several companies are attempting to build a working mine there. One of them is Allana Potash, which was bought by Israel Chemicals (NYSE:ICL). Allana's project should be able to deliver 1 million tons of potash annually through the mine life of 25 years.
Another project is developed by Circum Minerals. Circum Minerals expects that it will be able to produce 2 million tons of muriate of potash (MOP) annually plus 750,000 tons of sulphate of potash (SOP). Norwegian Yara International (OTCPK:YARIY, OTCPK:YRAIF) is also interested in the region and plans to build a $740 million mine there, which will produce 600,000 tons of SOP.
Kongo
Another center of potash development in Africa is Kongo. Elemental Minerals markets its project as one of the most exciting opportunities in the world. The company's project promises 2 million tons of potash annually. The mining license is expected to be acquired in 2017.
Magindustries (OTCPK:MAAFF) developed the Mengo potash project - a mine capable of producing 1.2 million tons of potash per year. However, a bribery scandal and lack of financing broke the company. Its stock was delisted from the Toronto Stock Exchange, management resigned and currently there is no indication that it will be able to continue its work on Mengo.
Holle Potash was also trying to develop a 1.2 million ton mine. This did not work out and the company was dissolved in 2015.
African Potash (OTC:APOTF) is trying to develop the Lac Dinga project. Lac Dinga is an early-stage project, and the company's annual report did not provide estimates for future annual production. However, African Potash is engaged in the fertilizer business besides developing Lac Dinga, so at first glance, there's a hope that the company will be able to survive.
Takeaway
Two main regions for potash development in Africa are Ethiopia and Kongo. Ethiopia looks more promising at this time. The problem for all these projects is that they are situated in Africa, where anything can happen. Even with appropriate financing, you certainly cannot expect the same rate of development that you will see in Canada or Russia.
Also, scandals like the one with Magindustries may arise along the way of the development. After reading news on this topic, looking through the available reports and the websites of the above mentioned companies, I conclude that African potash production is no threat to the potash market in the coming years.
Obstacles are big and there is a significant doubt that the projects will get financing in time, given the current market environment. One could argue that developing potash projects in Africa is very natural, given the fact that the continent's population constantly grows and a great number of people there has nutrition problems. However, the business environment is challenging, the population is poor and I believe that Canada's projects will likely be developed first.
The elephant in the room
One of the readers, Nick Jaspan, notified me in a private message about the ongoing project in the UK. I previously read about it somewhere but did not pay close attention. This time, I decided to take a look and it was worth it.
Sirius Minerals (OTC:SRUXF, OTCQX:SRUXY) develops a polyhalite project in North Yorkshire. The planned capacity of the project is 10 million tons annually, which could be expanded up to 20 million tons. Polyhalite is a combination of potassium, sulphur, magnesium and calcium which makes it a good fertilizer and a direct competitor to potash projects. First production is expected in 2021, while costs are estimated at $27.2 per ton.
In my view, this is a much more viable competition than African projects. A 10 million addition of low-cost fertilizer is something to watch for.
Bottom line
I see no near-term threats for the potash market besides K+S and Eurochem projects, which I discussed in the preceding article. I am not a big believer in Africa. Perhaps, history will prove me wrong, but I won't consider African projects a major competition for Canada- or Russia-based projects unless I see more evidence that they are really developed. The UK project is more interesting and could seriously impact the market after 2020.
Disclosure: I/we have no positions in any stocks mentioned, and no plans to initiate any positions within the next 72 hours.
I wrote this article myself, and it expresses my own opinions. I am not receiving compensation for it (other than from Seeking Alpha). I have no business relationship with any company whose stock is mentioned in this article.
Editor's Note: This article covers one or more stocks trading at less than $1 per share and/or with less than a $100 million market cap. Please be aware of the risks associated with these stocks.