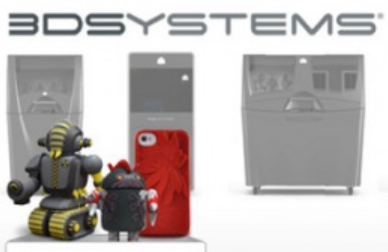 One-Time High Flyer Awakens
3D Systems (NYSE:DDD) has a new CEO who has ignited interest in a stock that rose 10% on April 14. We may be seeing a come-back for this company and the industry at large after a turbulent recent history.
High Rise and Set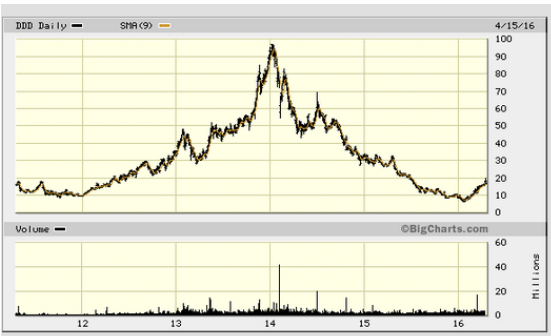 Courtesy of the Author
The chart above tells the story of the meteoric rise of DDD up through 2014.
Investor optimism propelled gains like a rocket. With 50 acquisitions in 3 years, DDD defined itself as the "everything 3D Printing Store" with the broadest technology portfolio in the business. In 2013, revenue grew by 45%, 10% greater than the growing industry. At the time the 3D printing hype seemed unstoppable; the technology amazed. And then things began to fall apart.
Although analysts warned that the P/E ratios were stratospheric; the news fell on many deaf ears.
The rocket began a flame-out in 2014. Lackluster sales were a major issue. By December 2015, shares of 3D Systems had plunged by 68%. In general, the 3D manufacturing system became a victim of broader market weakness, as the company posted quarter after quarter of disappointing earnings and sales.
CEO Avi Reichental Resigns
Mr. Reichental, who pioneered the development and growth of the company during a 12-year period, resigned on October 28, 2015. The company commenced a search to replace him.
In April, DDD hired Vyomesh Joshi, executive vice-president of the imaging and printing business of HP Inc. (NYSE:HPQ), formerly Hewlett-Packard. The Street's Jim Cramer claims that Joshi is the main driver in the recent rally of 3D Systems.
Vyomesh Joshi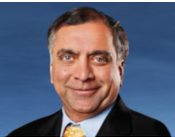 Courtesy of the Author
Joshi earned high marks at HPQ and is now tasked with boosting earnings by improving operational efficiencies and refocusing investments at DDD.
Optimism about Joshi's hiring was part of a positive research report by Bank of America/Merrill Lynch analyst Wamsi Mohan who upgraded 3D Systems stock to BUY from underperform, hiking his price target to 26 from 11. Mohan wrote, "our BUY rating on 3D Systems is predicated on the strong likelihood that the new CEO will turn around the business through a new direction and strategy based on his experience as an executive of HP's established printing business."
Stock Pops for 2016
Cramer added that "the appointment was a really good hire" with the change and anticipation creating a very good run for the stock this year. Year to date, the stock is up 115%.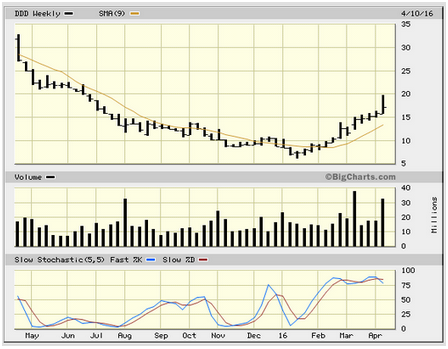 Courtesy of the Author
DDD's Q4 2015 earnings revenue of $183.4 million was down 2% from the previous quarter, but grew 21% year over year. Full year revenue was up 2% at $666.2 million, while GAAP loss came in at $5.85 per share and non-GAAP earnings were $0.27 per share.
April Upgrade and Downgrade History
Looking at the most recent data for April:
The Citigroup downgrade on April 14 dampened expectation for DDD for 2016. The key concern was that an anticipated acquisition of 3D Systems by HP Inc. is less unlikely.
3D Pops, Drops
The share price fell 6.2% on April 15, closing at $17.15 from a high of $18.28 the previous day. April 20, it is trading at $18.24 as I write.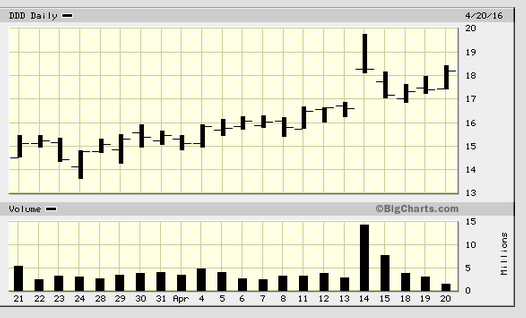 Courtesy of the Author
Upgrades and Downgrades
Currently, there are 6 Downgrades and 2 Upgrades: 2 Sells; 1 Buy; 2 Holds; 2 Underweight and 1 Neutral. The two most recent April calls are a Buy and a Sell representing an extreme range of expectation between Bank of America/Merrill Lynch and Citigroup, respectively.
It is important to note, that although it was rumored, news of Vyomesh Joshi taking over the reins occurred April 4, after the six earlier calls in the list below were made.

Click to enlarge
The Big Question
The April Bank of America/Merrill Lynch BUY call and the Citigroup SELL call represent two conflicting views about a turnaround for 3D Systems. In my opinion, the HP Inc. acquisition of 3D systems is of short-term significance to future valuations. However, a critical management change at 3D and the company's greater range of possible printing applications for manufacturing are more significant for the longer term.
Q1 earnings data will be reported on May 4 and could have a major impact for building greater confidence in a company, that was severely beaten down but appears to have turned a corner.
On The Rise
3D printing is what is known as a disruptive technology, and it's expected to become mainstream by 2017. It is a game-changer for many companies that now print everything from shoes to airplane parts.
Medical applications are exploring possibilities ranging from a prosthetic hand to a customized tracheal stent. 3D printing has the potential to forever alter manufacturing, and in the process, make it far less expensive.
The Wohlers Report 2016 forecasts that the 3D printing market for 2016 will grow 29% to $6.7 billion, rising to $8.8 billion by 2017. Wohlers Associates provides a list of articles and publications that cover the full range of 3D Printing possibilities for interested readers.
Some people consider 3D printing to be the rise of the Third Industrial Revolution.
3D Printing Could Become Mainstream Within Five years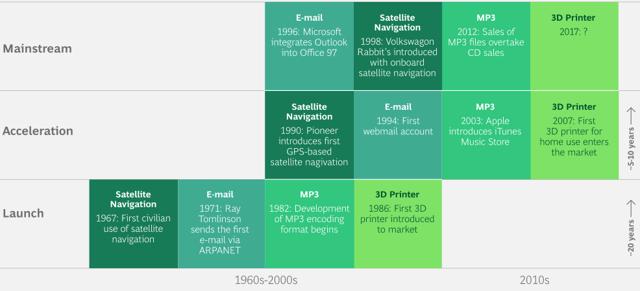 Click to enlarge
Conclusion
Like many innovative changes that attract investment, timing is critical. Many investors who jumped on these companies a few years ago were disappointed. But, the technology is here to stay, and it is growing and expanding in scope.
At the least, investors should find it is worth their close attention; and for some, it may be time to get their feet wet. I plan an upcoming review of the other corporate 3D players; stay tuned.
Disclosure: I/we have no positions in any stocks mentioned, and no plans to initiate any positions within the next 72 hours.
I wrote this article myself, and it expresses my own opinions. I am not receiving compensation for it (other than from Seeking Alpha). I have no business relationship with any company whose stock is mentioned in this article.
Additional disclosure: The information and data that comprise the content of this article came from external sources that I consider reliable, but they have not been independently verified for accuracy. Although I reserve the right to express points of view, they are my reasoned opinions, and not investment advise. I am not responsible for investment decisions you make. Thank you for reading and commenting.