Next week, on April 26, copper miner Freeport-McMoRan (NYSE:FCX) will release its results for the first quarter of 2016. The expectations from Freeport are not that great, with analysts expecting the company to report a loss of $0.18 per share on revenue of $3.51 billion for the quarter. This means its losses are expected to triple, while the revenue is expected to slump 15%. But in my opinion, Freeport will exceed expectations on the bottom line due to the fact that it is reducing its unit costs aggressively across the business. Let's take a look.
Impressive cost cuts could help Freeport beat the bottom line
Freeport-McMoRan expects its unit cash costs for each pound of copper to drop by 11% in North America, 14% in South America, and approximately 84% in Indonesia. As a result of these cost reductions, the company believes that it can achieve a cut of 28% in consolidated unit cash costs for 2016, as shown in the chart below.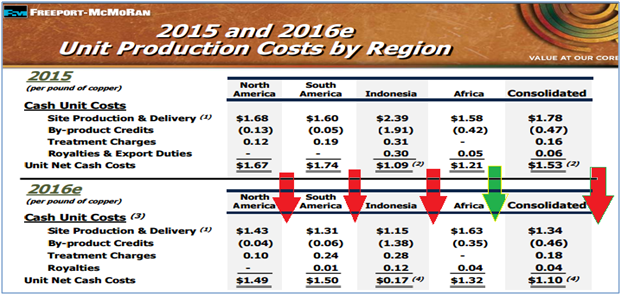 (Source: Freeport-McMoRan)
More importantly, Freeport is targeting a near-term reduction of 30% in G&A costs, which will allow it to further improve its bottom line performance. Moreover, it has lowered its capital expenditure by 46% to $3.4 billion in 2016, and by another 32% for next year.
The most important thing is that despite this significant reduction in unit cash costs and capital budgets, Freeport expects its sales of copper, gold, and oil & gas to increase remarkably in 2016. For example, the company expects its copper sales to rise 24%, gold sales to increase 44%, and oil & gas sales to jump around 10%. This is shown in the chart given below: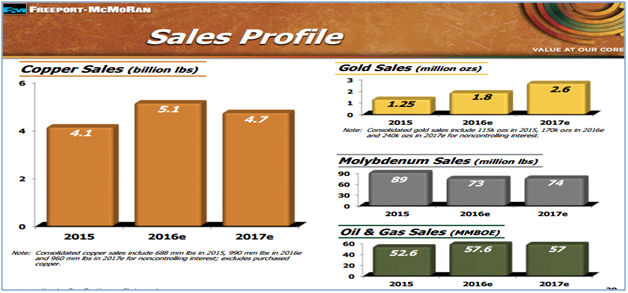 (Source: Freeport-McMoRan)
Hence, it is evident that Freeport has managed to improve operating efficiency, which is why the company has been able to bring down its costs and increase production simultaneously. More importantly, as a result of its focus on improving operational efficiency, Freeport will benefit from a rise in copper prices in the long run, which are set to get better due to higher demand and low supply.
Production cuts should support copper prices
Slower growth in China and a stronger U.S. dollar had weighed heavily on copper prices earlier this year, but the situation has improved of late. The recovery in copper prices can be attributed to the fact that most producers in China and across the world have cut their copper production in 2016. The primary reason behind this cut in production was the weakness in copper prices earlier, as producers were going cash flow-negative at a copper price below $2.00 per pound.
For instance, nine large copper smelters in China have agreed to cut sales of the spot metal by as much as 200,000 tonnes in the first quarter of 2016 to counter the low prices. In fact, this reduction equals to almost 10% of the total refined copper production China delivered in the first quarter of last year. These nine smelters delivered approximately 60% of the country's total refined copper production in the first ten months of 2015, so capacity cuts at these smelters will go a long way in sustaining the copper price rally.
More importantly, these smelters have agreed to additionally limit their spot sales by 350,000 tonnes in 2017 in an effort to support prices that had plunged recently to their lowest in more than six years. These copper smelters were pressurized to cut their spot metal sales due to fact that they were selling the metal at a price which was lower than their cost. As a result of these production cuts in China, the price of copper has significantly improved this year, as shown in the chart below.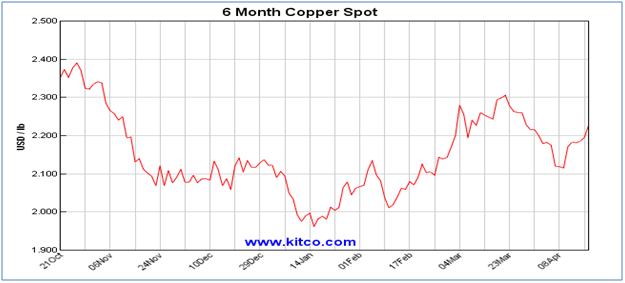 (Source: Infomine.com)
Improving demand will be another tailwind
Meanwhile, the demand for copper is continuously rising on the back of the metal's application in different uses. One such application is in electric cars that are expected to drive copper demand in a big way going forward.
According to Patricia Mohr, economist at Scotiabank, "Beijing has also renewed the 'home appliance subsidy scheme' and is promoting electric cars, which are twice as copper-intensive as conventional vehicles."
Hence, higher production of electric vehicles in China will drive copper demand going forward, as these cars use twice the amount of copper as traditional cars, owing to the electric motor and other related wiring components. Now, according to a forecast by the IEA, the country's EV sales will hit the 1-million unit mark by the end of the decade. In comparison, EV sales in China were around 331,000 units last year, which means the market for EVs has a lot of room for growth in the country, and this will be a growth driver for demand.
Conclusion
All in all, there are a number of positives about Freeport-McMoRan that investors should not ignore. Though the company is expected to post a weak earnings performance in the upcoming quarterly results, a combination of low costs and improving copper prices could help it beat the forecast. Moreover, the prospects of Freeport look strong from a long-term viewpoint due to the improving potential of the copper market, which is another reason to remain invested in the stock.
Disclosure: I/we have no positions in any stocks mentioned, and no plans to initiate any positions within the next 72 hours.
I wrote this article myself, and it expresses my own opinions. I am not receiving compensation for it (other than from Seeking Alpha). I have no business relationship with any company whose stock is mentioned in this article.