The recent Russian fighter jet flyby over a U.S. Navy ship was seen as a sign of aggression with the intention of letting the U.S. know that they are not intimidated by the U.S. presence in nearby waters.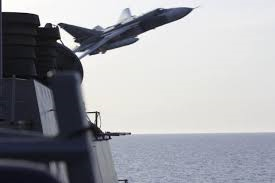 With respect to crude oil (USO, OIL, SCO, BNO, DBO, DIA, DNO, DTO, DWTI, OLEM, OLO, SPY, SZO, UCO, USL, UWTI), the Doha failure indicates trouble ahead for any meaningful production agreement. We now have the Russian oil minister saying they would counter a Saudi Arabian threat to increase production by an increase of their own to new historic levels. Is this another flyby or are they in the middle of an oil production fight?
It seems Russia wants to fight for market share, even if it means driving prices back down. Russia apparently needs the petro sales now to support its economy. They are expecting a significant GDP contraction this year.
The Bank of Russia is forecasting an average price of $30/barrel in its 2016 budget with a rise to $40/barrel in 2018. This is well below the current price and essentially assumes a precipitous price drop this year. The most likely way for that to happen is if production continues to increase and Russia is prepared for this.
In the intermediate term, both Russia and Saudi Arabia believe they can increase production by 10-20%. Currently, Russia produces around 11Mbpd and they believe they could get this up to 12-13Mbpd. Saudi Arabia currently produces over 10Mbpd and could get it up to 12Mbpd.
Russian crude oil production has been on a stable, increasing ramp for the last ten years, as the chart below attests. Notice that, while generally trending upward too, Saudi Arabia's production has not been nearly as consistent.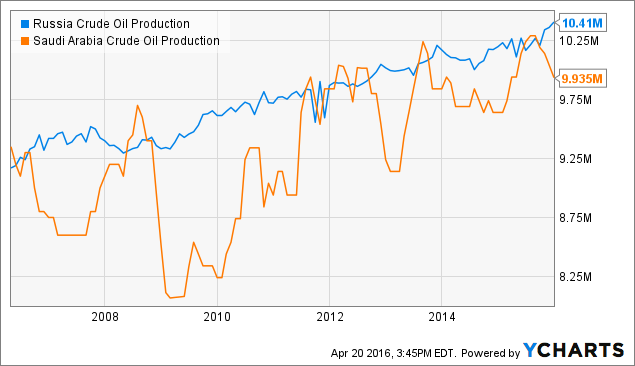 Russia's production slope contains multi-year variations less than 5% while Saudi Arabia's variations are as much as 15%. Russia's production slope also shows no signs of slowing down, having been on a strong incline in nearly the entire 10-year period. Russia's claims to increase output certainly seem plausible given Russia's recent production history.
So, is this increased production claim just a show of force, being only a threat like that flyby? Or do the Russians really intend to ramp up production to more than 12M/bpd and enter a fight for market share?
Even though crude oil prices have been rising since mid-February, my take is that Russia expects prices to return to those earlier lows and they want the world to know they are not afraid to cause it. They are now competing with Saudi Arabia, in the face of Iran, for market share as Iran ramps up production and sells off their storage. This competition will nearly certainly push the oil oversupply higher and prices lower as the fight for oil sales drives at least two of the key producers to maximum production levels.
When it comes to oil, Russia is not just doing a flyby.
Disclosure: I/we have no positions in any stocks mentioned, and no plans to initiate any positions within the next 72 hours.
I wrote this article myself, and it expresses my own opinions. I am not receiving compensation for it (other than from Seeking Alpha). I have no business relationship with any company whose stock is mentioned in this article.