In an article last month, I had advised investors that they should not worry too much about Chesapeake Energy's (NYSE:CHK) debt burden, since the company is pulling the right strings to reduce its debt and improve liquidity. My thesis gained strength last week after Chesapeake announced it has been able to reaffirm its $4 billion borrowing base with favorable covenants that require a lower interest coverage ratio and no limitation on the senior secured leverage ratio of the facility.
In fact, the company was able to push the next redetermination of the credit facility to June 2017. As a result of this move, Citi was prompted to upgrade Chesapeake's debt to Market Weight from Underweight. This has helped the stock gain more momentum of late, with CHK shares up 70% since the beginning of last week. But will Chesapeake be able to sustain this momentum when it releases its first-quarter results in a couple of weeks? Let's find out.
What is expected of Chesapeake?
For the first quarter that ended in March, Chesapeake Energy is expected to see its revenue decline around 7.5% to $2.55 billion. In comparison, in the fourth quarter of 2015, it had posted revenue of $2.65 billion. Therefore, the company's top line is not expected to take a major hit on either a sequential or a year-over-year basis.
This is not surprising, as the Henry Hub Natural Gas price stayed at consistent levels in the first quarter of 2016 as compared to the fourth quarter of last year. More specifically, natural gas prices averaged $2.00/MMBtu in the first quarter as against $2.12/MMBtu in the preceding one, a drop of less than 5.7%. The following chart shows that natural gas prices started the year on a positive note, then dipped, and then rose again as the quarter ended.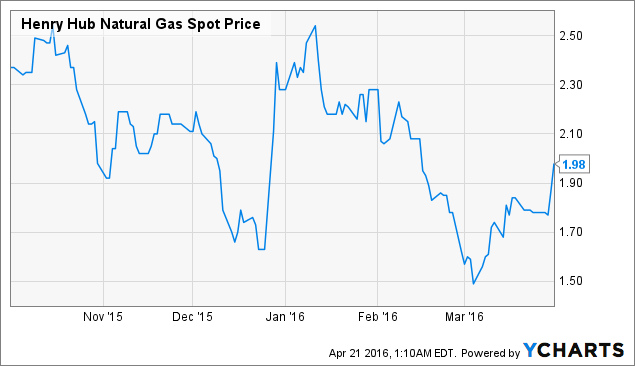 Henry Hub Natural Gas Spot Price data by YCharts
So, it won't be surprising if Chesapeake is able to meet or even beat the top line estimate, since the drop in natural gas prices has not been too severe.
As far as the bottom line is concerned, the company is expected to post a loss of $0.10 per share as against a profit of $0.11 per share in the year-ago period. In comparison, Chesapeake had posted a loss of $0.16 per share in the fourth quarter of 2015. Therefore, it is estimated that its bottom line will improve on a sequential basis, which is not surprising considering the steps taken by the company to control costs, increase productivity, and reduce debt.
As a result of these moves, a total of 7 analysts covering the stock have raised their earnings expectations in the past seven days. This has improved the bottom line estimate from a loss of $0.19 per share expected 90 days ago to the current estimate that calls for a loss of $0.10 per share. Let's take a closer look at the reasons why Chesapeake's bottom line performance will improve in the upcoming results.
Proactive liability management will improve Chesapeake's bottom line
One of the key reasons why the company will report an improved bottom line performance is because it now needs to incur lower interest expenses due to its debt reductions. The following chart shows the progress made by Chesapeake as far as debt reductions are concerned: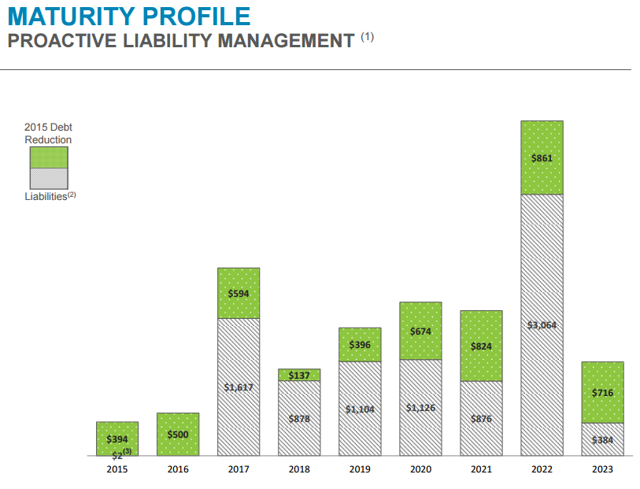 (Source: Chesapeake Energy)
As seen above, the company had reduced a lot of debt last year, which is why it should be able to bring down its interest expenses from $317 million that were incurred in 2015. As a result of lower interest expenses, Chesapeake will be able to improve its net income from continuing operations, and this will impact its bottom line in a positive manner.
More specifically, the company has reduced its debt obligations for 2017 by $594 million in around six months, adding $485 million worth of liquidity to the balance sheet. The debt that is supposed to mature next year carries high interest rates of 6.25% and 6.50%, which is why Chesapeake has done the right thing by either exchanging the debt or engaging in open market purchases. The following chart shows the reduction in its debt profile in the past six months: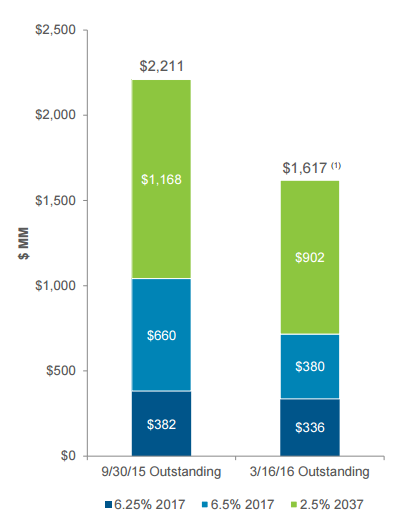 (Source: Chesapeake Energy)
What's more, as the year progresses, Chesapeake should be able to continue improving its bottom line performance, as it is on track to reduce more operating costs. In all, the company's operating costs are expected to slide around 13% this year. More specifically, Chesapeake forecasts a decline of 10% in lease operating expenses per barrel, apart from a 15% reduction in general and administrative expenses per barrel.
Thus, a combination of low costs and a declining debt will act as tailwinds for Chesapeake Energy's bottom line this year.
Conclusion
As we saw in the first chart in the article, natural gas prices have improved of late. Chesapeake is now in a better position to profit from an improved natural gas pricing environment, since the company is reducing its cost base and also has lower debt, leading to lower interest expenses. So, in my opinion, investors should continue holding CHK stock despite the recent rally, as it is set for more upside.
Disclosure: I/we have no positions in any stocks mentioned, and no plans to initiate any positions within the next 72 hours.
I wrote this article myself, and it expresses my own opinions. I am not receiving compensation for it (other than from Seeking Alpha). I have no business relationship with any company whose stock is mentioned in this article.