Around a month ago, I published an article asking whether or not a housing crisis is on the horizon. In it, I showed that home prices are very high right now relative to household income - higher, in fact, than they were leading up to the financial crisis. However, my overall conclusion regarding the issue was that, because mortgage debt relative to GDP was fairly low (the lowest in many years), the likelihood of a crisis is actually quite slim at the moment, but investors shouldn't be surprised if home prices do drop at some point in time. In that article, one of my writers was kind enough to point me to some additional data that is equally relevant to my work - perhaps even more so than what I published - so I figured it would be a wise idea to revisit the topic by tackling that data, combined with some other data I dug up regarding the industry.
A recap of the current picture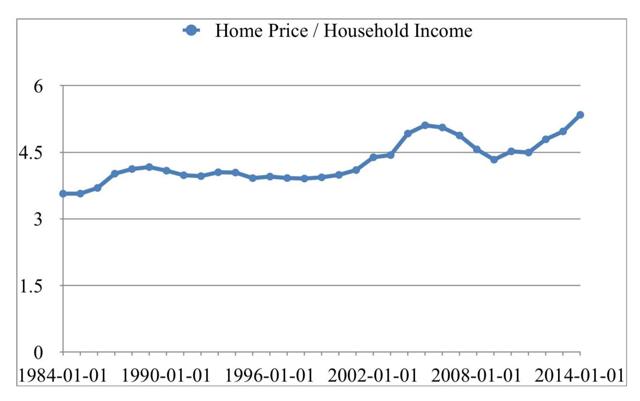 Click to enlarge
My goal in this article is to expand on my previous piece, not so much to rehash my old argument - though, I do believe a brief recap is warranted. In the graph above, you can see that home prices relative to household income is extremely high right now, with a ratio of 5.34 at the end of 2014, the highest on record. Of course, this isn't the only way to measure home prices. In the graph below, you can see a similar (but less severe) picture by using the Case-Shiller Index, which shows home prices are also at a very high level compared to the historical average.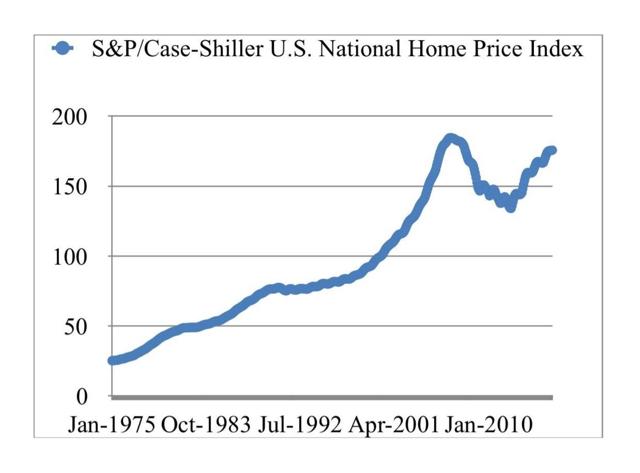 Click to enlarge
All in all, this data looks very bearish until you consider the fact that mortgage debt relative to GDP is actually pretty low right now despite sky-high home prices. In the graph below, you can see this trend. This disparity in the data led me to conclude that investors should probably expect home prices to fall at some point (unless household incomes rise), especially now that interest rate increases (however gradual) are on the table.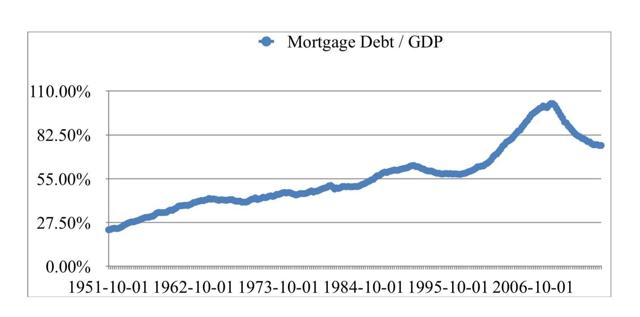 Click to enlarge
Mortgage service payments and housing inventory data
Following the suggestion of my reader, I decided to look at the mortgage debt service ratio. In the graph below, you can see this trend, which shows the cost of mortgage debt service for homeowners as a percentage of disposable personal income. As an example, the number today currently stands at 4.56, which means homeowners are paying 4.56% of their disposable personal income toward servicing their mortgage debt. If this amount seems low to you, it's because it is. You see, if you look back in time, dating back to the first quarter of 1980 (the earliest on record), you'll discover that this ratio is actually the lowest it has been since the fourth quarter of 1980.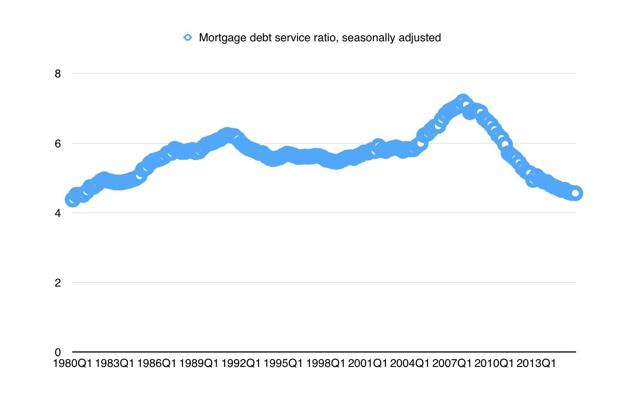 Click to enlarge
During the entire time frame of the data in the graph, the average mortgage debt service ratio has been 5.63 and the highest on record during this period has been 7.19, which was seen during the first quarter of 2008 (which shouldn't be a surprise). What this drastic drop implies is that, thanks to both low interest rates and a reduction in how much debt is taken on by homeowners, the service payments have also dropped, which further decreases the probability of a crisis even if prices fall meaningfully.
The last piece I wanted to look at in this article relates to the current supply of housing inventory. In the graph below, you can see the historical trend (dating back to 1963) of the monthly supply of houses in the U.S. As of this moment, the current number stands at about 5.6, which means that for every home that has been sold, there are 5.6 homes for sale in the country. The higher this number is, the higher the probability of a major issue in the housing market, because a glut of homes for sale will serve to push prices down, while the inverse will push prices up, ceteris paribus. Overall, this number is also quite low compared to various points in the past, so I believe this also supports the thesis that a crisis is unlikely (though, unlike my other pricing metric, this suggests that home prices could rise more if new homes do not come on the market soon).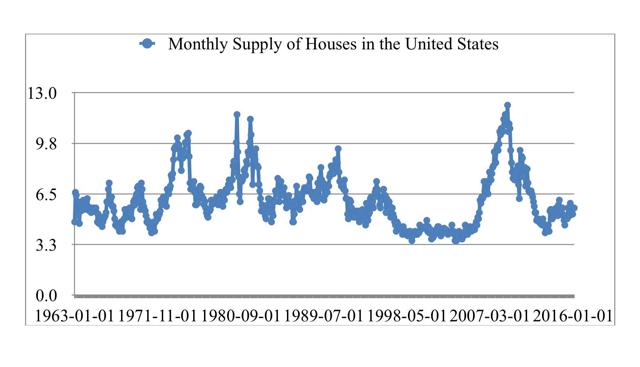 Click to enlarge
Takeaway
Based on the data provided, it's clear that housing prices are extremely high, and I believe people should brace for potential (but far from guaranteed) downside. However, despite this hefty price, we don't see anything yet that implies an outright crisis even similar to what was seen nearly a decade ago on the horizon. For investors who are attracted to REITs and homebuilders, this mixed data is modestly concerning, but it also suggests that downside risk is probably limited moving forward.
Disclosure: I/we have no positions in any stocks mentioned, and no plans to initiate any positions within the next 72 hours.
I wrote this article myself, and it expresses my own opinions. I am not receiving compensation for it (other than from Seeking Alpha). I have no business relationship with any company whose stock is mentioned in this article.