Freeport-McMoRan (NYSE:FCX) has benefited a lot from the recovery in copper prices this year as its shares have risen over 80%. But, when Freeport releases its first-quarter results on April 26, it is highly likely that the company's rally will come to an end. Let's see why.
Freeport might fail expectations
Freeport has managed to deliver strong bottom line performances in three of the last four quarters, beating estimates by decent margins. However, in the recently-concluded quarter, it is quite likely that Freeport will falter on the bottom line. This is because copper prices are at far lower levels than what they were at a year ago, despite the recent recovery, as shown below: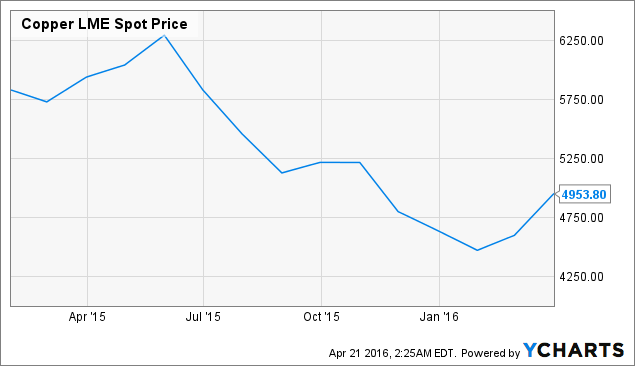 Copper LME Spot Price data by YCharts
As evident from the chart given above, copper prices were at robust levels in the first quarter of 2015 before the decline began in June. In fact, copper prices have continued to slide since June before making a comeback this year. But, despite the comeback in the first quarter of 2016, copper prices are below the levels they were at in the final quarter of 2015.
In fact, as compared to the average copper spot price of $5,832 per metric ton in the first quarter of 2015, copper prices fell to an average of $4,674 per metric ton in the first quarter of 2016. This translates into a decline of almost 20% year over year. As such, it is not surprising to see that analysts expect Freeport to post a loss of $0.18 per share for the first quarter, while in comparison, the company had posted a loss of $0.06 a share in the same period a year ago.
Thus, Freeport is expected to slip deeper into the red due to the weakness in copper pricing on a year-over-year basis. What's more, apart from the drop in copper prices, low oil prices will also have a negative impact on Freeport's bottom line. As shown below, even oil prices have been down in the past year: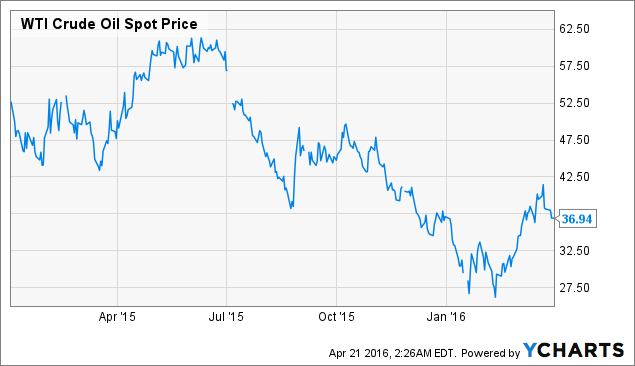 WTI Crude Oil Spot Price data by YCharts
Thus, Freeport faces the dual challenge of overcoming the weakness in the price of two commodities - copper and oil. Since both commodities have been on the decline on a year-over-year basis in the first quarter, Freeport should ideally slip deeper into the red.
This is because for each change of $0.10 per pound in the price of copper, Freeport will see its earnings before interest, taxes, depreciation, and amortization hurt by $550 million. Since copper prices have lost a lot of value in the past year, Freeport's EBITDA should take a massive hit in the first quarter. Additionally, a $5/barrel change in the price of oil also impacts Freeport's EBITDA by $175 million, so this is another factor that will hurt the company's bottom line performance.
Thus, Freeport is set for a massive drop in its earnings on a year-over-year basis, and it will be difficult for the company to beat the bottom line estimate this time. What's more, Freeport will also see more weakness going forward as the sustainability of the copper price recovery that's seen so far this year is weak. Let's see why.
The copper surplus will persist
According to GFMS, the copper market is set for its fifth year of surplus on the back of China's economic slowdown. Of course, the copper market deficit of 150,000 tons this year is less than half of the deficit of 363,000 tons seen last year, but the fact remains that the market is still oversupplied.
In fact, the copper production cuts of 700,000 tons that had taken place earlier have now slowed down as producers are looking to capitalize on the recovery in prices. GFMS forecasts that new copper supply of 1 million tons will come online in the next couple of years, leading to an increase in the surplus that already stands at 850,000 tons on a cumulative basis in the past four years. If we add the projected copper surplus of 150,000 tons for this year, the total oversupply in the market will stand at 1 million tons by the end of 2016.
Thus, as new supply comes into the market and overall copper demand expected to ebb in light of a weak real estate market in China, which accounts for 45% of global copper consumption, the oversupply in the end market will persist. Now, this persistent oversupply in the copper market is bad news for copper prices and Freeport-McMoRan as it can knock the wind out of the company's recovery.
Conclusion
Though copper prices have been improving this year, the market is expected to remain in surplus mode for the next few years. As such, the recovery in copper prices does not seem to be based on fundamental improvements. Therefore, investors should head for the exit in Freeport-McMoRan as the rally that the stock has enjoyed so far this year could end with weakness in the upcoming results.
Disclosure: I/we have no positions in any stocks mentioned, and no plans to initiate any positions within the next 72 hours.
I wrote this article myself, and it expresses my own opinions. I am not receiving compensation for it (other than from Seeking Alpha). I have no business relationship with any company whose stock is mentioned in this article.