Shares of Chicago Bridge & Iron (NYSE:CBI) edged slightly lower after the market closed on April 20th in response to its earnings release and subsequent earnings call. In addition to missing on sales forecasts (something I stated I did not know enough about to determine whether analysts' numbers seemed reasonable), CBI also missed in terms of profitability, something that I am surprised about since I thought earnings would have a higher probability of being above, not below, forecasts. In what follows, I will dig into CBI's earnings release and discuss the good and the bad behind it and what it means for investors in the company in the long run.
The bad
Without any doubt, CBI's first quarter results from a sales and earnings perspective were incredibly underwhelming. In its press release on the issue, management reported that sales during the first quarter of 2016 came out to $2.67 billion. This is a nice chunk of change no matter how you look at it but it's 14.7% below last year's top line of $3.13 billion and handily missed the $2.82 billion analysts had been anticipating.
A good portion of CBI's falling sales can be chalked up to the company's divestiture of its nuclear construction operations last year, harming its Engineering & Construction segment by quite a bit. However, sales in the business's Fabrication Services segment also dropped, falling 18.9% from $637.81 million to $517.58 million, while CBI's Technology segment saw its top line plummet by 35%. Regarding Technology, I do believe this is a temporary issue because, during the quarter, backlog in the segment hit $83.62 million, a bit higher than the $77.02 million seen the same quarter last year, a sign that Technology will likely firm moving forward. In the image below, you can see selected financial data associated with CBI's individual segments, which show that every segment (except for Capital Services) was harmed in terms of revenue.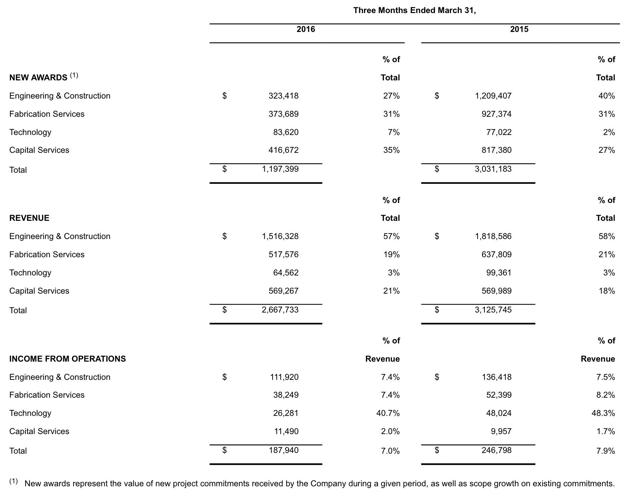 Click to enlarge
On the bottom line, the picture was depressing as well. According to management, net income for the quarter came in at $106.93 million. This is 19.1% below last year's first quarter, when profits were $132.23 million and, when accompanied by a 3.2% drop in share count, pushed earnings per share from $1.21 to just $1.01. Although this is still respectable for a business that has been hit by a massive energy downturn, it's significantly lower than the $1.13 in earnings analysts were hoping for and proves my prior argument that earnings might be higher than expected was completely wrong.
The good
When it comes to sales and profits, the picture for CBI was certainly bad but, fortunately, there were a number of positive indicators that management reported. First and foremost was the company's operating cash flow. In its press release, CBI stated that its operating cash flow during the quarter came out to $141.85 million. This is far better than the $289.87 million outflow seen the same quarter a year earlier and shows that the company's divestiture of its nuclear construction operations has set it back on track to positive cash flow. This, to me, is probably the most significant metric reported by CBI during the quarter, especially when you consider that capital expenditures were a modest $11.18 million.
Thanks to the strong cash flow, the overall cash picture for CBI also managed to improve. As of the end of the quarter, total cash and cash equivalents hit $641.49 million, an amount that was higher than a year earlier and which is very high when you consider that CBI's market cap is only $3.82 billion. The picture would have been even more impressive had management avoided paying debt down by $120 million, taking total debt from $2.59 billion to $2.47 billion which, in and of itself, is another positive thing to come from the quarterly release.
The last positive and noteworthy item I saw related to CBI's backlog. I already mentioned above the fact that the firm's Technology backlog increased year over year but overall backlog between December of 2015 and today has fallen. As backlog was converted into revenue, the total backlog figure dropped by $1.48 billion from $22.64 billion to $21.16 billion. I never gave an estimate of what I thought to be realistic, but thanks to new awards totaling $1.20 billion (versus $3.03 billion in new awards during the first quarter of 2015), the amount left is pretty impressive when you consider how rapidly the energy sector has deteriorated. My own guess behind this is that the modest decline is attributable to the certainty of high-quality U.S. contracts which, at the end of last year, made up 80% of CBI's total backlog.
Takeaway
Unfortunately, the picture for CBI in regards to sales and earnings this past quarter was pretty bad and there's no denying this. Both sales and earnings were hit by its divestiture of its nuclear construction business chiefly. On the other hand though, there were a number of factors that were very, very positive, namely CBI's strong operating and free cash flow, its cash position (which I hope it uses toward debt reduction or M&A activity (or some other type of investment)) and debt position, and its fairly stable backlog. Despite the fact that these results will likely lead to short-term volatility, I do believe the other factors looked at in this article suggest that there could still be meaningful upside for CBI in the months and years ahead.
Disclosure: I am/we are long CBI.
I wrote this article myself, and it expresses my own opinions. I am not receiving compensation for it (other than from Seeking Alpha). I have no business relationship with any company whose stock is mentioned in this article.