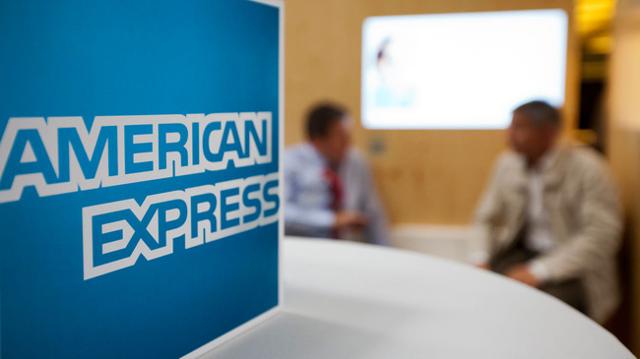 Click to enlarge
American Express (NYSE:AXP) has struggled mightily in the past few quarters as it has been hit with one blow after another. The company's weakness in recent quarters has crushed the stock price and taken the one high-flying name and relegated it to the proverbial scrap heap of other financials that have suffered similar fates. I was a long-time bull on AXP but last year, switched to a more bearish stance as AXP continued to struggle with even the most basic operating metrics. But after bottoming at $50 several weeks ago, AXP has been on a tear and prior to last night's Q1 report, shares had already gained their way back to $65. With rival Discover (NYSE:DFS) posting terrific earnings earlier this week and AXP flying off of its report, it seems the worst is certainly over.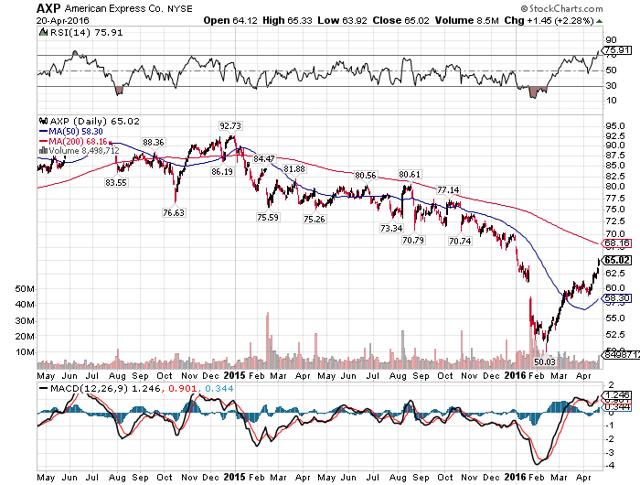 Click to enlarge
My bearishness with respect to AXP was based upon the simple fact that its business has been in slow decline for a few quarters now. AXP has struggled to maintain its top line level as general weakness in its business has been exacerbated by things like losing the Costco portfolio. Sentiment was unbelievably weak last year and that contributed to what amounts to an overshoot on the downside to $50 but sentiment has done a 180 and is now as bullish as ever. Is that prudent course of action here? Is there more left in this rally?
With AXP soaring off of the report you'd think the numbers it reported were gangbusters. However, even a cursory glance at the report shows things still aren't quite so rosy and in fact, it seems AXP simply stepped over the very low bar. Revenue was up 2% during the quarter which amounts to a very nice growth number for AXP considering the weakness it showed in 2015. The strong dollar took its toll on AXP's international business but cardmember spending showed tremendous resiliency during the quarter as it posted a +6% number. That's great news for AXP and that, perhaps more than anything, is cause for optimism. If AXP's members continue to spend as they did in Q1 then it is totally possible the worst is behind AXP.
Provisions were in-line with revenue growth (roughly) so I didn't see anything there that was particularly exciting or alarming but expense growth will be in focus for AXP in the coming quarters. AXP announced recently it would be embarking upon a massive cost savings program to take $1 billion out of its cost base by next year. Expenses were up 5% this quarter but that included a restructuring charge and a gain on the sale of the JetBlue portfolio. Still, even without those items AXP didn't achieve any meaningful cost savings in Q1 so this will be something to watch going forward. If AXP can remove $250 million per quarter from its cost base that could prove to be a material addition to its earnings.
Speaking of earnings, AXP saw radically lower ROE in Q1 than last year's number. That number came in at 23.6% versus 29% a year ago and given AXP's lower profit margins this quarter, it is no surprise. Still, that is a huge reduction in profitability and indeed caused AXP to generate less capital than it spent during the quarter, something that has become a bit of the norm, unfortunately.
On a fully phased-in basis, AXP's capital ratios continue to fall as it outspends its ability to replace the capital it uses for dividends and buybacks. Its CET1 ratio has fallen from 13.1% in last year's Q1 to 12% this quarter. Likewise, its SLR has fallen from 10% to 9.3% in the same period. While AXP's numbers are still plenty high enough and well in excess of required minimums, the fact that AXP is outspending its capital generation isn't great. This is something that needs to be remedied or we could see AXP with crimped buybacks in the future. AXP is certainly very well-capitalized but it cannot run a deficit forever; this will be very important to stabilize in 2016 as AXP builds for the future.
AXP's guidance for this year and next year essentially amounts to consensus but sentiment on AXP had been so ugly that it seems market participants were expecting another cut. AXP reiterated, however, and that was good enough. Indeed, for the first time in a long time analysts are actually raising EPS estimates for 2016 and that is a very good thing going forward for AXP. It means sentiment bottomed and it also means investors are going to be much more willing to buy the stock.
At 12.2 times this year's earnings, AXP isn't cheap in relation to other financials but it is cheap relative to its own historical valuations. It isn't uncommon for AXP to trade for 14 times current year earnings and that would represent something like $11 up from here. Given the turn in sentiment among investors and analysts, I honestly wouldn't rule that out. I would caution that AXP still has a long way to go in terms of controlling expenses and making sure revenue begins to grow in a meaningful way but progress is being made and that is certainly positive.
The chart looks beautiful from here as the rally since the bottom has been epic. The next hurdle is the 200DMA and with AXP knocking on the door thanks to its earnings beat, I suspect we'll see it over that line in the coming days and in particular, because the 200DMA is steeply downward sloping. If AXP can hold over that line, the rally will have some more legs.
I was encouraged by AXP's progress in Q1 and I think the worst is certainly over. However, the stock has also come a very long way since the bottom and is trading for a more normalized valuation than the trough we saw earlier this year. AXP has the potential to get back to 14 times this year's earnings but it will take meaningful progress in Q2 and beyond to get there. AXP is on its way but hasn't done much in the way of producing tangible results. The pieces are in place, AXP just needs to execute.
Disclosure: I/we have no positions in any stocks mentioned, and no plans to initiate any positions within the next 72 hours.
I wrote this article myself, and it expresses my own opinions. I am not receiving compensation for it (other than from Seeking Alpha). I have no business relationship with any company whose stock is mentioned in this article.