Introduction
In 2016, we are seeing the mining industry change direction from its multi-year downfall. Canada's financial markets are heavily dependable on the performance of the mining sector worldwide. The Toronto Stock Exchange (TSX) holds over half of the public mining companies in the world. It provides a medium for investors to purchase mining stocks and is also responsible for helping finance almost half of equity financings in the industry.
Throughout this article, we will talk about current market changes in the mining industry and how to use the leading companies as precursors to finding good investments in junior mining companies. We will highlight a few key parameters noteworthy for investors to utilize in searching for the next venture exploration companies which could bring investors substantial returns.
What is a Porphyry Deposit?
A porphyry deposit is a large, rare geological system that contains multiple metallic resources, like copper, molybdenum and gold. Of all copper in the world, 60% is mined from large porphyry deposits. For molybdenum it's even 95%, while for gold this deposit type is good for 20%. Porphyry deposits typically contain a lower grade ore and require large upfront investments. Due to their large size and multiple decades of mining life, many porphyry deposits can be made economically viable through economies of scale. According to data from USGS, there are 690 porphyry projects worldwide. Most of them can be found along the west coast of North and South America, and the Southwest Pacific.
Who are the Big Players?
Rio Tinto
Rio Tinto (NYSE: RIO) is a British-Australian mining corporation with a long history in copper. Bingham Canyon is one of the largest Cu-Au porphyry in the world and has been in production for over 100 years. During this period, a total of 140 million tons of copper were recovered. Rio Tinto bought the Bingham Canyon mine in 1989. Significant quantities of gold and silver were also successfully extracted from the mine.
Large porphyries are hard to come by and are also harder to identify. Conventional drilling could mislead geologists into properly identifying a porphyry. Airborne and ground magnetic surveys are required on the property to map out the potential zones of interest prior to starting a drill program.
Porphyry systems such as the Bingham Canyon do not have high yield gold intercepts as other concentrated gold deposits might identify when original drilling takes place. Rather, the porphyry mining system contains much more ore (at lower yields), and therefore, usually represent a much larger economic return over the longer term.
BHP Billiton
BHP Billiton (NYSE: BHP) is another well-known global resources company. Copper represents roughly 20% of its total production. The company has stakes in 5 copper mines, of which the massive Escondida mine is the largest by far.
Measured by total reserves (32 million tons) and production volume (1.1 million tons) in 2013, the Escondida mine in Chile is one of the greatest copper mines in the world. The large copper porphyry mine is in production since 1990, and the remaining resource life of Escondida is still over 75 years.
Codelco
Chile is dubbed porphyry copper country. Its state-owned copper miner, Codelco, is the owner and operator of the El Teniente mine, which is the largest underground copper mine in the world and the sixth-largest by reserves.
Anglo American
Anglo American (OTCPK:AAUKY) is a South African mining company with global operations. It has interests in four copper operations in Chile (Los Bronces, Collahuasi, El Soldado, Chagres) and one in Peru (Quellaveco). All five are porphyry systems.
The importance of giant porphyries
During the Prospectors and Developers Association of Canada meeting in March this year, Teck Resources' (NYSE:TCK) Andrew Davies explained the importance of giant porphyry Cu-Au deposits and how we heavily rely on them for the future in global resource needs.
In 2014, of the 10 largest mines (by production), nine were porphyry deposits, and the 10 largest porphyry mines (by production) produced 25% of the global total copper production.
Current Status of the Mining Industry
Junior miners and TSX Venture issues
During the last few years, there have been several hundreds of mineral exploration companies that encountered funding issues and that continue to be at risk of a possible delisting by Canada's TSX Venture Exchange. Metal prices have been in a free fall since 2011, but many analysts believe we have seen the worst throughout 2015, and that 2016 will offer tremendous investment opportunities in the mining sector.

Click to enlarge
(Chart: TSX Venture, 10-year. Source: QuoteMedia)
In an article published in July 2013 by Reuters, in an interview with Joe Groia, a securities lawyer and former head of enforcement at the Ontario Securities Commission, he stated the following:
"There's a crisis that's looming, if we continue to not address it, what we're going to end up with is literally hundreds of companies where boards are either going to walk away or hundreds of companies that are going to run out of money."
He goes on further to explain the importance of junior mining companies and their role in finding valuable discoveries which could be of interest for larger players in the industry:
"The disappearance of a large number of small companies would affect the global mining sector for years, given that it is juniors that typically find world-class assets that big players later build into producing mines. It can take years to estimate the value of a mineral asset, plan a mine and start the permitting process, and it is neither quick nor simple to resume work on a mothballed early-stage project."
It is clear that junior mining companies play an important role in discovering world-class resources which will one day be needed, or even required, for future production, and that without the role of exploring for new resources, the industry could face challenges in securing additional resources in the future.
Approximately 60% of all public mining companies worldwide trade on the Venture and Toronto Stock Exchange. The Canadian dollar sitting near $0.70 versus the US dollar certainly looks attractive to the foreign investor.
In 2011, the mining industry started its deep descent into where we now appear to see the bottom of the fall. In an interview with industry leading analysts Rick Rule and Brent Cook by The Northern Miner, Mr. Cook said:
"People point out that our market, measured by the TSX Venture Exchange, is down 75%, and they act as though that is a catastrophe. But I would suggest to you that makes the market precisely 75% more attractive than it was before it fell."
For the average investor, this would suggest that there are still good investment opportunities within the Toronto Stock Venture, and that it might be time to start searching for that "diamond in the rough" sort of speak, as certain investment opportunities are simply too lucrative to pass up with those recessed price levels.
Junior Company on the Radar
BCM Resources Corp.
BCM Resources Corp. (TSX-V: B) is a junior mineral exploration company. In 2006, it has acquired a 100% stake in its Shan South property, where it successfully landed two molybdenum discoveries. BCM Resources is securing large land packages, including an option to acquire (up to 60%) of the Thompson Knolls discovery from Inland Explorations Ltd.
The Thompson Knolls Property is located in western Utah's Great Basin, one of the premier metallogenic provinces in the world.
On March 9th of this year, an NI-43-101 report was released by Mr. Richard Redfern. Here is an extract from the document:
"Thompson Knolls Property is of sufficient density and reliability to identify areas of precious and base metals mineralization"... Is believed that two large copper porphyry deposits could be present at the Thompson Knolls Property.
While not as large, the deposit shares similar characteristics with that of Bingham Canyon (Rio Tinto):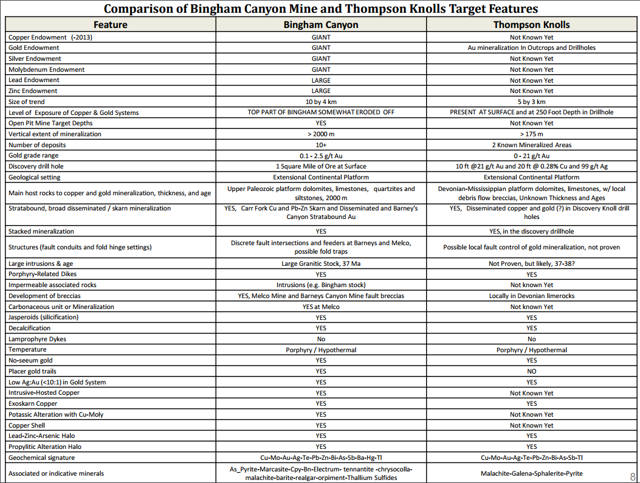 Click to enlarge
Porphyry deposits play a major role in mining production and contribute to approximately 60% of mined copper and approximately 95% of mined molybdenum. The interesting thing about porphyry deposits is that many were not discovered (or properly quantified) in the past when conventional drilling methods were used, since they typically have lower grade findings.
Catalysts
On March 2nd, 2016, BCM Resources nominated Matthew Lennox-King to join the board of directors. Mr. Lennox-King, a geologist and mining executive, was the 2014 winning candidate of Canada's "40 under Forty". He is the son of Oliver Lennox-King, who had a long, successful career in the junior resource sector.
The chart below illustrates a typical investment cycle for exploration companies. We could argue that per Brent Cook's suggestion, BCM Resources currently stands in the early stages of speculation with regard to the perceived investment cycle.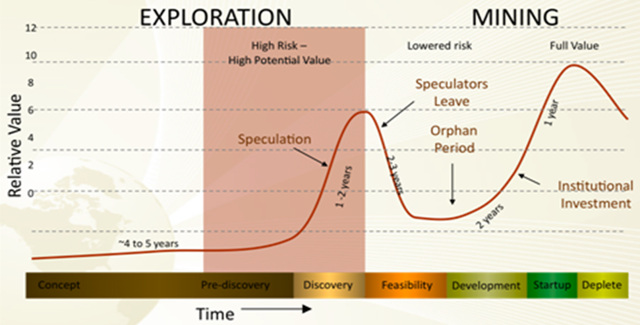 Click to enlarge
(Image credit: Brent Cook's Exploration Insights)
In a recent article published in August 2015, Lennox-King goes on to explain how it is important for junior mining companies to "Dream Big". Later on, during the question period, the interviewer said: "... Brent Cook is a big fan of yours, but he is very picky..."
Will the addition of Matthew Lennox-King to the board of directors help advance the company to the next level? Investors should keep a close eye out on BCM Resources, as it recently hit a new 52‑week high on April 20th, 2016.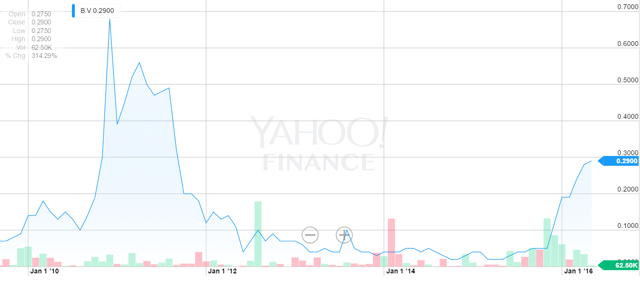 Click to enlarge
(Image credit to Yahoo Finance)
Summary
Porphyry deposits play a major role in mining production and contribute to approximately 60% of mined copper.
We have been seeing signs of recovery in the mining industry as of the beginning of 2016, as currently indicated by the stock prices of many big players:
Barrick Gold (NYSE: ABX) is up 96%
Rio Tinto is up 20%
Teck Resources is up 184%
BHP Billiton is up 26%
Anglo American is up 164%
BCM Resources is a junior exploration company that is positioning itself as an attractive acquisition target somewhere in the future. If the company can come up with NI43-101 resource estimates to identify and quantify economic deposits on the Thompson Knolls property, the property can eventually become of interest to major copper producers.
Throughout 2016-17, investors will start to look for investment opportunities in the mining sector as we approach phase III of the four-year business cycle. Interest rates are starting to rise in the USA and the economy growth rate is starting to accelerate year over year. These are all good indicators to enter an investment position in the mining sector for the medium term.
Disclosure: I am/we are long BCM RESOURCES.
I wrote this article myself, and it expresses my own opinions. I am not receiving compensation for it (other than from Seeking Alpha). I have no business relationship with any company whose stock is mentioned in this article.
Additional disclosure: The author has no positions in any stocks mentioned. The author's business associate, Mr. Denis Brisson, has a position in BCM Resources.
Editor's Note: This article discusses one or more securities that do not trade on a major U.S. exchange. Please be aware of the risks associated with these stocks.