Welcome to the April 21st edition of Seeking Alpha's Eye on Tech newsletter.
Eye on Tech Coverage
What's At Stake In The EU's Antitrust Battle With Google Over Android
ARM's Q1 Report Shows Why Embedded Chips Are Now Its Biggest Opportunity
TiVo Tops 7M Subscribers As European Pay-TV Deals Bear Fruit
A Strong Billings Print Helps ServiceNow Surge Post-Earnings
Noteworthy Tech News
Qualcomm drops after FQ2 beat, light FQ3 EPS guidance, LG settlement, and device forecast cut - Unlike its EPS guidance, Qualcomm's (NASDAQ:QCOM) FQ3 sales guidance is in line with consensus. But it benefits from over $200M in licensing revenue that was deferred due to its arbitration dispute with LG (OTC:LGEAF) (has now been settled), and still implies a 4% Y/Y revenue drop at the midpoint. Meanwhile, the company forecast on its earnings call FQ3/FQ4 chip division ("QCT") revenue will benefit from "improving demand for premium and high-tier devices" (likely a reference to the iPhone 7 launch), but also be hurt by "reduced demand for thin modem products and low-tier chipsets."
The "thin modem" remark appears to back up media and analyst reports stating Apple (NASDAQ:AAPL) plans to partly rely on Intel (NASDAQ:INTC) 4G modems for the iPhone 7, after sole-sourcing with Qualcomm for several years. Meanwhile, the "low-tier chipset" reference suggests low-end share loss to Taiwan's MediaTek and Chinese chipmakers such as Spreadtrum, who have been pricing aggressively. Qualcomm also indicated (without naturally ever mentioning Apple by name) soft iPhone 6s sales are hurting chip demand, and partly responsible (along with macro pressures) for a cut in its 2016 3G/4G device shipment growth forecast to 5%-11% from 7%-13%.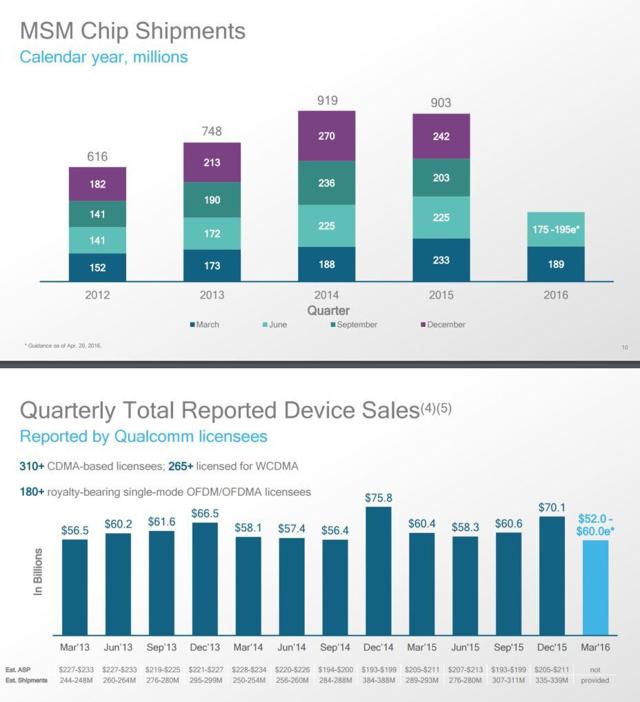 Click to enlarge
Qualcomm's chip shipments and licensee-reported device sales are still trending downward. Source: earnings slides.
On the bright side, higher MSM chip ASPs are partly offsetting declining shipments (they're expected to be down 13%-22% Y/Y in FQ3), as mix shifts towards high-end processors such as the Snapdragon 820 (found in some Galaxy S7 units) and away from iPhone modems, which carry lower ASPs than Snapdragon processors with integrated modems. And Qualcomm thinks its margin targets are achievable even with "a range of second sourcing assumptions at our large customers." It's also on track to obtain $1.4B/year in spending cuts from its restructuring, with at least $700M due to be achieved by the end of FY16. But the company's FQ3 guidance and earnings call remarks suggest sales haven't yet stabilized, as both old and new headwinds weigh on demand.
Facebook exploring options for letting users profit from published content - In a survey picked up by The Verge, Facebook (NASDAQ:FB) asked certain users about their interest in several options for monetizing their Facebook content. Among them: a tip jar, branded content deals with sponsors, connecting with advertisers through a "sponsor marketplace," and (notably) getting a cut of the ad revenue produced by their posts.
This follows news Facebook is paying some media firms to use its Live streaming platform - this could change as ads become available for Live - and with the company giving publishers adopting Instant Articles a chance to keep all of the related ad revenue if they sell the ads (they keep 70% if Facebook sells them).
There was a time when major pro athletes and teams actually paid for the sports apparel they used. Now, of course, those athletes and teams are often paid millions to use a particular apparel maker's gear, owing to the financial benefit the latter receives from an athlete/team's "endorsement." With ad partners acting as intermediaries, social media might be undergoing a similar sea change. Facebook and Twitter (NYSE:TWTR) have a clear financial incentive to give their most popular users a clear financial incentive to post content.
EMC posts Q1 miss, comments on Dell deal, rallies thanks to VMware - Since EMC (NYSE:EMC) is due to be acquired by Dell, markets didn't really care about the company's Q1 miss, especially since CEO Joe Tucci indicated the Dell deal remains on track to close by October. But since part of the payout to EMC shareholders will come from a VMware (NYSE:VMW) tracking stock, markets did care about the fact beaten-down VMware (80%-owned by EMC) rose 13.7% following a Q1 beat and strong Q2 guidance. That allowed EMC to rise 3.2%.
For those looking at EMC's numbers to help gauge enterprise storage demand, it's worth noting the company's Information Storage revenue fell 6% Y/Y to $3.45B. Part (but not all) of the decline is attributed to $75M worth of unshipped orders. IBM (NYSE:IBM), NetApp (NASDAQ:NTAP), and HP Enterprise (NYSE:HPE) have also been seeing declining storage sales, as high-end sales come under pressure and cloud storage adoption continues.
Apple delays FQ2 report by a day, to April 26 - Apple says the delay is due to a memorial service for former board member Bill Campbell, who recently passed away. As has been the case in recent years, Apple's FQ2 report is expected to be accompanied by an update to its capital return (dividend/buyback) program. A year ago, the dividend was hiked by 11% and $50B added to the buyback authorization.
Corning launches "Vibrant" Gorilla Glass; 2017 iPhones a possibility - Vibrant Gorilla Glass lets device makers imprint photo-quality images onto standard Gorilla Glass. Corning (NYSE:GLW) argues it gives OEMs "a new opportunity for customized decoration and commercial branding."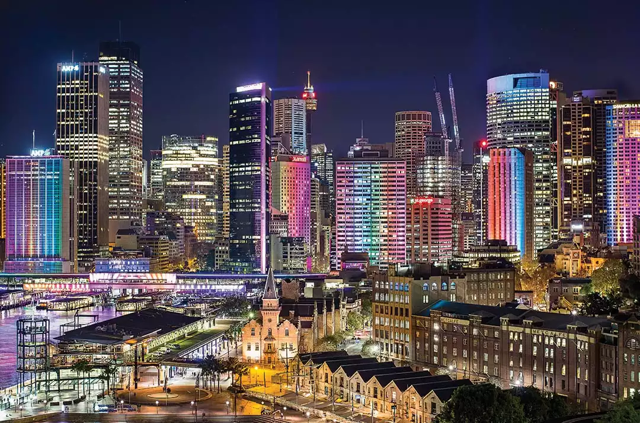 Click to enlarge
An image printed on Vibrant Gorilla Glass
With Apple rumored to be opting for an all-glass enclosure for 2017 iPhones, the company (a long-time Gorilla Glass buyer) could use it to imprint the Apple logo on the phone's glass back panels. Samsung could do something similar for its hardware, given the Galaxy S6/S7 feature front-and-back Gorilla Glass panels.
Check Point slumps after providing light Q2 guidance with a Q1 EPS beat and in line revenue - Check Point (NASDAQ:CHKP) guided for Q2 revenue of $405M-$435M and EPS of $1.02-$1.09 vs. a consensus of $427.7M and $1.09. Full-year guidance was affirmed.
At the midpoint, the Q2 sales guidance implies only 6% Y/Y growth. Q1 revenue was up 9%, with the deferred revenue balance rising 14%. Traditional firewall market leaders Check Point, Cisco, and Juniper have been facing stiff competition from next-gen firewall leader Palo Alto Networks (NYSE:PANW), which saw billings rise 62% Y/Y in its January quarter to $459M. Unified threat management appliance leader Fortinet (NASDAQ:FTNT) has also been doing well; its billings rose 35% Y/Y in Q4 to $380.9M.
F5 gains post-earnings as EPS strength and a $1B buyback hike overshadow sales weakness - F5 Networks (NASDAQ:FFIV) went into earnings down ~10% from where it traded two years ago. That helps explain why shares are higher post-earnings in spite of an FQ2 revenue miss and below-consensus FQ3 sales guidance that implies 2% Y/Y growth at the midpoint. With such low expectations, solid EPS numbers (both for results and guidance) and new capital returns are enough to spark a rally.
Looking at F5's numbers more closely, product revenue, which drives future maintenance/support revenue, fell 8% Y/Y to $225.4M. It was a 13% increase in service revenue to $258.2M that allowed sales growth to remain positive. On the earnings call, F5 mentioned Americas telco and financial services bookings were soft; software and security remain strong points.
The company is still easily the top player in the market for application delivery controllers (ADCs), which manage and direct traffic to apps running on data center servers. And a new 100G blade for F5's high-end VIPRION ADC line could provide a bit of a sales lift. But the ADC market has stagnated as adoption of virtual (software-based) ADCs grows and server workloads continue moving to public cloud infrastructures that often don't use F5's hardware.
Citrix gains on Q1 beat, above-consensus 2016 guidance - Citrix's (NASDAQ:CTXS) numbers follow a good Q4 report in January, and arrived a day after VMware reported solid license bookings for its end-user computing business (competes with Citrix). On its earnings call, Citrix mentioned it saw strong demand for its Workspace Suite, which provides remote PC and mobile access to enterprise apps and data. The XenApp (server-based app virtualization) and NetScale (application delivery controller) lines also did well, as did Citrix's GoTo and ShareFile cloud/SaaS software offerings. Citrix still plans to spin off GoTo later this year.
Notable Tech Commentary and Reports
Credit Suisse: Instagram will produce 2016 revenue of $3.2B - That's about 3.2x as much as what Facebook paid in 2012 for the photo/video-sharing platform, which now has over 400M monthly active users (MAUs) and lends itself pretty well to brand advertising. The sales estimate is also more than what Twitter (NYSE:TWTR) ( - 2016 revenue consensus of $2.96B) is expected by analysts to produce this year.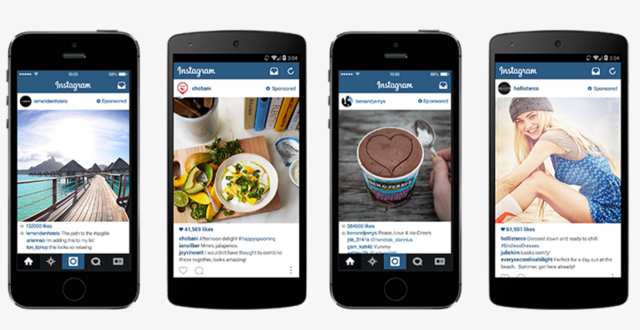 Click to enlarge
Examples of Instagram ads. Now a big business for Facebook.
It's safe to say Facebook is getting a good ROI on Instagram. The jury's still out on its $19B+ purchase of WhatsApp. The mobile messaging giant has over 1B MAUs and claims sky-high engagement rates thanks to its frequent use as an SMS replacement in international markets. But it has been sparsely monetized - a $1/year subscription fee (never applied in all markets to begin with) was recently removed, and CEO Jan Koum has promised WhatsApp won't sell ads and will maintain (unlike many rival platforms) a simple, uncluttered, UI. Business messaging services (a space Facebook Messenger is also interested in) will be tested out this year.
T-Mobile: Verizon Hits Peak Mid-Life Crisis - Never shy about taking shots at rivals, T-Mobile (NASDAQ:TMUS) decides to mock Verizon (NYSE:VZ) over its budding online media ambitions during a week in which Big Red made another online video investment and reportedly submitted a first-round bid for Yahoo (NASDAQ:YHOO). "Verizon really wants to be a content company. They have Netflix envy. And YouTube envy. And HBO envy. So, they're buying advertising technology and mobile content studios and everything that sounds like 'the millennials' might like it - all to create Go90, a mobile video app Wired famously called, 'The Service That No One Asked For'."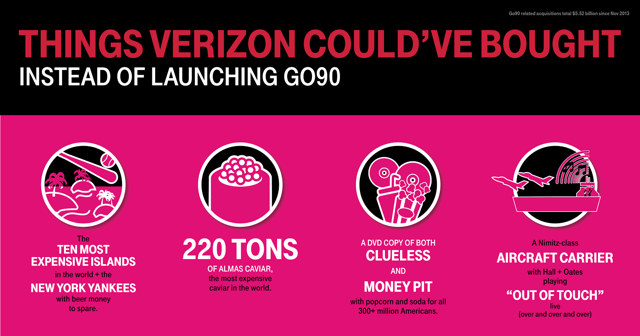 Click to enlarge
T-Mobile thinks the money invested in Verizon's Go90 mobile video service would've been better spent elsewhere.
Microsoft exec: Mobile banner ads could disappear in 3-4 years - Mobile display ads have suffered from low conversion rates (which in turn have contributed to low ad prices), with a large % of clicks often proving to be accidental (the proverbial "fat finger" phenomenon). Google and social media platforms respectively do plenty of business selling search and news feed/timeline ads on mobile, and video ads on YouTube and social platforms can often do well. But display ads remain a trouble point, and that's a problem for both developers and ad tech firms (Criteo S.A. (NASDAQ:CRTO), Rocket Fuel (NASDAQ:FUEL), The Rubicon Project, Inc. (NYSE:RUBI), etc.).
The Microsoft comments follow an RBC survey indicating ad-blockers and fraud are major concerns for buyers of programmatic (automated) ads in general. A large portion of programmatic ad-buying involves display ads.
SA contributor Doug Young: Alibaba's Ant Surprises With Profits, Mega-Listing Plan - Young notes a Chinese media report indicating Alipay parent Ant Financial is set to raise over $3.5B at a ~$60B valuation - that's in line with a March Reuters report, and up from the ~$45B valuation Ant reportedly got in a 2015 round.
He also observes Ant, which Alibaba (NYSE:BABA) is due to have a 33% stake in Ant when an IPO (expected this year or next) arrives, reportedly had a 2014 profit of RMB2.6B ($400M) on revenue of more than RMB10B ($1.5B). However, Young thinks this profit may have been achieved by "moving certain loss-making assets into another company" - while the core Alipay service is believed to be quite profitable, certain newer businesses are believed to be posting major losses.
Disclosure: I/we have no positions in any stocks mentioned, and no plans to initiate any positions within the next 72 hours.
I wrote this article myself, and it expresses my own opinions. I am not receiving compensation for it. I have no business relationship with any company whose stock is mentioned in this article.