Today, we are rebranding Forensic Research Analyst to Spotlight Research. Note that according to a recent analysis by Bloomberg and Activist Shorts Research, Forensic Research Analyst is currently in a 3-way tie for 6th-highest campaign length returns (down 37%) along with Kyle Bass's Hayman Capital and Alpha Exposure, and one spot behind Bill Ackman's Pershing Square (down 39%).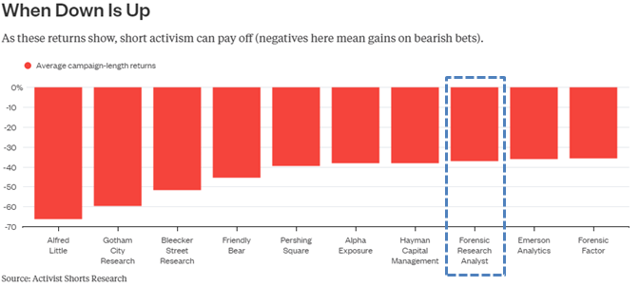 Click to enlarge
Also today, we are publishing the first chapter of an 8-part mini-series on Intrexon (NYSE:XON), which we believe is the Theranos of the public markets. After the dust had settled on Theranos, Bill Maris, founder of Google Ventures, explained to Business Insider why Google Ventures did not invest in Theranos, while it had been investing in other hot biotech startups like 23andMe (Private:DNA) and Flatiron Health:
We looked at it a couple times, but there was so much hand-waving - like, look over here! - that we couldn't figure it out. So we just had someone from our life-science investment team go into Walgreens and take the test. And it wasn't that difficult for anyone to determine that things may not be what they seem here
Similar to Maris, we saw the "hand-waving" at Intrexon and the promotional activity of the company's charismatic founder as serious red flags and began our intensive due diligence. We are shocked by what we have found. Through this 110 page, 21,000+ word investigative report that will be released as a mini-series over the next 8 business days, we believe we will systematically debunk all core aspects of the bull case to comprehensively demonstrate that things are definitively not "what they seem here."
Intrexon has been around for more than 17 years and commercialized effectively zero meaningful commercial products using its own technology. The company's technology is a "secret." Nobody can explain exactly what it does. Not its employees, not sell-side analysts and not the people who own the stock. The company is only able to generate revenue through related party transactions and selling livestock. The fair value of this company is miniscule compared to its current ~$4.5 billion market capitalization.
Tomorrow, we will release Part 2 of our report, a deep dive on related party accounting.
Disclosure: I am/we are short XON.
I wrote this article myself, and it expresses my own opinions. I am not receiving compensation for it. I have no business relationship with any company whose stock is mentioned in this article.