As two companies that are developing treatments for Duchenne muscular dystrophy [DMD] as their lead drug candidates, Sarepta Therapeutics, Inc. (NASDAQ:SRPT) and PTC Therapeutics, Inc. (NASDAQ:PTCT) have both had obstacles to overcome in 2016. The degenerative nature of DMD puts both of these companies on the radar for speculative long and short biotech traders. DMD is a death sentence for the boys and young men afflicted with this disorder and the compassionate view for healthcare regulators to take would be to approve these drugs as soon as possible, when under normal circumstances the body of evidence obtained in studies proving the drugs' efficacy would fall short.
Sarepta's eteplirsen has received criticism due to the very small sample size of its clinical trial data of only 12 patients while PTCT's Translarna for nonsense mutation Duchenne muscular dystrophy [nmDMD] has received criticism for its Phase 3 trial showing statistical significance only at a sub-group level. Bears on either company believe that there is insufficient evidence to prove that the drugs work and regulator opinions will require further data for marketing approval while bulls on either company believe that the drugs should be marketed as soon as possible on compassionate grounds because the sooner something is available the better and any improvement to the quality of life for these patients is better than absolutely nothing.
The share prices of SRPT and PTCT have had similar roller coaster rides in 2016
While SRPT and PTCT offer different treatments for different subsets of the disorder, the companies have had very similar paths in the past several months due to scrutiny by the FDA. SRPT collapsed 55% on January 15 after an FDA briefing document challenged the company's claim over eteplirsen's ability to improve muscle function in patients. The stock bottomed out at around $11 over the following weeks, or as low as $500 million in market cap and $300 million in enterprise value.
Despite the negative tone from the briefing document, the stock has since doubled off of its lows as SRPT forges ahead along with support from the medical community. Speculative money is jumping back into the stock as an FDA Advisory Committee Meeting to review the New Drug Application [NDA] for eteplirsen is coming up on April 25 and the PDUFA date for eteplirsen is on May 26.
On February 23, PTCT collapsed 62% after it received a Refuse to File letter from the FDA on its New Drug Application [NDA] seeking clearance of Translarna. The FDA stated that the Phase 3 ACT DMD trial was negative and did not provide substantial evidence of effectiveness while also criticizing the company's proposal of a post-hoc adjustment of ACT DMD, which eliminates data from a majority of enrolled patients. PTCT hit a low of less than $6, trading at essentially no enterprise value despite the fact that Translarna is currently selling in Europe and expanding worldwide on a conditional basis.
At a price of less than $6, the market was betting that the negative event from the FDA would result in the European Medicines Agency [EMA] pulling the conditional approval from the drug. However, PTCT recently got a boost as the United Kingdom's National Institute for Health and Care Excellence recommended Translarna with a draft guidance expected in May.
This timeline fits well with the expectation that the EMA's Committee for Medicinal Products for Human Use will come back with a new assessment of the drug based on the results of the Phase 3 ACT DMD trial some time during the middle of the year. As we approach mid-2016, I expect that speculative investors will buy into PTCT much like what they have done on SRPT in anticipation of a positive result and a massive upward swing in the stock price.
Analysts and other so-called experts have been wrong on both stocks numerous times before
For anyone who has been following analyst comments and price targets on SRPT and PTCT over the past few years, you'll realize that the combined efforts of all involved have a batting average worse than a back up middle infielder on a non-competitive MLB team. There's also one well-known biotech financial writer who has been quite bullish on SRPT while quite hard on PTCT recently, stating that there is no chance that Translarna will gain full approval from the EMA.
Well, this person has been blindsided on SRPT on multiple occasions, particularly in January after the FDA briefing documents. So why should anyone take the word of analysts or any other so-called experts out there on DMD? It is clear that they are just guessing on where the FDA and other regulatory bodies stand on these controversial DMD drugs and have little to no insight over the average investor who bothers to do their own research on each story.
The best thing any speculative investor can do is to weigh the risk-to-reward scenario of PTCT and SRPT. The chart below summarizes key financial data for each stock in 2015, including year-end cash balance and working capital less all long-term liabilities (so book value excluding long-term assets) and net loss and revenue for the year: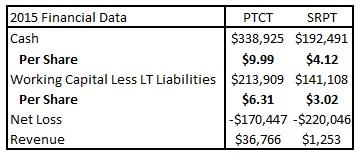 If a negative event were to occur for either company, it's likely that they would immediately trade at net cash value. For SRPT, a devastating FDA ruling could have the stock tank by as much as 80%. Meanwhile, PTCT has already been beaten down so badly that more negative news from the EMA might have it drop by a relatively benign 25% or so. Based on the burn rate for 2015, PTCT looks to have at least two more years of cash in order to develop Translarna for either DMD or its cystic fibrosis pipeline while SRPT might have enough for one more year before having to go back to the market for financing.
PTCT had $37 million in revenue last year as Translarna is currently being sold on a conditional basis across Europe and to over 200 patients across the world according to the company's January investor presentation. If patients and their families feel that Translarna is working for them, even if they belong to that narrow pre-specified subgroup in the ACT DMD trial, it will be a messy situation for the EMA to try to take it off the market. It's one thing for the FDA to disapprove of eteplirsen and patients who are in desperate need of treatment never get access. Translarna is on a whole other level where it may be providing benefit for some children and is at risk of being taken away from them.
The EMA's conditional approval was based on completion of a Phase 3 study, not explicitly stating that the study had to meet a specified endpoint. While some argue that Translarna doesn't work, here is what the EMA has to say about Translarna: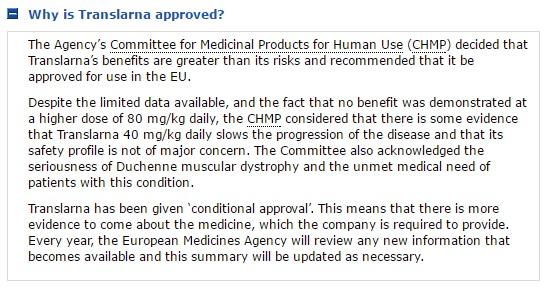 And here is the EMA's statement about the benefits versus the risks of Translarna: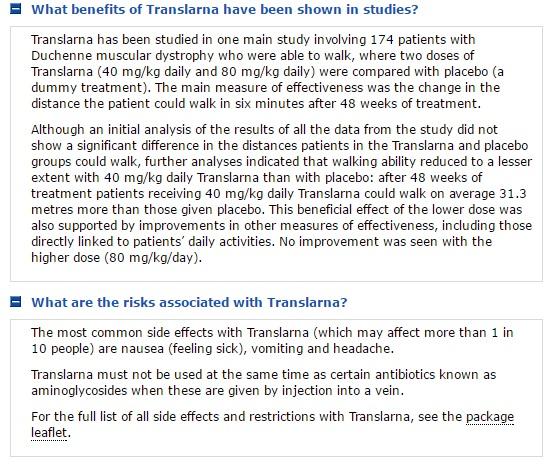 The EMA's conditional approval was based on the fact that its minimal benefit was greater than its very minimal risks. The EMA doesn't hide the fact that it thinks Translarna is a mediocre drug that only showed benefit at a lower dosage. So a failing Phase 3 endpoint with some subgroup benefits could very well be enough for approval, especially considering the alternative would be taking away a drug currently given to very sick children. As long as PTCT demonstrates that Translarna's safety profile is strong, I think there is a reasonable chance for approval.
PTCT's current revenue run rate based on 200 patients is about $60 million annually which is not chump change even if the company fails to grow from here. The next challenge would be getting insurers on board with a very costly drug that might have minimal impact for many patients. However, PTCT's CCO Mark Rothera had this to say about it on the company's last conference call in February, in the context of Germany recommending a much lower list price:
And just to remind you, the GBA, which is the health technology assessment study in Germany already opined on the value of Translarna and gave the drug a rating of 3 on a scale of 1 to 6, where 1 is the highest and 6 is the lowest. About 50% of orphan drugs that go into the Germany HTA process get a 4 or a non-quantifiable benefit, whereas Translarna was given a 3 or a quantifiable benefit. So when it comes to patients requesting access to the drug, not only is it a drug that the insurers will see has been given a 3 from a medical value perspective, but it's the only approved drug for what is a very life-threatening condition.
So there is an argument to be made that Translarna would be viewed more favorably by insurers than many other orphan drugs.
Significant short interest on both stocks could result in large squeezes upon positive news events
As both PTCT and SRPT have no shortage of detractors, one can expect fairly large short interest on each stock. PTCT has a short interest of 7.7 million, 29% of its float while SRPT has a short interest of 18.1 million, 44% of its float. While short sellers are confident of each company failing, news that contradicts their positions would cause a pretty significant squeeze on either stock. I believe that the upside potential is well over 100% for both stocks and short squeezes will only add fuel to the fire.
I recommend that for those who are bearish on either stock, put options offer a much more favorable risk to reward profile. In a severe downside scenario, puts will likely return more than 100% while a short position can never exceed a 100% gain. Should each stock pop, say, 50% on good news, put options will immediately be worthless, but at least you're not chasing the stock to cover and not at risk of losing more than 100% on very positive news.
Conclusion: PTCT clearly offers the better risk-to-reward scenario but I hope SRPT's news next week is positive
I am currently only long on PTCT as I believe that it offers the better risk-to-reward profile based on the arguments I have provided in this article. However, I hope that eteplirsen gets approved by the FDA for Exon 51 and SRPT does well as it continues to try to find treatments for additional causes of DMD. For those who choose to sit on the sidelines going into next week's meeting, recall that the significant short interest could provide more upside in the days following the news if it's good so keep SRPT on your watch list.
I think PTCT will continue its rebound similar to what SRPT has done as speculation increases and the date nears on the EMA decision. At around $8 with $10 in cash and $6.30 in book value excluding long-term assets, the risk-to-reward scenario is quite favorable until at least the $12 to $15 range.
Disclosure: I am/we are long PTCT.
I wrote this article myself, and it expresses my own opinions. I am not receiving compensation for it (other than from Seeking Alpha). I have no business relationship with any company whose stock is mentioned in this article.