By Parke Shall
General Motors (NYSE:GM) just beat earnings on both the top and the bottom line this morning and we expect Ford (NYSE:F) to do the exact same thing when it reports on April 28. We think that Ford is a buy here, as we have been stating for the last 6 to 12 months. We think long-term investors with a focus on dividend reinvestment, growth and value should be looking at Ford for the long term.
There are several items of note lately that continue to give us confidence. In early April, Ford posted fantastic numbers out of China,
Ford sales in China rose 5% to 114,788 vehicles. SUV demand was high once again for the automaker in the region.
Changan Ford Automobiles sales were up 12% during the month to 84,292 units to help offset a drop at Jiangling Motor.
For Q1, total Ford and Lincoln brand sales increased 14% to 314,454 units.
Ford continuing overseas expansion gives it a major catalyst as to why it could have firm footing for the long run. China continues to be an enormous question and economists continue to predict that China will collapse further. Interestingly enough, we actually do not disagree with this, but we also note that the Chinese consumer and the Chinese stock market are two completely different things. While the consumer will likely take a hit as well, China's dense populous should continue to help make Ford a long-term success in Asia, no matter what the economic climate.
Also, Ford continues to invest in Mexico. Much to the dismay of Donald Trump we are sure, Ford also just recently invested $1.6 billion into Mexico, where it plans on building a new production plant.
Ford announces it will invest $1.6B to build a new plant in Mexico.
The new facility will be used to manufacture smaller cars.
The automaker says the decision won't lead to any job eliminations in the U.S., although it's still likely to be a talking point during the political season.
Another peculiar development to keep an eye on is Ford's recent purchase of a Tesla (NASDAQ:TSLA) Model X for teardown. This comes after Ford announced that it was going to be spending for a new smart car initiative in China. Ford is on the forefront of trying to create green vehicles for when they begin to go mainstream. Just as it is one of our bearish points on Tesla, it is a bullish point for Ford: Tesla can't hoard the electric vehicle market forever, and soon their technology will become commonplace.
On top of this, the Model X was recently scrutinized by Consumer Reports for being built with poor quality. Inverse to this, Ford was recently praised for the safety of its new F-150 model, which they altered a couple years ago to take advantage of the fuel efficiency of using aluminum.
We have started to talk numerous times about the looming credit bubble in the auto financing industry. There are two things we want to note about that now. The first is that this looming bubble is not likely going to affect earnings that will be reported for the past quarter, nor is it likely to affect earnings for the upcoming remaining quarters of 2016. We have still not seen evidence that this bubble, as it is being called, is going to have a negative impact on the company that is going to be so bad that the company should be valued at 6.6X next year's earnings. Further, we have noted in past articles that the average age of vehicles on the road is at an all time high at over 11 years.
Second, we talked about ways to hedge against this bubble bursting by going long Ford and short Credit Acceptance Corporation (CACC). CACC "provides automobile dealers financing programs, and related products and services."
In a few past articles, we have recommended having a small short position on in CACC, only if you were nervous about the quality of the credit that automakers are distributing. CACC is the vehicle through which many of these domestic automakers distribute their credit and we think it would make for a good hedge.
There are also some worries that Ford's fleet sales are overtaking it's retail sales. While data does support that for the last month, we are more interested in seeing what the pattern of data is for all of 2016. If you recall, there were one or two months that are now considered aberrations from last year where Ford did not meet expected sales numbers. After each of these months, sentiment turned negative on the company but sales quickly rebounded. We would not be concerned about fleet sales outselling retail unless we start to see a several month pattern that develops.
An additional caveat would be to watch the rising price of steel. Commodities have seen a small bump here over the last couple of weeks, and that one should be watching steel and aluminum pricing which have a large direct impact on Ford's cost of goods sold.
Everything about Ford's valuation says that it is a good buy here. If you commit yourself to purchasing here and potentially adding on the dips or reinvesting dividends, we think that Ford at 6.6X next year's earnings is a great deal.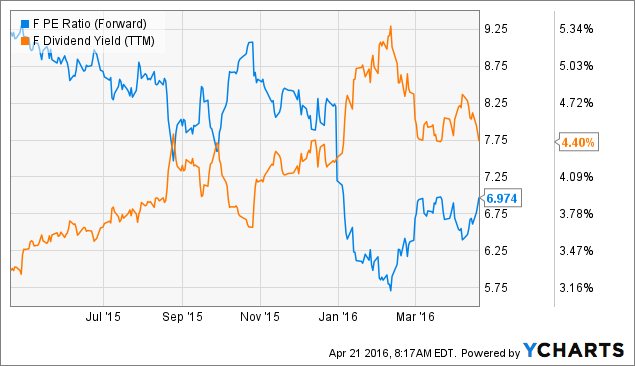 F PE Ratio (Forward) data by YCharts
As we have pointed out in the past, the company now has a track record of returning unused capital to shareholders in its latest special dividend, and Ford is going to pay you around 4.4% annually to hold their stock regardless. CEO Mark Fields has done a tremendous job and continues to do so. As Ford continues to expand its reach internationally, we expect it to create new profit centers for itself aside from the main markets like the United States. We have a long-term outlook on the company, but can see a case for Ford diversifying internationally and being able to generate a strong core of profitable business moving forward for the long term.
We expect Ford to beat on both lines when they report at the end of this month and we are bullish on the company for the long term.
Disclosure: I am/we are short TSLA.
I wrote this article myself, and it expresses my own opinions. I am not receiving compensation for it (other than from Seeking Alpha). I have no business relationship with any company whose stock is mentioned in this article.
Additional disclosure: We are short TSLA, may initiate long position in F at any time