I know it doesn't feel right, with the Dow breaking through 18,000 this week and oil prices stalwartly holding, but I think it would be wise to tread cautiously here. Stocks have a variety of factors in play, some more important than others. With this report, I want to discuss one important fundamental support that I believe is cracking. Oil price conviction could be tested near-term. The failure of petroleum producers to coordinate a production freeze threatens to morph into a greater battle for market share that includes increased production. Also, I expect the European economy to deteriorate due to extraordinary costs upon it now, and that to pressure oil prices as well. If the support of stable to rising oil prices is removed from under stocks, old concerns about lender risk and economic impact should come back into U.S. investor focus. History has shown us that such a focus is not good for stocks.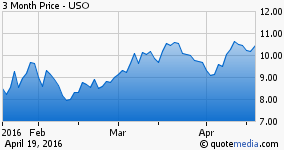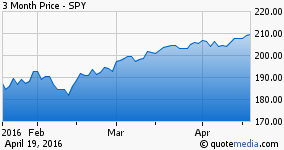 3-Month Charts at Seeking Alpha
My recently published reports on oil, Oil Ignorance - Saudi Arabia Means Business and Doha Disaster - The Oil Ruse is Up, cover in detail my expectation and reasoning for oil prices to deteriorate near-term. Also, my report on Europe, Still Avoid Europe Despite Contrarian Temptations, supports my case for caution. I suggest readers survey those reports for background. Briefly summarizing, I believe the Doha producers' meeting this past weekend exposed the serious rift that exists between Saudi Arabia and Iran. Saudi Arabia's insistence that Iran commit to a cap to its oil production despite its recovery from sanction imposed restraints was very telling. Iran is unlikely to freeze production until it has maximized it, and Saudi Arabia has thus threatened to increase its own production by a million barrels per day now and potentially another million barrels per day in six months time.
When the news of the failure in Doha reached the market Monday morning, it had an immediately detrimental impact on oil prices and on equities. However, it was short-lived, because of a greed-driven long bias that is currently in place for oil, and positive news it fed off of regarding a temporary hit to Kuwait's production due to a workers' strike. That strike has been resolved as of Wednesday, but oil again burst higher on rumors of another potential producers' meeting. Obviously, this past weekend's failure and oil producers' past use of similar prospective terminology to support pricing should be better understood, and prices should be more disciplined. However, a great many investors and traders have a fear of missing the eventual true turn higher for oil, and so are unwilling to bail ship too soon from this run up. I expect it will take a more important and tangible catalyst to turn around the long bias in the energy market, and in turn equity values. Unfortunately, I expect a few such catalysts are pending.
For starters, if Saudi Arabia follows through on its threat to raise production, as I expect it will soon, the Kingdom will present investors with a tangible negative driver to consider versus the hopeful hoorahs it's ridden up to this level. Suddenly, given the action, investors will need to ponder the prospect of another increase from the Kingdom six months down the road, and how that might impact the supply/demand balance (read glut). That could be the shock to the system to drive capital out of the oil play meaningfully, and undermine the nascent market move as a result.
| | |
| --- | --- |
| Security Sector | 04-20-16 |
| SPDR S&P 500 (NYSE: SPY) | +0.1% |
| SPDR Dow Jones (NYSE: DIA) | +0.2% |
| PowerShares QQQ (NASDAQ: QQQ) | +0.1% |
| iShares Russell 2000 (NYSE: IWM) | +0.2% |
| Vanguard Total Stock Market (NYSE: VTI) | +0.1% |
| Financial Select Sector SPDR (NYSE: XLF) | +0.8% |
| Technology Select Sector SPDR (NASDAQ: XLK) | +0.2% |
| Energy Select Sector SPDR (NYSE: XLE) | +0.9% |
| Health Care Select Sector SPDR (NYSE: XLV) | +0.5% |
| Consumer Discretionary Select Sector SPDR (NYSE: XLY) | +0.1% |
| Consumer Staples Select Sector SPDR (NYSE: XLP) | -1.4% |
| Utilities Select Sector SPDR (NYSE: XLU) | -2.5% |
| Materials Select Sector SPDR (NYSE: XLB) | -0.3% |
| Industrial Select Sector SPDR (NYSE: XLI) | -0.2% |
| iPath S&P 500 VIX ST Futures (NYSE: VXX) | +0.5% |
| SPDR Gold Trust (NYSE: GLD) | -0.5% |
| United States Oil (NYSE: USO) | +3.1% |
Equities had a strong day Wednesday before giving back a good bit of ground after 3:00 PM EDT. I believe it is due to the reality that the fundamentals are not so secure. Oil prices are just one of the loose supports that could give way. Old concerns about the importance of oil prices to the energy sector, to lenders, and to the economy would be renewed on a severe oil price correction, and so stocks could give way as a result. We saw it happen into February, when financial stocks and the market generally touched bottom. There were other concerns at the time as well relative to the economy (which continue to exist), but oil price concern was among the hardest bricks in the wall of worry.
Fear and greed drive markets over the short-term and fear simply needs a tangible catalyst to replace greed now. Look for volatility to intensify and equities to look lower as oil prices are again tested. I see several other issues weighing against equities near-term and will be discussing them in upcoming articles. They threaten to weigh on economic expectations and to pressure stock prices, recently revived from the dead, toward volatility once more. Interested readers can follow my financial column here at Seeking Alpha for updates.
Disclosure: I am/we are short USO.
I wrote this article myself, and it expresses my own opinions. I am not receiving compensation for it (other than from Seeking Alpha). I have no business relationship with any company whose stock is mentioned in this article.