Diabetes is a growing global pandemic as machines replace manual labor and diets gets increasingly unhealthy. Both are deadly combinations which caused major health issues. The World Health Organization noted that cases of diabetes had risen from 108 million in 1980 to 422 million in 2014. In 2012 alone, 1.5 million people died due to diabetes directly and 2.2 million people died indirectly from diabetes.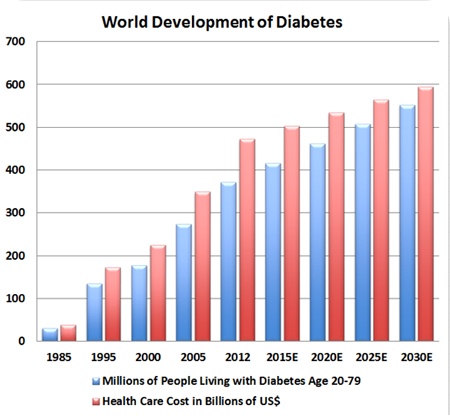 Source: Dialution
There is no known cure for diabetes and patients can only control their diabetes through their diets and insulin intake. The rapidly accelerating prevalence of diabetes mean that there is strong growth opportunities for companies that can provide effective control solutions for diabetes.
Dexcom G5 Market Leader
Dexcom (NASDAQ:DXCM) is one such market leader who controls 70% of the market share with its Dexcom G5 Mobile CGM system. This is an highly unintrusive system for diabetes to monitor their blood glucose level continuously every 5 minutes.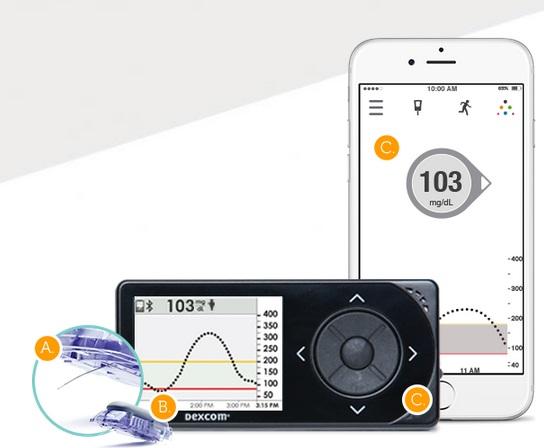 Source: Dexcom G5 Product Page
All that they need to do is to put a small sensor under their skin and the transmitter will continuously take their blood glucose level and send it to their phone. Besides that, there is a cloud solution where their doctors and family member can monitor their blood glucose level.
G5 Market Hype & Current Recall
Dexcom G5 is an amazing product and the first in the world to be approved by the FDA for usage for both adults and children from age of 2. Dexcom was priced at $63.64 on 25 February 2015 when it submitted its application to the FDA and it soared 34.33% to $85.49 on 24 August 2015 when the FDA approved it. After the European authorities approved it on 14 September 2015, it rose further to $95.73. It would then peak at $101.91 on 17 September 2015 after the hype died down. Currently it is at $67.06 which is still above the pre-hype period.
The fact that the G5 can cause Dexcom to spike 60.14% in 7 months showed that the market is confident that Dexcom can grow its revenue significantly with it. Dexcom CEO Kevin Sayer had confidently forecasted revenue growth of 35% to 40% per year just last month after their revenue had grown 10 times since 2010. Their long term business loan remained stable at 2.3 million from 2014 to 2015 but the only worrying part is that their accounts receivable rose from 37.6 million to 63.8 million.
Perhaps Kevin had spoken too quickly. FDA released Dexcom's voluntary recall of the Dexcom G4 Platinum Receivers, Dexcom G4 Platinum Pediatric Receivers, Dexcom G4 Platinum Professional Receivers, Dexcom G4 Platinum with Share Receivers, Dexcom G4 Platinum with Share Pediatric Receivers and the Dexcom G5 Mobile Receivers which have audible alarms and alert issues on 11 April 2016. This is something which can be easily fixed technically and its market price had not seen any significant movement.
Exciting Partnership With Google & Insurer Acceptance
If you are an investor, you should ignore the noise of the recall and focus on its partnership with Google (NASDAQ:GOOG) (NASDAQ:GOOGL) Life Science. Dexcom is partnering with Google to reduce the size and cost of its receivers and sensors. Currently each sensors cost $70 and it is valid for only 1 week before it has to be thrown away.
This is also a big project for Google under Alphabet and they had targeted a better product within 2 years. Google also provides the data analytics for patients to better understand their conditions so that they can manage their disease in a better manner.
While the G5 is not covered under Medicaid, major insurers such as Anthem and United Healthcare (UHC) had covered it. This means that patients can get it from local pharmacies such as CVS and Walgreens.
Conclusion
As the diabetes pandemic grows, Dexcom is the company for you to look out for. The hype over the G5 had died down and the FDA recall does not dent the value of the company. All things considered, this is one company which you add to your portfolio.
Disclosure: I/we have no positions in any stocks mentioned, and no plans to initiate any positions within the next 72 hours.
I wrote this article myself, and it expresses my own opinions. I am not receiving compensation for it (other than from Seeking Alpha). I have no business relationship with any company whose stock is mentioned in this article.