Not much has changed in the past few months since I posted A review of key charts: no recession, no deflation, lots of pessimism, except that things have played out more or less as expected. As I observed last week, there have been some encouraging developments that have thrown cold water on fears that China would collapse and oil prices would go to zero. Here are just three of the more important charts that are worth updating:
Click to enlarge
Commodity prices continue to rebound from their lows of several months ago. Oil prices are up much more than 50%, and as the chart above shows, industrial metals prices are up over 25% in just the past 3 months. At the very least this rules out the threat of a global economic collapse; more importantly, it hints strongly that economies around the world are beginning to improve on the margin. Later this month we'll hear that first quarter growth was miserably slow, but that's definitely old news at this point. What matters is what's happening now.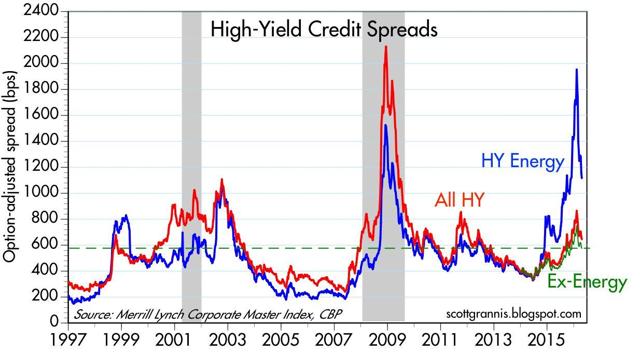 Click to enlarge
Credit spreads continue to fall, thanks to rising commodity prices. And of course 2-yr swap spreads, my favorite leading indicator of economic and financial market health, continue to be very low and thus very encouraging.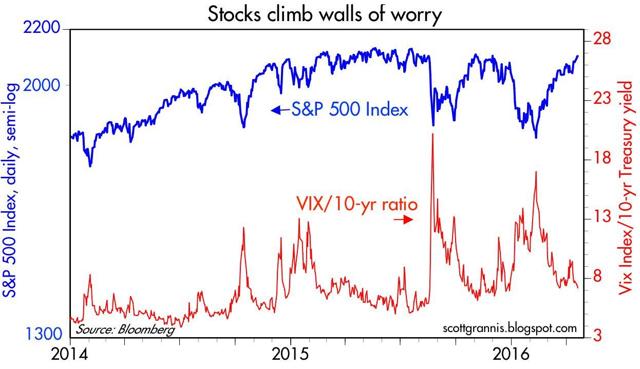 Click to enlarge
Equities continue to rally as fears are gradually allayed. I can't say the market is optimistic, however, since 10-yr Treasury yields continue to be extremely low (~1.8%). There's still a lot of pessimism priced into Treasury bonds these days, and PE ratios are only moderately above average, despite the fact that corporate profits are very strong relative to GDP.
What's driving the market higher is not optimism but receding pessimism.