Whether we're talking about Starbucks (NASDAQ:SBUX) from a customer perspective or investment perspective, it matters very little in one regard: Demand.
Ten days ago, Starbucks opened a new location in Strasbourg, France. The result? A line went out the door and across the square: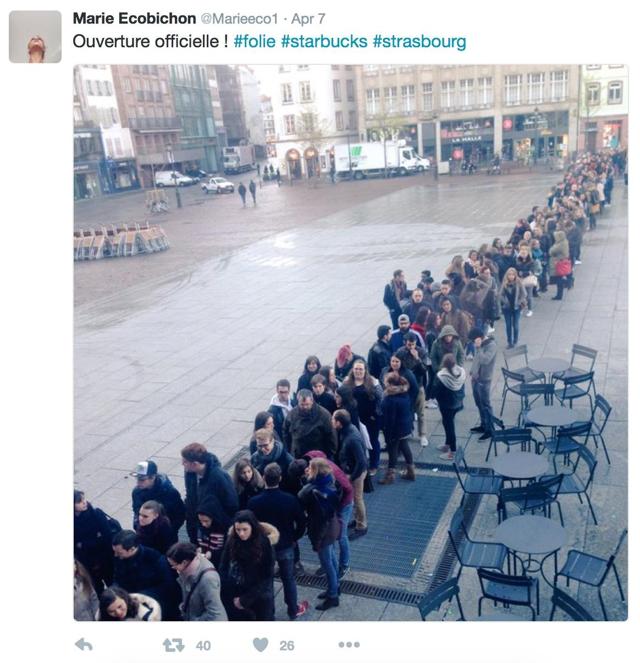 (Source: @Marieeco1 on Twitter, h/t TheStreet's Brian Sozzi)
The results could suggest Europe is craving Starbucks perhaps more than management realizes. This of course, is a good problem to have. If this doesn't say demand is strong from consumers, then the company's industry-leading same-store sales certainly does.
Likewise, demand from investors is quite impressive. A day after the Strasbourg location opened, Starbucks received a downgrade from buy to hold by a new analyst at Deutsche Bank. He also cut the price target from $70 to $65.
As noted by Seeking Alpha's breaking news team, "The investment firm thinks the company's strong performance is already factored into [the] share price."
Initially, shares stumbled, falling 4% to below $58.50, before quickly making up those losses and going on to rally once again. Such a strong reversal shows to me that investor appetite is perhaps as strong as consumers.
So What Does This Mean?
More and more, I'm finding this reaction more common. Shares of Starbucks get knocked down by something - be it a downgrade or earnings - and quickly rally back as investors have been waiting to add to the stock on almost any decline.
Starbucks has been tricky, because the stock is far above my cost basis - not as far as some Seeking Alpha users have impressively reported - and I don't necessarily want to add at such higher prices. But the story at Starbucks keeps getting better and I really believe in its long-term potential.
Perhaps more than any of my Future Blue Chip stocks, I believe most strongly in Starbucks to deliver strong earnings and revenue growth for several years, before turning into a dividend stalwart within my portfolio. Because of that, I've added to my position several times in 2016 for the first time in several years.
It's getting to the point where analyst expectations are finally catching up to the company's impressive results, making it difficult to knock the cover off the ball. If the results are priced into the stock already, my hope is that it trades mostly sideways this year so I can continue adding to my position. A 2014 repeat would be good for investors looking to add periodically throughout the year, (see below).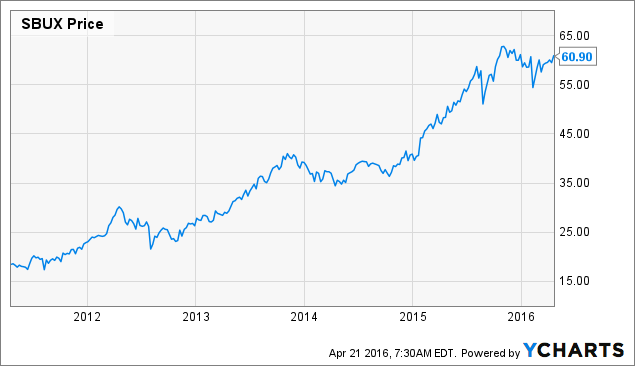 If you're thinking about buying, don't be slow to pull the trigger. Investors know CEO Howard Schultz is a stud, the company's same-store sales are far above industry standards, China remains an incredibly strong growth engine and its retail sector-leading mobile app has been a game-changer.
Starbucks has found the perfect balance between generating sufficient growth in the short term to satisfy Wall Street, while at the same time, developing successful plans for long-term growth that suits long-term investors.
All of which brings me back to my first point: Demand.
Shares of Starbucks are in high demand from portfolio managers looking to boost their performance right now and from investors looking to add to their position or initiate a new one.
I have been waiting so patiently to add to my position and the stock has been so strong, that it's getting to the point where I'm buying on analyst downgrades. Other investors have been the same way. It's noticeable in the comments of the breaking news alert linked above, and it's obvious in the stock's price action.
Starbucks is set to report earnings after the close Thursday, and should it fail to blow away estimates, then a knee-jerk reaction could be to sell the stock. If you see shares down 4%, 5%, 6% or more in the after market or on Friday, I'm not saying you have to buy. I'm just saying don't expect it to stay down for long.
Disclosure: I am/we are long SBUX.
I wrote this article myself, and it expresses my own opinions. I am not receiving compensation for it (other than from Seeking Alpha). I have no business relationship with any company whose stock is mentioned in this article.