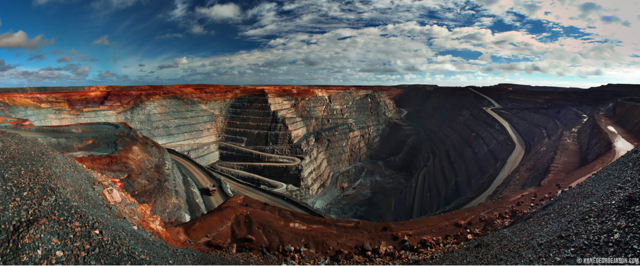 Click to enlarge
Gold Miners Make Major Moves
In our last article (Why To Ride The Gold Bull) we mentioned a few reasons why the gold and the main ETF that tracks it, the SPDR Gold Shares (NYSEARCA:GLD), could continue to go higher. The next day, Seeking Alpha news editor Stephen Alpher pointed out that, as good as things were for gold, they were better for gold miners (such as Barrick Gold (NYSE:ABX) and Newmont Mining (NYSE:NEM), which jointly operate the Kalgoorlie mine pictured above), and even better still for leveraged gold miner ETFs ("Gold gains and leveraged miner ETFs party").
One of the leveraged gold miner ETFs Alpher mentioned, the Direxion Daily Gold Miners Bull 3x (NYSEARCA:NUGT), was the top-ranked ETF and 4th-ranked security overall in the Portfolio Armor website's daily ranking on Wednesday. Every day the market's open, the site runs two screens on every security with options traded on it in the US, and then, for the names that pass both screens, it uses price history and option market sentiment to estimate their potential returns over the next several months. In addition to NUGT, two other gold mining-related names appeared in the top-10 on Wednesday: Newmont Mining and Randgold Resources (NASDAQ:GOLD). Of the gold mining-related names though, not only was NUGT ranked higher, but it also offered a more compelling hedging opportunity for longs, which we'll show below (for a refresher on hedging terms, please see the section titled "Refresher On Hedging Terms" here: Locking in Gold Gains).
Locking In NUGT Gains
If you've been long NUGT for the last month, you were up almost 28% by Wednesday's close. Our site estimates a potential return of 25% for NUGT over the next several months. We'll assume, for the example below, that you have the same risk tolerance as the GLD investor we described in our previous article: that you're not willing to risk a drawdown of more than 15% (in our terminology, your "threshold" is 15%). For GLD, we were able to find a low cost optimal put hedge, but NUGT was too expensive to hedge with optimal puts against a greater-than-15% decline. So we looked for an optimal collar for it instead.
Hedging NUGT With An Optimal Collar
We used Portfolio Armor's iOS app to find an optimal collar to hedge NUGT, but you could do it yourself by using the process we outlined in this article, if you're willing to do the math. When scanning for an optimal collar, you'll need another figure in addition to your threshold, your "cap," which refers to the maximum upside you are willing to limit yourself to if the underlying security appreciates significantly. Since our site estimated a potential return of 25% for NUGT, we started out using 25% as a cap, but when we were able to raise it to 30% without raising the cost of the collar, we used that.
As of Wednesday's close, this was the optimal collar to hedge 400 shares of NUGT against a greater-than-15% drop by mid-September, while not capping an investor's upside at less than 30%: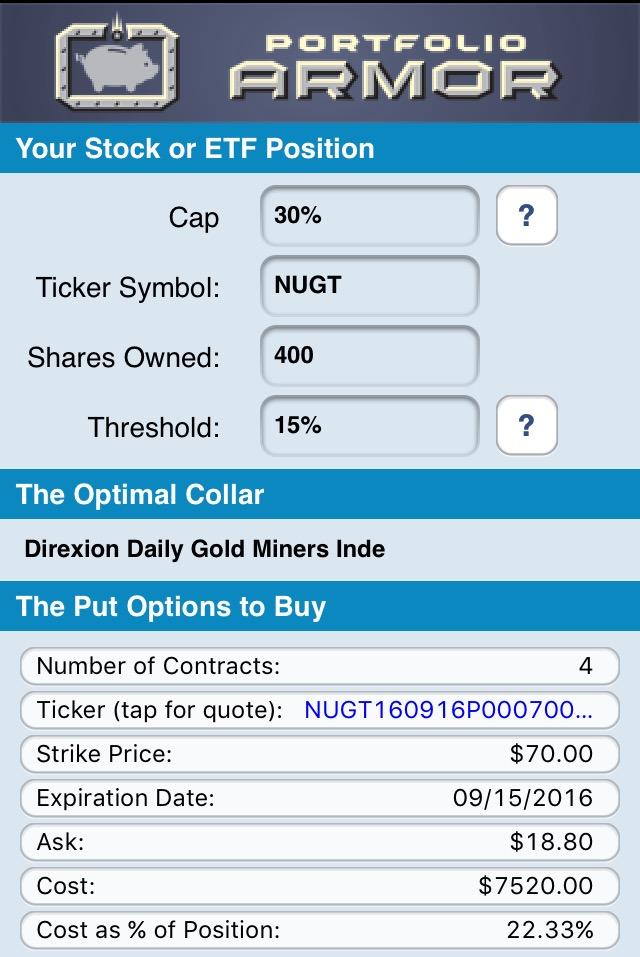 As you can see in the first part of the optimal collar above, the cost of the put leg was $7,520, or 22.33% of position value. But if you look at the second part of the collar below, you'll see the income generated by selling the call leg was $8,200, or 24.35% of position value: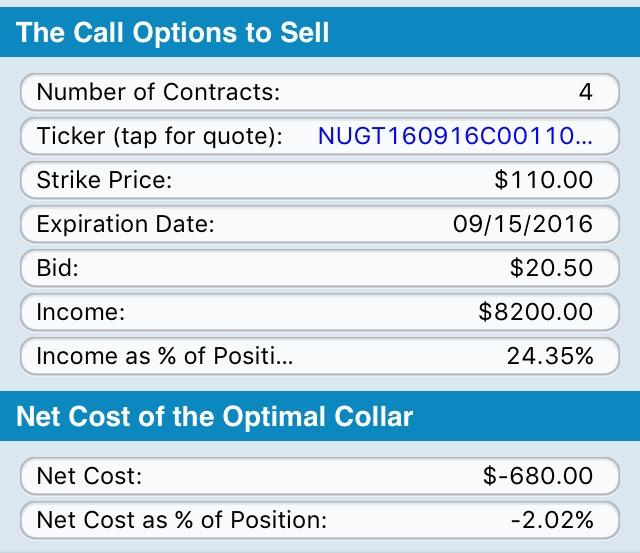 So, the net cost of this optimal collar was negative, meaning you'd collect an amount equal to $680, or 2.02% of position value, when opening this collar. Two important notes on this hedge
To be conservative, the cost was calculated using the ask price of the puts and the bid price of the calls. In practice, you can often buy puts for less (at some price between the bid and ask) and sell calls for more (again, at some price between the bid and ask), so, in reality, you would likely have collected more than $680 when opening this collar.
The threshold figure takes into account positive hedging cost, but not negative hedging cost. So, in this case, the maximum drawdown here, when taking into account a negative hedging cost of 2.02%, would be 12.98%, not 15%. Similarly, a negative hedging cost of 2.02% would increase the best case scenario to a gain of 32.02% instead of 30%. So a NUGT long hedged this way would have a potential upside nearly 2.5x greater than this maximum drawdown over the next several months.
Disclosure: I/we have no positions in any stocks mentioned, and no plans to initiate any positions within the next 72 hours.
I wrote this article myself, and it expresses my own opinions. I am not receiving compensation for it (other than from Seeking Alpha). I have no business relationship with any company whose stock is mentioned in this article.