It has been over two years since I wrote my first article on Energy Recovery (NASDAQ:ERII) and touted the potential of the company's patented product line of PX isobaric energy recovery devices (ERDs). At the time shares traded at $4.79 and ERII was posting losses and showing anemic revenue growth. However, considering the company had roughly $30 million in cash, no debt, and excellent prospects for the company's patented technology in the salt water reverse osmosis sector (i.e., the worldwide desalination market), it seemed a worthy of some speculative investment dollars.
Since those days, the company has seen a change in CEO's, a transformative deal with Schlumberger (NYSE:SLB) -- read more details about that in "Pull Back After Transformative VorTeq Deal With Schlumberger Puts Energy Recovery Back in BUY Territory" -- and the big news now: finally a big deal in the gas processing arena.
Energy Recovery has announced it received an award to provide its IsoBoostTM technology (based on the same patent-protected PX technology used in salt-water desalination plants) for a new gas processing plant to be constructed in the Middle East. Exactly what country, the announcement did not say. Based on previous commentary, I suspect it is Saudi Arabia.
The award value is for ~$7 million worth of equipment and services. The total potential value could be worth ~$11 million. Not only is this great news as far as new market penetration, but the award validates ERII's prospects in gas processing and amounts to a one-two punch on the heels of the bullish Schlumberger agreement. This is not lost on the market, shares are currently up over $1/share to $12.69 - a 265% gain since my initial article on the company.
And although $7 million (or $11 million at full potential) may sound like small potatoes for those of you that follow mid- or large-sized companies, it is important to note that this is a very meaningful contract for a company like ERII. After all, total full-year 2015 revenue was only $43.7 million (flat with two-year earlier 2013 revenues) as large-scale SWRO desalination contracts did not materialize as expected. So this one nat gas processing contract alone equates to 25% of full-year 2015 revenue (at the contract's full potential of $11 million).
In addition, the outlook for worldwide salt-water desalination plants is still quite robust. Christopher Gasson, publisher of Global Water Intelligence said:
At the moment, around 1% of the world's population are dependent on desalinated water to meet their daily needs, but by 2025, the UN expects 14% of the world's population to be encountering water scarcity. Unless people get radically better at water conservation, the desalination industry has a very strong future indeed. Seawater desalination is the only additional renewable source of freshwater available on this planet.
As a result, Energy Recovery is set to have a very bullish 2016 based on a triple-play:
The Schlumberger agreement (well covered in earlier articles).
An excellent foothold in the new and emerging natural gas processing market (a potential $1 billion opportunity).
The traditional SWRO desalination business.
Or I should say a potential triple-play. We are still waiting for those SWRO mega projects to place their orders. In my mind, it is not a question of "if" they will, just a question of "when."
With only 52 million shares outstanding, ERII currently has a market cap of $660 million. Ending the year with roughly $100 million in cash (almost $2/share), no debt, the SLB agreement upside, and penetration of the new gas processing market taking hold, Energy Recovery's patented line of ERDs are finally beginning to reach their potential. If the traditional desalination business can ink a few mega-project contracts this year (say $20-$30 million worth), look for the market cap to reach $1 billion. That equates to $19/share. ERII is becoming a much less risky company to invest in. That said, the stock is quite volatile -- be careful with market orders.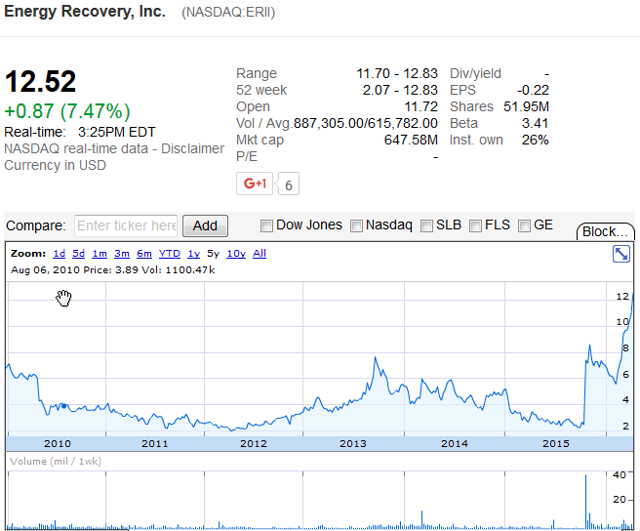 Disclaimer: I am an engineer, not a CFA. The information and data presented in this article were obtained from company documents and/or sources believed to be reliable, but have not been independently verified. Therefore, the author cannot guarantee their accuracy. Please do your own research and contact a qualified investment advisor. I am not responsible for investment decisions you make.
Disclosure: I am/we are long ERII.
I wrote this article myself, and it expresses my own opinions. I am not receiving compensation for it (other than from Seeking Alpha). I have no business relationship with any company whose stock is mentioned in this article.