Introduction
This is part two of the KONE (OTCPK:KNYJF) series. My earlier article focused around the slower demand from China. This article takes a look at the global operations, competitors and valuation.
KONE released earlier today Q1/2016 results that missed slightly the analyst estimates. Revenue increased 3.4% to €1.75 billion compared to €1.7 billion year ago, while EPS increased 27.5% to 0.37€ compared to 0.29€ year ago. They also reaffirmed the outlook for 2016: revenue growth between 2% and 6% and EBIT in between €1220 to €1320 million.
Global operations
KONE has presence in over 60 countries worldwide. The geographical distribution of net sales in 2015 was 44% Asia-Pacific, 39% EMEA and 17% Americas. The largest contributors were China, the United States and France. Sales in the Asia-Pacific (referred here after APAC) region grew by 25.8% and totaled EUR 3.8 billion. The European, Middle-East and Africa (EMEA) region grew by 5.1%, and totaled EUR 3.3 billion. And finally sales in the Americas region grew by 33.2%, and totaled EUR 1.4 billion. One of the reason for such a large discrepancy in growth comparing EMEA to APAC and Americas region was the large depreciation of the reporting currency EUR.
New equipments market
The U.S is currently witnessing another housing boom and it's working as a tailwind for KONE. New equipment demand, sales and orders grew clearly. In recent years, the new equipment demand has grown slower than anticipated in Europe and in the Middle East. Some of the reasons for slower growth have been weakness in the oil producing countries and the fragmented European demand. For 2016, KONE estimates that there's some growth to be seen in the rest of APAC (excluding China), EMEA and in the U.S.
Modernization market
The installment base is growing older every year and the need for modernization is increasing. Another positive development are the regulations that requires buildings to have more modern and safer elevators and escalators. These factors helps to boost the modernization market. In 2015, there was clear demand in North America and APAC with slightly better demand in Europe. For 2016, KONE expects modernization market to develop strongly in the APAC and North America regions, while Europe is expected to grow more moderately.
Maintenance market
In mature markets such as Europe and North America there are usually more demand for services than new equipment. Currently the majority of growth comes from the APAC region, where the maintenance base under KONE is growing rapidly. In 2015, the maintenance business continued to grow and is expected to develop favorably. KONE spent €65 million for acquisitions last year. They mainly acquire small local maintenance companies that are easy to integrate.
Competitors
Otis is part of the United Technologies corporation (NYSE:UTX), headquartered in the U.S. They are the world's largest E&E supplier in the world with over 65 thousand employees. Otis has annual sales of $12 billion and they maintain approximately 1.8 million elevators, escalators and moving walkways worldwide. The company's history dates all the way back to 1853, when they first introduced safety elevator to the world. Recently the company has had some troubles, especially in China, resulting to stagnant sales.
Schindler (OTCPK:SHLAF) was founded in 1874 in Lucerne, Switzerland. The group has over 1000 branches and is present in over 100 countries worldwide. The company has over 56 thousand employees and has annual sales of CHF 9.3 billion. The company has grown moderately over the past decade.
ThyssenKrupp (OTCPK:TYEKF) is German based multinational conglomerate founded in 1842. The elevator technology segment has a global presence with sales of €7.2 billion and more than 50 thousand employees. Over the last decade ThyssenKrupp has grown substantially, but still nowhere near as fast as KONE.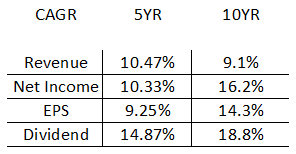 The clear winner has been KONE. Growing revenue 9% annually for the last 10 years, turning €3.6 billion to €8.6 billion in sales. During this profitable growth period they have quadrupled net income and earnings per share. They have managed to increase market share every year and I expect that in medium horizon KONE will be the market leader.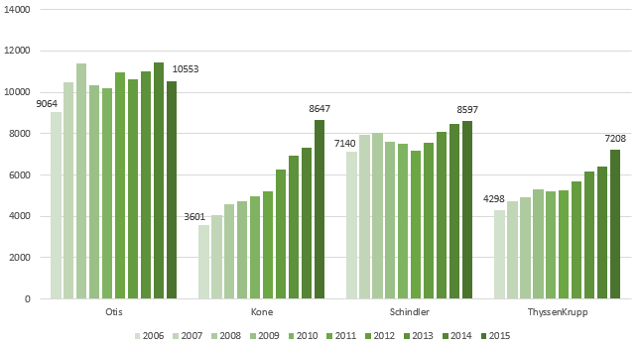 Click to enlarge
Revenues 2006-2015. Figures are translated to today's rates in EUR. Translation rate EUR/CHF =1,0924. Translation rate EUR/USD =1,1352. Since currencies have fluctuated during ten years these can't be interpreted as 100%.ThyssenKrupp and KONE 100% comparable. Sources: Otis IR, KONE IR, Schindler IR and ThyssenKrupp IR.
Fundamentals
KONE's outlook for 2016 is to grow net sales 2% to 6% at comparable exchange rates. For the earnings before interest and taxes (EBIT) to be in a range of EUR 1.22 billion to EUR 1.32 billion, which is close to 2015 levels. KONE notoriously deliver above the guidance, but under the analyst estimates.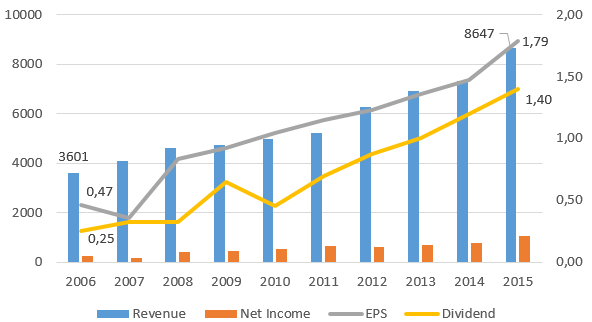 Source: KONE IR
Price to earnings
KONE's P/E trailing twelve months is 24 and forward 22, so it trades with a premium compared to the market. Looking at P/E can be misleading since KONE has consistently traded above market P/E for the last ten years.
Projections
Underneath is my projected low and high end scenarios for KONE. Calculations are between 5% to 10% CAGR for the next five years. I expect the actual numbers to be in between 5% and 10%, but EPS to grow even faster. Although KONE isn't considered as a yield stock, it has consistently increased dividend more than 10% and historically yielding from 3% to 6%.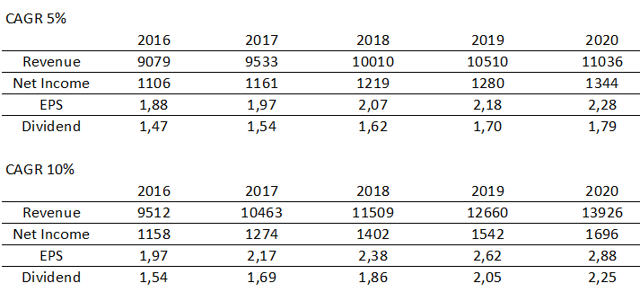 Click to enlarge
Cash flow and balance sheet
KONE is runs it's business efficiently with negative working capital reaching almost €1 billion and cash flow around €1.5 billion annually. Capital expenditures including acquisition are stable, around 10% from cash flows. It really shows how KONE is able to grow organically. There has been some rumors that there might be some consolidation in the APAC region and KONE might acquire a larger competitor from the market. In the past they have only acquired small maintenance businesses around the world that are easy to integrate.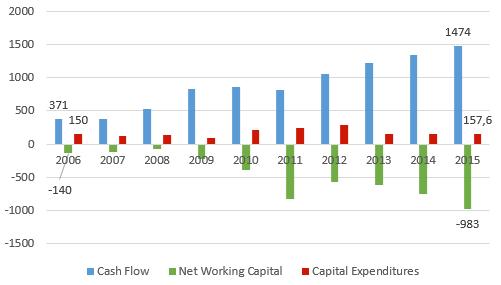 Source: KONE IR
Conclusions
Following the article about KONE and slowdown in China, this was a look at the global operations, competitors and valuation.
I believe that KONE will deliver higher returns than overall market in medium to long term horizon. Near term performance is uncertain due to China. The growth will be slower than in the past, until another market emerges that's as robust as China. KONE's strong balance sheet, efficiency, great positioning and the increasing dividend will reward long term investors.
Disclosure: I am/we are long KNYJF, KNYJY.
I wrote this article myself, and it expresses my own opinions. I am not receiving compensation for it (other than from Seeking Alpha). I have no business relationship with any company whose stock is mentioned in this article.
Editor's Note: This article discusses one or more securities that do not trade on a major U.S. exchange. Please be aware of the risks associated with these stocks.