ARM Holdings (NASDAQ:ARMH) continues to post robust revenue growth of 14% y/y to $398 million in Q1 as ARM processor shipments reached an all-time high of 4.1 billion. But the most significant announcement Wednesday may not have been ARM's earnings release, but an announcement by ARM foundry partner Samsung (OTC:SSNLF) that it would begin production on its 10 nm FinFET node later this year.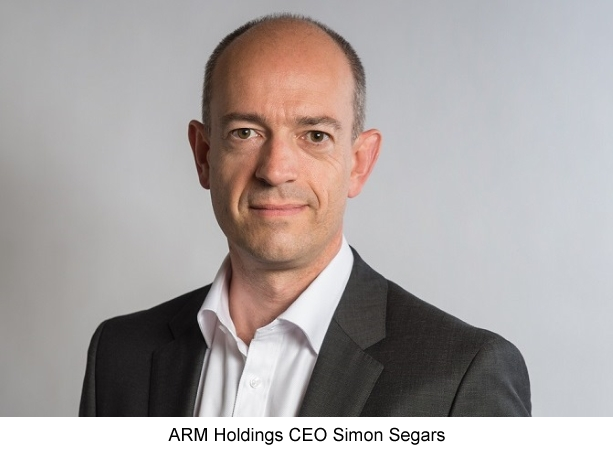 Source: PC Mag
Wealth Advantage
Samsung will have reached production well ahead of competing foundries such as TSMC (NYSE:TSM), which is set to go into 10 nm node production in the second half of 2017, and even Intel (NASDAQ:INTC), which will start up its own 10 nm node at about the same time. While Intel struggles to get back onto the traditional 2-year cadence (and wouldn't promise that it could, as of its Q1 conference call), ARM foundries are picking up the pace. At TSMC's Q1 earnings call, it indicated that it would enter production on 7 nm in the first half of 2018, and probably Samsung will as well. By the time that the ARM foundries begin production on 7 nm, the 2-year cadence will have been superseded by a much faster 1-year cadence.
Almost certainly, Intel will claim that the 10 nm nodes of Samsung and TSMC are not "true" 10 nm nodes, just as it did with the 14-16 nm FinFET nodes, with some justification. Intel has pointed out, correctly, that not all circuit elements in the chips from Samsung and TSMC were the same size as Intel's. This meant that they didn't achieve the same transistor density as Intel.
Traditionally, each process node has been accompanied by a doubling of transistor density, and it remains to be seen if the Samsung and TSMC 10 nm nodes will truly double transistor density over the 14-16 nm nodes. Even if the transistor doubling isn't quite achieved in each node, by the time the foundries reach 7 nm in 2018, they will have achieved greater density than Intel's 10 nm node.
Why the rush, when Intel has dropped back to something like a 2 1/2 year cadence? Partly, it's to catch up to Intel, but mostly it's being driven by the intense competition within the ARM ecosystem. Consumer electronics giants such as Samsung and Apple (NASDAQ:AAPL) are driving innovation in their quest to build more and more functionality and capability into mobile devices.
The enormous wealth being generated within the ARM ecosystem has translated into an ability to deploy capital resources that dwarf Intel's. TSMC alone has about the same capex planned expenditure for 2016, $10 billion, as Intel. Apple will spend about $15 billion.
What we're seeing with the process node acceleration is the wealth advantage of the ARM ecosystem being put to the most productive use possible. Eliminating Intel's process advantage clearly has been a target of ARM foundries for some time. By 2018, the ARM ecosystem will have left Intel behind.
Top of the Food Chain
The division of labor of the ARM model also seems to be working very well. Rather than an integrated semiconductor maker such as Intel, basic research, device design and manufacturing are roughly segmented between ARM, fabless chip and device companies such as Qualcomm (NASDAQ:QCOM), Samsung, and Apple, and foundries such as TSMC.
If there's an advantage to integrating the three segments for Intel, it's not apparent from Intel's cost competitiveness in mobile devices. As I conclude in my article on Intel's Q1 earnings, there is no cost competitiveness for Intel in mobile devices. This condition will persist as long as Intel continues to rely on x86/64 architecture.
As a key research engine driving innovation in the ARM ecosystem, ARM is positioned more or less at the top of the food chain, benefiting from the intense competition among its licensees. As ARM made clear during its Q1 conference call, whether the licensee is a fabless semiconductor company like Qualcomm, or an integrated device maker such as Apple, the situation is revenue neutral to ARM. So the trend of device makers such as Apple designing their own ARM-based processors doesn't hurt ARM.
ARM's position has meant that its revenue growth has been very highly correlated with processor shipment growth, which was up 10% y/y. This quarter, operating margin was down to 48.6% from the previous year of 51.7% as ARM embarked on a fairly ambitious 20% y/y increase in headcount, which mostly went into R&D. Operating expenses grew 36% y/y to $226 million (at current exchange rate).
ARM is gearing up to take on growth opportunities in the data center and high performance computing, networking, and the Internet of Things. The data center especially is a major target as ARM looks to beat Intel in cost and energy efficiency. The fruits of these labors are probably still years away.
Qualcomm's work in server development, combined with increasing software stack maturity bode well for the long-term prospects of ARM in the data center. The cost advantage that ARM has enjoyed in mobile devices will translate into cost advantage for ARM vendors such as Qualcomm in the data center as well.
Clearly ARM has some work ahead of it to design much higher performance CPU cores that are better suited for server applications. When asked by an analyst during the conference call, ARM would reveal nothing about future product designs, but probably ARM will go in the direction of Apple and Qualcomm whose custom designed CPUs offer considerably higher performance than the current best ARM design, the Cortex-A72. We'll probably see a new Cortex design announcement some time this Fall.
Investor Takeaway
Investors continue to be pretty lukewarm about ARM, with the stock down about 10% year to date. I think there's still broad sympathy and support for Intel in the U.S. and the belief that somehow Intel will turn its mobile fortunes around. Intel is believed to be impregnable in the data center as well.
As I describe in my Intel earnings article, Intel could be on the verge of an historic shift in which it begins to embrace ARM architecture. Even if it does that, it will take years for Intel to fully come up to speed, and it's questionable whether it will ever be competitive with Qualcomm or Apple in ARM processor design.
Regardless of what Intel decides to do, ARM ultimately wins. ARM processor technology will continue to expand beyond its mobile base into personal computing, cloud computing and IoT. This is all being driven by wealth creation within the ARM ecosystem, and is unstoppable at this point.
The fact that the market hasn't realized how severely disadvantaged Intel is becoming, probably represents an opportunity for investors with a long-term 3-5 year horizon. Therefore I rate the stock as a cautious buy. This caution is due to the fact that it's not clear that the stock has bottomed, and I wouldn't want to try to call a bottom. That would be more market psychoanalysis than technology analysis.
Disclosure: I am/we are long AAPL, QCOM.
I wrote this article myself, and it expresses my own opinions. I am not receiving compensation for it (other than from Seeking Alpha). I have no business relationship with any company whose stock is mentioned in this article.
Editor's Note: This article discusses one or more securities that do not trade on a major U.S. exchange. Please be aware of the risks associated with these stocks.