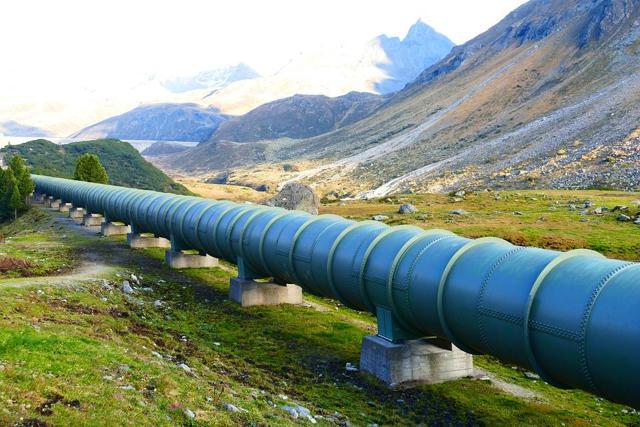 Click to enlarge
A pipeline and green illustrate Crestwood Equity Partners pretty well.
Crestwood Equity Partners (NYSE:CEQP) was a recent Idea Generator opportunity. With was a particularly nice idea because it made the cut even though the market is now at a level which disallows most new long ideas.
Today, CEQP announced a JV (Joint Venture) with Consolidated Edison (NYSE:ED) which has a very large impact on it. This article will cover what CEQP looks like after this deal, and whether the stock is still attractive.
The most important details of the deal are as follows:
CEQP formed a new JV and contributed its Northeast natural gas and pipeline businesses to it.
ED took a 50% interest in this JV, in exchange for a $975 million net cash payment to CEQP.
During the first 3 years of operation of this JV, ED will receive 65%, 65% and 60% of the cash distributed by the new JV.
As a result of this deal, CEQP revised its 2016 guidance and took other steps, including:
Cutting its dividend to $2.40 per year. A cut was expected, this 56% cut was less than expected, though.
Lowering EBITDA guidance to $435-$465 million (since part of EBITDA will now be attributable to the other JV partner.
Lowering its 2016 leverage ratio to ~3.9x.
What do these mean? They mean:
Considering the cash inflow and EBITDA guidance cut, CEQP now trades (@ $16/share) for just 7.2x EV/EBITDA. This is actually lower than what it traded for (7.8x) when the Idea Generator service bought ($12.31).
The dividend is now fully sustainable, and at $16 it provides a yield of 15%. Since CEQP is projecting a 2016 dividend coverage ratio of 1.6x-1.8x, the market is likely to see this dividend as sustainable as well. This means the stock is likely to trade upwards to reduce the yield. At $20 it would have an yield of 12%. At $24 it would still yield a (safe) 10%.
CEQP now has no exposure to debt covenants. There was a debt/EBITDA covenant set at 5.5x which was becoming risky. After this deal CEQP sees the ratio at ~3.9x so the fear is gone.
All of this taken together means that CEQP remains cheap even after today's large jump. In a way, it's both cheaper and safer than it was just a few days ago, as much lower levels.
The Main Risk
A main risk remains after this deal. This is a risk CEQP has previously disclosed.
It has to do with the personal tax treatment which could be given to attempts by CEQP to deleverage its balance sheet. Were CEQP to do so through asset sales generating capital gains, and individuals owning CEQP could be hit with tax bills even if CEQP didn't distribute proceeds from such sales (because of using them to pay down debt).
This fits well with today's JV deal, and so it remains to be seen whether the proceeds from that deal can trigger higher taxes for unitholders.
Conclusion
This deal was a massive positive for CEQP and CEQP is likely to trade higher still given its implications. For reference, I am writing this as the stock stands at $16/share.
Disclosure: I am/we are long CEQP.
I wrote this article myself, and it expresses my own opinions. I am not receiving compensation for it (other than from Seeking Alpha). I have no business relationship with any company whose stock is mentioned in this article.