By Charles Kaplan
Fighting the war on cancer requires an advanced arsenal of treatments to destroy or inhibit tumors from metastasizing or spreading. The developmental and testing phase of drug development requires a diverse range of analytical instruments. Instruments that can identify complex drug compounds at the molecular level. Furthermore, oncologist are turning to genomics as a weapon in identifying malignant or benign tumors. Also, medical researchers trying to learning the secrets of how cancers trick our immune system are focusing on how gene mutations effect cell growth and death. Santa Clara- based Agilent Technologies (NYSE:A) a leader in the life sciences space is providing much of the instrumentation, lab equipment, diagnostic and genomics testing equipment necessary in fighting the war on cancer. In a nutshell they are providing the bullets to fight this ignominious enemy.
What makes this space so appealing?
No doubt, this is an exciting time for the biotech space with cancer breakthroughs being announced on an almost daily basis. I consider this time as a "golden age" for research in this field. Recent developments in immunotherapy, genomics and improvements in conventional treatments like radiation, surgery and chemotherapy are all very encouraging. But fighting this disease will take many years of research and trials. However, companies like Agilent that supply the basic instruments used in the research process should be quite busy for years to come. Will cancer be cured in our life time? Most likely not, but it might become a more treatable disease that lets people live a normal life.
When did the company go public?
For those unfamiliar with Agilent Technologies, I would like to bring you up to speed. Company was formally a part of Hewlett Packard's (NYSE:HP) medical and test instruments business. In 1999 HP decided to restructure its operations by spinning off these businesses into an independent entity. Agilent went public in 1999 through an IPO raising $2.1 billion. The remaining shares were distributed to HP shareholders in 2000. During the remainder of the decade Agilent made a series of well timed acquisition in the medical instruments, genomics, laboratory equipment and life sciences field. Acquisitions included: Varian, OSI, Stratagene. On November 1, 2014 Agilent completed the spinoff of its electronic instruments business - Keysight Technologies (NYSE:KEYS) to its shareholders.
Without Keysight Technologies, Agilent remains an attractive player in the fast growing biological and chemical testing space, making it more attractive as an acquisition target. Two major players in this space - Danaher (NYSE:DHR)and Thermo Fisher Scientific (NYSE:TMO) are potential suitors as well as tough competitors.
Presently, Agilent focuses on three key areas: life sciences and applied markets, diagnostics & genomics and CrossLab with each contributing 50%, 16% and 33% to net revenues in FY 2015, respectively. Serving such end markets as: pharma, chemical & energy, research, diagnostics, food and the environment. Revenue from each end market contribute 27%, 25%, 10%, 14%, 11%, and 13% to total fiscal revenues in FY 2015, respectively.
10-K

Life Sciences and Applied Markets

Diagnostics and Genomics

Agilent CrossLab

Total

Segments

(in millions)

Year ended October 31, 2015:

Total net revenue

$

2,046

$

662

$

1,330

$

4,038

Income from operations

$

380

$

88

$

299

$

767

Depreciation expense

$

27

$

37

$

34

$

98
Specifically what analytical instruments does the company produce and who are its customers?
They produce: liquid and gas chromatography, mass spectrometry, spectroscopy, inductively coupled plasma mass spectrometry and atomic absorption instruments. Its instruments are used to purify, separate and analyze complex chemical compounds and are essential research tools used in drug development, food and water safety testing. The company had over 23,000 customers for its life sciences and applied products with no single customer amounting for a material part of net revenues. Customers include pharma, biotechnology companies, contract research organizations, contract manufacturing organizations, as well as research institutions including academic institutions, privately funded organizations and large government institutes. The market size for its life science, diagnostic and applied market products is estimated at $45 billion with annual growth (OTCPK:CAGR) of roughly 5%.
What types of diagnostic and genomics products does Agilent produce?
According to the 10-K, the company produces routine clinical solutions for tissue based cancer diagnostics. This includes antibodies, reagents, instruments and software focusing on both primary and advanced cancer diagnostics. Its CoverStainer products target primary cancer diagnostics through a series of chemical biomarkers that identify carcinogenic tissue. Agilent is also developing diagnostic products that link protein and gene expression to cancer. Its products also include companion diagnostic tests that are used to help identify patients most likely to benefit from a specific targeted therapy. Furthermore as stated in its 10-K , "Agilent is a leading provider of microarrays for Comparative Genomic Hybridization ("CGH"), mostly used by customers in cytogenetic laboratories. The arrays allow customers to detect genome-wide copy number alterations, with high levels of resolution (from entire chromosomal copy number changes to specific microdeletions or duplications)." In addition to its microarrays, Agilent also markets a line of chemical reagents for sample processing, as well as specifically designed chemicals for uncovering DNA mutations stemming from gene expression.
At latest count the company had approximately 14,000 customers for its diagnostics and genomics business. No single customer accounted for more than 5% of this business.
What products does CrossLab produce?
As described in its 10-K, "Agilent offers a broad range of consumable products, which support its technology platforms, including sample preparation consumables such as solid phase extraction ("SPE") and filtration products, self-manufactured GC and LC columns, chemical standards, and instrument replacement parts." Its consumable products also include scientific instrument parts and supplies such as filters and fittings for GC systems; xenon lamps and cuvettes for UV-Vis-NIR, fluorescence and Raman spectroscopy.
Currently, the had company had approximately 39,000 customers in fiscal 2015 with no single customer accounting for a material amount of the net revenue of this segment.
How does Agilent stack up against its competitors?
Company competes with such giants as Thermo Fisher Scientific and Danaher, much larger competitors. Its gross margin of 51% compares quite favorably to Thermo Fisher's 46% and on par with Danaher's 53%. Its profit and operating margins are on par with Thermo Fisher's but below the high-water mark set by Danaher at 16.33% and 17.79%, respectively. Its PEG ratio of 2.07 times is slightly higher than Thermo Fisher's 1.91 and Danaher's 1.73. Surprisingly enough all three life science companies have enterprise multiples of approximately16 times reflecting how efficient the market is in evaluating companies in this space. It appears all three are equally valued in terms of fundamental data. On a valuation basis using a DCF earnings model based on a 12% growth rate and Non-GAAP earnings of $2.20, its shares are selling at par. However, this calculation is only hypothetical and is subject to wide swings if economic conditions change.
Comparative Statistics
Agilent
Thermo
Danaher
Revenues

4.04

16.97
20.00
($billions)
Gross margin
51%
46%
53%
PEG ratio
2.07
1.91
1.73
Forward P/E
19
16
18
PM
11.42%
11.64%
16.33%
OM
14.00%
14.61%
17.79%
EV/EBITDA
16.34
16.80
16.40
How healthy is Agilent's balance sheet?
Company supports a sound balance sheet with $2 billion in cash and $1.6 billion in long term debt. Current assets are 3.7 times greater than current liabilities giving the company ample flexibility to fund its capital projects.
How is FY 2016 shaping up?
Fiscal 2016 is off to a strong start as reflected in Q1 results. Results for the Q1 of FY ended Jan. 31 showed solid growth as GAAP earnings for the quarter rose 32% to $0.37 per dilute share up from $0.28 per diluted share in the prior year's like quarter. Non-GAAP income from continuing operations equaled $0.46 per share for Q1. Management set Non-GAAP guidance for FY 2016 ending October 31 at $1.86 per share with estimated revenues for FY 2016 equaling $4.10-$4.12 billion. Next year's estimated earnings could climb 15% to $2.15 per share as pharma and biotech spending picks up, fueled by increased spending on drug research especially in such promising areas as immunotherapy and genomics.
What are the risks?
Agilent appears to be headed in the right direction with the possibility of it being a potential acquisition target sometime in the future. However, like all companies it is subject to both financial and business risk. Also it competes with some heavy weights in the life sciences space. Company is unsuitable for risk adverse investors and should be considered a long term investment. Diversification plays a critical role in all portfolios and is a highly recommended strategy for financial success. Concentrating a portfolio in one space or company is risky and negates the benefits from diversification.
SELECTED FINANCIAL DATA
(Unaudited)
10-K

Years Ended October 31,

2015

2014 (As Revised)

2013 (As Revised)

2012 (As Revised)

2011 (As Revised)

(in millions, except per share data)

Consolidated Statement of Operations Data (3):

(1)

Net revenue

$

4,038

$

4,048

$

3,894

$

3,543

$

3,299

Income from continuing operations before taxes

$

480

$

229

$

293

$

237

$

232

Income from continuing operations

$

438

$

232

$

225

$

353

$

252

Income (loss) from discontinued operations, net of taxes

$

(37

)

$

317

$

509

$

775

$

776

Net income

$

401

$

549

$

734

$

1,128

$

1,028

Net income per share - basic:

Income from continuing operations

$

1.32

$

0.70

$

0.66

$

1.01

$

0.73

Income (loss) from discontinued operations, net of taxes

(0.12

)

0.95

1.49

2.23

2.24

Net income per share - basic

$

1.20

$

1.65

$

2.15

$

3.24

$

2.97

Net income per share - diluted:

Income from continuing operations

$

1.31

$

0.69

$

0.65

$

1.00

$

0.71

Income (loss) from discontinued operations, net of taxes

(0.11

)

0.93

1.48

2.20

2.19

Net income per share - diluted

$

1.20

$

1.62

$

2.13

$

3.20

$

2.90

Weighted average shares used in computing basic net income per share

333

333

341

348

347

Weighted average shares used in computing diluted net income per share

335

338

345

353

355

Cash dividends declared per common share

$

0.400

$

0.528

0.460

$

0.300

$

-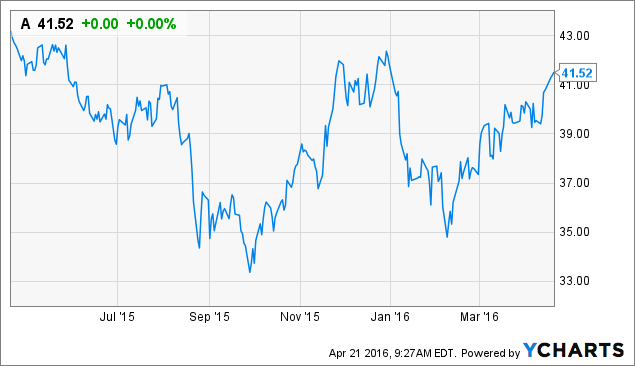 A data by YCharts
Disclosure: I/we have no positions in any stocks mentioned, and no plans to initiate any positions within the next 72 hours.
I wrote this article myself, and it expresses my own opinions. I am not receiving compensation for it (other than from Seeking Alpha). I have no business relationship with any company whose stock is mentioned in this article.
Additional disclosure: Please add my by line:By Charles Kaplan