Note: All figures are in USD unless otherwise stated. Painted Pony Petroleum trades primarily on the Toronto Stock Exchange as PPY. If you like this article, please follow me using the link next to my name on top of the page.

Source: Painted Pony Petroleum.
As an investor in the natural gas industry, I am feeling the burn. In fact, all natural gas bulls are feeling the heat: The price of natural gas, especially in Western Canada, has collapsed and is down 50% from January. Current fundamentals (excessive storage and a very mild winter) are squeezing the price of natural gas both in Alberta and British Columbia. However, this has created interesting opportunities for investors in natural gas.
One diamond in the rough here is Painted Pony Petroleum (OTCPK:PDPYF). The company is almost unknown, despite significant reserves and an ambitious growth plan. Indeed, the company will triple its production by 2017. First, let's take a look at Painted Pony's hedging program.
Substantial Hedging Program
Because of this program, Painted Pony can ignore, for the most part, the current price collapse of natural gas. More than 65% of this year's production is hedged. The current production is hedged at more than twice the current daily natural gas index price. With time, the hedging program decreases in importance.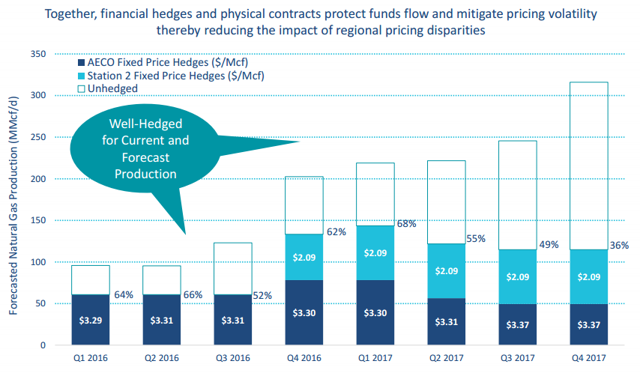 Click to enlarge
Source: April 2016 corporate presentation.
As you can see, this program is beneficial for investors and the company for two reasons. First, the hedging program will protect Painted Pony's cash flows. This is critical for investors as cash generated from operations will fund, in part, the company's ambitious growth plan. Second, the hedging program will decrease in importance as the price of natural gas rises. The company will benefit from the upside in price.
Production Growth Means Cash Flow Growth
As I said above, the company will triple its production from 2015 to 2017. This is due, in part, to its special relationship with AltaGas (OTCPK:ATGFF). The new production will go directly to a newly built liquids-rich gas processing infrastructure, the Townsend facility. The facility is built and operated by AltaGas.
This will provide a preferred access to international energy markets for the company's natural gas production. Painted Pony is syncing its increase in production with the commissioning of the facility in mid-2016. The project is ahead of schedule.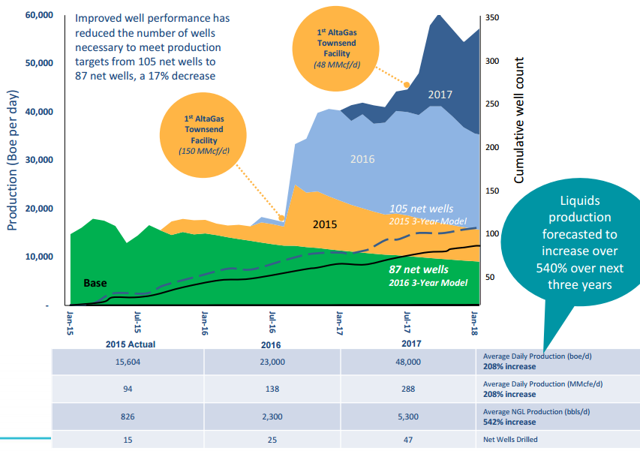 Click to enlarge
Source: April 2016 corporate presentation.
As per my calculations:
| | | |
| --- | --- | --- |
| | 2016 | 2017 |
| FFO (C$M) | 68 | 200 |
Source: Corporate presentation and my own work.
This implies a very interesting valuation for potential investors. Indeed, the current Toronto Stock Exchange market capitalization stands at C$525M as of April 20. As we know, the growth of the company will be partially fueled by debt.
Let's take into account the debt that the company will carry in 2016 and 2017. According to the plan detailed in the corporate presentation, debt will amount to C$156M in 2016 and C$380M in 2017. Let's take a look at the adjusted multiples (in C$M unless otherwise noted):
| | | |
| --- | --- | --- |
| Year | 2016 | 2017 |
| Market cap | 525 | 525 |
| Debt | 156 | 380 |
| EV | 681 | 905 |
| FFO | 68 | 200 |
| EV/FFO | 10.0X | 4.5X |
Source: Corporate presentation and my own work.
As you can see, the multiple for the current year is fair. However, the market is ignoring the ambitious growth plan of the company if we look at 2017 -- the multiple is very low. Looking ahead to next year, the stock would need to double to trade at a respectable multiple.
What's Causing the Current Mispricing?
In other words, why is such an ambitious stock trading at the bottom of its valuation? In the current irrational markets, could it be because petroleum is included in the name of the company? The stock did bottom in January and February while oil was testing multi-year lows. The share price quickly rebounded after this turmoil.
One could also point out that the previous logo of the company could be the reason why investors didn't like the company (yes, they changed the logo):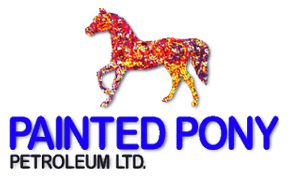 Source: Painted Pony Petroleum's website.
On a more serious note, there are real concerns for the company. First, Painted Pony's ambitious growth program will be fueled in part by debt. Leverage will increase in the medium term.
Second, tripling your production in the current environment could be wrongly viewed as bad by investors. In a tough pricing environment like the one we're experiencing now, competition is considerable between contractors. Therefore, capital expenditures are cheaper.
Third, Painted Pony's current natural gas production (15,000 boepd) is small. The company can fly under the radar. The hedging program was also largely unknown. There was no mention of the program in corporate presentations until recently; you had to read the latest annual report to find out.
Downside Protection
Of course, downside for investors is protected by the hedging program discussed above. However, there is also another unrisked value in the stock: Painted Pony has a lot of natural gas reserves -- the fourth largest, to be exact. The company is just behind Canadian Natural Resources (NYSE:CNQ), Tourmaline (OTCPK:TRMLF), and Encana (NYSE:ECA).
The current NPV (discounted at 10%, after-tax) of 1P reserves (1.6 Tcf) are worth C$9.53 per share, or C$953M, vs. C$20.40 per share, or C$2B, for 2P reserves (3.5 Tcf). I believe this is significant downside protection for investors.
Possible Catalysts
Clear catalysts for the company aren't easily visible currently. A short-term recovery of natural gas prices would be the most obvious catalyst for this stock. The recovery of natural gas prices should happen next winter, according to current futures. However, natural gas demand could spike in the summer if temperatures are very hot; this would lead to a premature recovery in natural gas prices. Some natural gas production could be shut down because of very unfavorable prices in Western Canada: The daily index is currently at C$1.10 per Mcf. Yes, this is $0.87 per Mcf.
Another catalyst could be the amelioration of investor sentiment in the energy sector. As we can see from the last few weeks, a broad rally in energy stocks could be beneficial for Painted Pony. Finally, another catalyst could be increasing investor awareness of Painted Pony as it becomes a mid-sized natural gas producer.
Conclusion
Painted Pony has an ambitious growth plan. Its natural gas production will triple in 2017 to 40,000 boepd. Associated FFO will grow substantially in the next years. The company has an extensive hedging program in place, which will protect its cash flows and limit future pricing risks.
I believe the huge natural gas reserves of Painted Pony also act as a cushion for the stock. The NPV of its proved reserves are worth C$9.50 per share. For the current year, the company is trading at a fair multiple compared to its FFO. On the other hand, it is trading very cheaply looking ahead to 2017. The share price would need to more or less double to achieve a fair valuation, given the estimated 2017 FFO.
Painted Pony will be on the radar of investors as it becomes a mid-sized natural gas producer. Of course, the most probable catalyst for the stock is a recovery in the price of natural gas. Favorable sentiment in the energy sector will also benefit the stock.
I am doubling down on natural gas, and recently opened a position in Painted Pony.
If you liked this article, please follow me using the link next to my name on top of the page.
Disclosure: I am/we are long PDPYF.
I wrote this article myself, and it expresses my own opinions. I am not receiving compensation for it (other than from Seeking Alpha). I have no business relationship with any company whose stock is mentioned in this article.
Editor's Note: This article discusses one or more securities that do not trade on a major U.S. exchange. Please be aware of the risks associated with these stocks.