CYS Investments (NYSE:CYS) remains one of the best mREITs in the market. I'm concerned about the sector overall, so my outlook is not as positive as it would otherwise be. CYS just reported their performance for the first quarter and it was fairly solid. I posted my predictions a couple days after the quarter ended.
My estimate for Book Value for CYS came in at $9.61, while CYS reported $9.46. That is still up a dime from the end of last quarter and when combined with a dividend of $.26 is a fairly solid return. The difference between my estimate and the reported result was $.15, which comes out to be less than 2%. My goal as an analyst is to consistently be able to predict book value within 2%, so that comes out as doing an acceptable but not incredible job.
Estimates Compared to Results
I was calling for gains on assets of $156.9 million and CYS reported those gains to be around $164 million when combining realized and unrealized gains.
That was pretty close. The area where I missed by a larger amount was the losses on the hedges. CYS reported about $140.5 million in losses and I was only forecasting $120 million in losses. I've highlighted that part of the reconciliation to Core Earnings from the earnings release: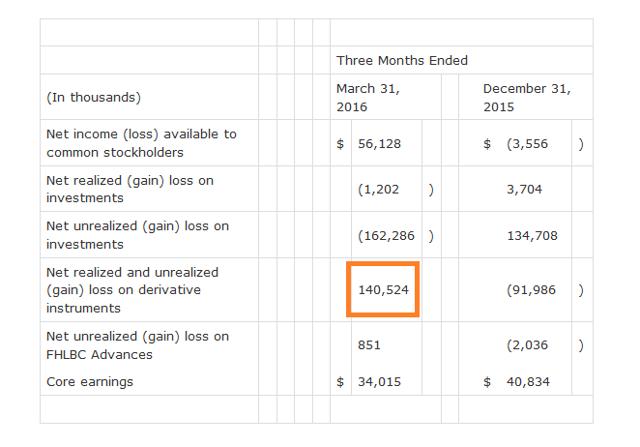 Click to enlarge
Core Earnings and Dividend Implications
Core EPS came in at $.27 which covers the dividend of $.26. I've often remarked on the high quality of the way CYS handles accounting and hedging. The net result is that Core EPS is not being "enhanced" through any measures that would confuse shareholders. Instead, I've found the way CYS reports Core EPS and manages their hedging to result in reporting a lower number for Core EPS than other mREITs would. In a sense, CYS is under-selling themselves. They have low expenses, internal management, and the team understands how to read the macroeconomic picture exceptionally well.
Preferred Shares
I'm interested in the preferred shares more than the common due to common share prices across the industry not reflecting any major concern by the market about the flat yield curve. I have open limit orders (to buy) on one series of the preferred shares and might put one on the other series of preferred shares as well.
Common Shares
If shares were in the range of $7.00 to $7.20, I would feel heavily bullish. Such a discount would be enough to more than offset the challenges facing the industry and push me into seeing this as a very solid buy. I don't expect it to happen soon, but I'm keeping cash on hand and would be ready if it did.
The discount to trailing book value is currently 11.8% based on a closing price of $8.34.
Disclosure: I/we have no positions in any stocks mentioned, but may initiate a long position in PREFERRED SHARES OF CYS over the next 72 hours.
I wrote this article myself, and it expresses my own opinions. I am not receiving compensation for it (other than from Seeking Alpha). I have no business relationship with any company whose stock is mentioned in this article.
Additional disclosure: Information in this article represents the opinion of the analyst. All statements are represented as opinions, rather than facts, and should not be construed as advice to buy or sell a security. This article is prepared solely for publication on Seeking Alpha and any reproduction of it on other sites is unauthorized. Ratings of "outperform" and "underperform" reflect the analyst's estimation of a divergence between the market value for a security and the price that would be appropriate given the potential for risks and returns relative to other securities. The analyst does not know your particular objectives for returns or constraints upon investing. All investors are encouraged to do their own research before making any investment decision. Information is regularly obtained from Yahoo Finance, Google Finance, and SEC Database. If Yahoo, Google, or the SEC database contained faulty or old information it could be incorporated into my analysis.