Welcome to the Chapter 11 issue of M&A Daily
SunEdison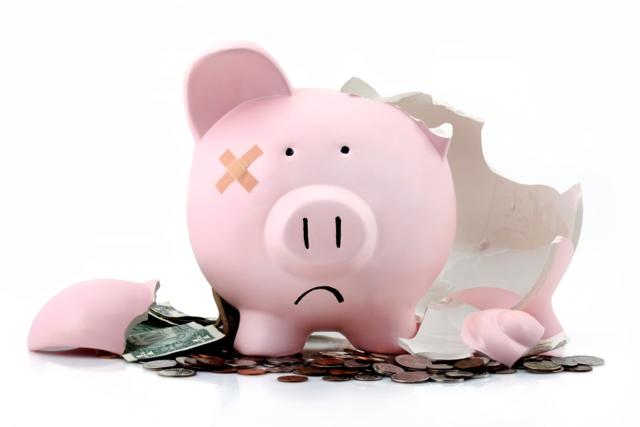 Today's SunEdison (SUNE) bankruptcy filing helps its yieldcos but hits Vivint (NYSE:VSLR). The filing impacts Vivint's litigation over SunEdison's failure to meet obligations under their merger agreement. The impact on TerraForm Power (NASDAQ:TERP) and TerraForm Global (NASDAQ:GLBL) could be better. While the yieldcos were not created with a specific plan for operating independently, it is reasonably likely that they will avoid bankruptcy and that their equity holders will be able to capture the value of their existing projects. According to the yieldcos, they "do not rely substantially on SunEdison for funding or liquidity." One plan for the TerraForms would be to contract with their utility customers for management of specific projects. For background on this filing:
Time Warner Cable
The election deadline for Time Warner Cable (TWC) holders to elect the form of consideration they want in exchange for their shares in the Time Warner Cable-Charter (NASDAQ:CHTR) deal is May 12. The $5.82 net arbitrage spread offers a 14% IRR if the deal closes midyear.
Baker Hughes
The European Union is set to submit a Statement of Objections to the Halliburton (NYSE:HAL) acquisition of Baker Hughes (NYSE:BHI). Halliburton requested additional time to submit information to the Australian Competition and Consumer Commission. The net arbitrage spread is $17.08.
Virgin America
Virgin America (NASDAQ:VA) filed HSR for its acquisition by Alaska Air (NYSE:ALK).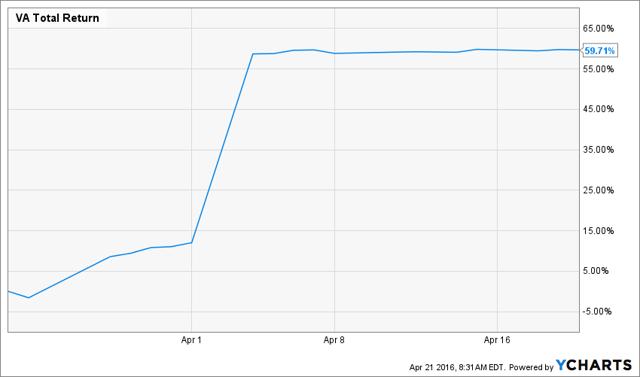 Click to enlarge
Johnson Controls
Following its review of the U.S. Treasury's April 4 tax announcement, Johnson Controls (NYSE:JCI) is deciding to proceed with its merger with Tyco (NYSE:TYC). The deal is expected to close by the fourth quarter. If it does, then the $0.90 net arbitrage spread offers a 5% IRR.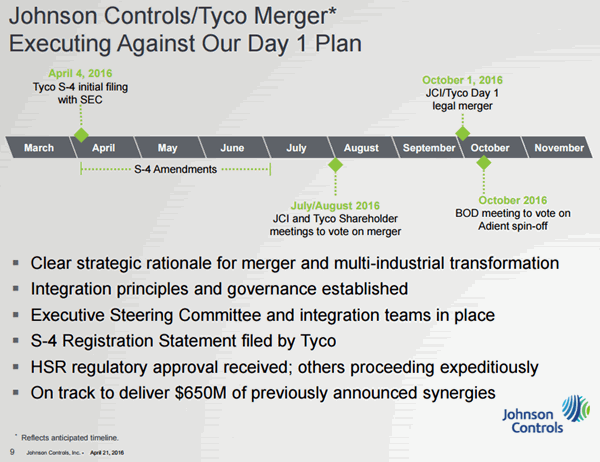 Fresh Market
The tender offer expires tonight for the Apollo Global (NYSE:APO) acquisition of Fresh Market (NASDAQ:TFM).
Heartland Payment
The Heartland Payment (NYSE:HPY) shareholder vote is today for its acquisition by Global Payments (NYSE:GPN). The deal close is expected by tomorrow.
Progressive Waste
Waste Connections (NYSE:WCN) and Progressive Waste (BIN) filed an amended F-4. The vote date is May 26. Antitrust approvals have been secured.
Pinnacle
The Gaming and Leisure Properties (NASDAQ:GLPI) acquisition of Pinnacle (NYSE:PNK) will be reviewed today by the Colorado Limited Gaming Control Commission.
Wilshire Bancorp
The first S-4 amendment was filed with the SEC for the BBCN Bancorp (BBCN) acquisition of Wilshire Bancorp (WIBC).
EMC
EMC (EMC) management stated that its acquisition by Dell is on track. According to EMC's CEO on his earnings call,
Let me now turn to an update on our merger with Dell. The combination of EMC and Dell creates a powerhouse in the IT industry with approximately $80 billion in revenues. And the best news is that customers and partners are overwhelmingly positive. They see that we will have the breadth of products and technologies critical to their key strategic needs around digital transformation, hybrid cloud, converged infrastructure, mobile and security.

Progress on integration planning has accelerated in the past 90 days. Our Value Creation and Integration Office led by Howard Elias from EMC and Rory Reid from Dell has developed detailed integration plans to assure we hit the ground running when the merger closes. Recently, Michael Dell announced his new leadership team with a number of our executives being tapped to have prominent roles in the new company. I am very proud of this.

We continue to make progress towards closing this transaction. We have received antitrust approvals from the U.S., the European Union, Canada, Japan, Australia and many other countries around the world. China is the remaining country where regulatory approval is required. We are working aggressively on finalizing the S-4 with the SEC so we can get to a shareholder vote ASAP. We expect this transaction will close under the original terms and in the originally announced timeframe. I am more convinced than ever that our combination with Dell is a great strategic option for our shareholders, customers, partners and people.
These comments were corroborated on the VMware (NYSE:VMW) call. More to come in future editions of M&A Daily…
Elsewhere on Seeking Alpha
(on anniversary of San Jacinto)
Beyond Seeking Alpha
Disclosure: I am/we are long TERP, GLBL, TWC, BHI, VA, PNK, EMC, VMW, YHOO, LORL.
I wrote this article myself, and it expresses my own opinions. I am not receiving compensation for it (other than from Seeking Alpha). I have no business relationship with any company whose stock is mentioned in this article.
Additional disclosure: Chris DeMuth Jr and Andrew Walker are portfolio managers at Rangeley Capital. We invest with a margin of safety by buying securities at discounts to their intrinsic value and unlocking that value through corporate events. To maximize returns for our investors, we reserve the right to make investment decisions regarding any security without notification except where notification is required by law. We manage diversified portfolios with a multi-year time horizon. Positions disclosed in articles may vary in sizing, hedges, and place within the capital structure. Disclosed ideas are related to a specific price, value, and time. If any of these attributes change, then the position might change (and probably will).
Editor's Note: This article covers one or more stocks trading at less than $1 per share and/or with less than a $100 million market cap. Please be aware of the risks associated with these stocks.