Although the world is apparently getting a little larger on the waist line, there is a large and ever-growing number of consumers which are eating healthier and living active lives. We expect that this will continue to be the case for some time as well. There is one company in particular that we believe has been, and will continue, benefiting from this trend and that is McCormick & Company, Inc. (NYSE:MKC).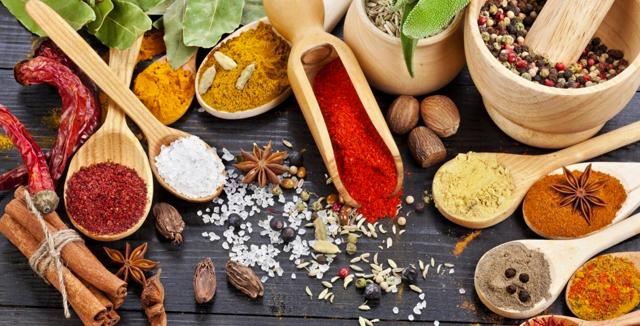 Click to enlarge
Often one of the first things you will get taught in economics 101 is the history of the VOC, which is better known as the Dutch East India Company. It has the honour of being considered to have been the first multinational company in the world, as well as being the first company to issue stock. Between 1602 and 1796 the VOC gained a near monopoly in the spice trade, enjoying huge profits and having a fleet twice the size of its nearest competitor the British East India Company.
Fast forward 220 years and in our opinion McCormick is looking a lot like the VOC. It is estimated that the company controls about a fifth of the global spice trade, is four times the size of its nearest competitor, and enjoys huge profits.
Considering the rise in healthy eating habits, we feel now is a great time to invest in McCormick. One of the first objections we hear about an investment in McCormick is valuation. So let's get this out of the way immediately.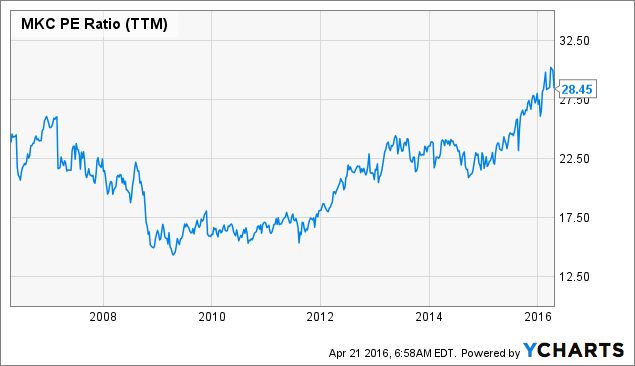 By historical standards, yes, it does look a little on the expensive side at the moment. As you can see on the chart above, it is trading at 28.45 times earnings, which is far and away the highest level in the last ten years for the stock. But when you look at it against its peers in the packaged foods industry it is actually reasonably valued. Thus we feel 27.5 times earnings is a reasonable multiple for McCormick to trade on.
As you can see below, investors have been willing to pay more and more for each dollar of earnings in the packaged foods industry in the last couple of years. With the world's population growing beyond 7.4 billion this year, the size of the addressable market just keeps getting larger. As well as this, we see the industry as being on the defensive side, so considering the turmoil in the market this year, these types of stocks are very popular.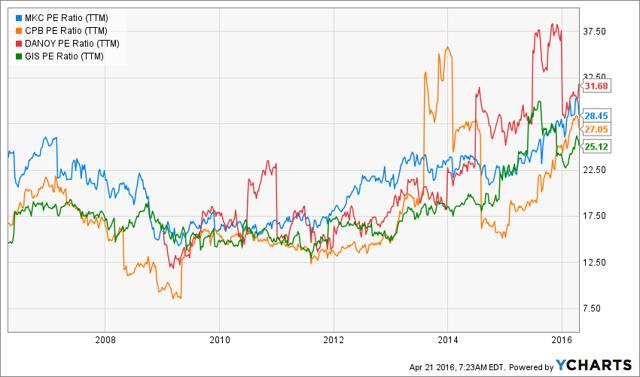 Click to enlarge
In fact, McCormick managed to continue to grow through the last global financial crisis. Few companies can claim to have achieved that, which is one of the reasons we are attracted to the stock. But not the main reason.
The main reason we invested was, as we said at the top, the growing trend for consumers to eat healthily. Healthy eating also brings about adventure, too. Eating habits have changed incredibly in the last decade or two. If you turn on the television there will no doubt be a cooking show on influencing and giving the consumer endless ideas for meals. All these meals need their exotic spices and it is therefore unsurprising to learn that last year it was reported that spice usage in the United States was skyrocketing to record levels. McCormick's market leading position puts it into a position to benefit greatly from this in our opinion.
We ourselves can testify to this growth. We have an endless array of spices in our cupboards for everything from curries, to soups, to smoothies. Let's not forget that spices aren't just for flavor, they can be for health benefits too.
As populations around the world get wealthier, the more affluent and adventurous we expect their meals to become. This bodes well for McCormick and we see strong levels of growth being sustained by this for a good number of years.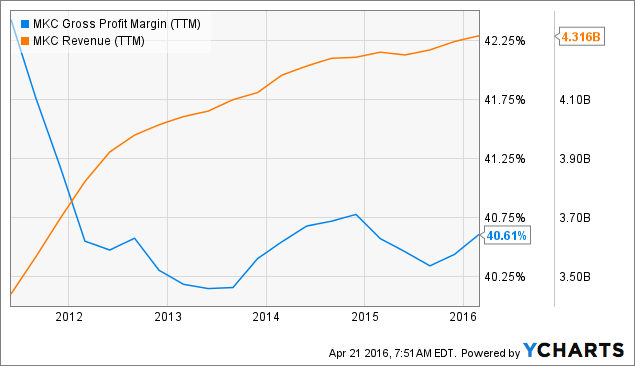 This demand has enabled the company to grow its revenue year over year for the last five years, whilst maintain strong gross margins above 40%. As 40% of the company's revenue comes from its international segment, revenue has slowed a touch but the recent weakening of the US dollar should give it a leg up.
We are expecting earnings to grow by approximately 9% this year to $3.80 per share. With a reasonably reserved price-to-earnings ratio of 27.5 we have a price target of $104.50. This equates to a return of 11.3% from the last close price.
As the market leader in the spice trade, four times larger than its next competitor, we feel McCormick is a great investment today and bound to reap the rewards of changes in consumer eating habits. Although we see great upside in the next twelve months, in our opinion this is a great buy and hold investment for the next decade. We expect the company to be on the hunt for acquisitions again in due course, which should cement its position and help grow earnings at an even greater rate.
Disclosure: I am/we are long MKC.
I wrote this article myself, and it expresses my own opinions. I am not receiving compensation for it (other than from Seeking Alpha). I have no business relationship with any company whose stock is mentioned in this article.