With tax season closed and extensions filed, every consumer is ready to go back to their regular routine of business as usual. They have made it through tax season, hopefully with a little refund in their wallets. The perfect spot for them to put it is in Intuit (NASDAQ:INTU) Stock!
Following the recent articles on H&R Block (NYSE:HRB) and Intuit from Collective Investment Co, it is clear that consumers are taking tax preparation and business service companies into consideration for their stock portfolios this season. Investors of stocks such as Intuit and H&R Block know that these are investments that should be held for the long-term game instead of the short-term. This is simply because their earnings fluctuate, typically showing the most gains in tax season. The problem is that one of these companies earnings may be so low, even just after tax season, that investors should get out now. This is looking to be the case with H&R Block. Intuit, on the other hand, looks to be on the horizon of seeing profitable numbers for the entire year.
Intuit is seen as H&R Block's number one competitor in the industry. Both companies provide services that allow consumers to prepare and file income taxes online. However, aside from the in-person services that H&R Block provides, it has not had much to offer in comparison to Intuit, who provides various financial services for consumers, with a diverse selection of online products and software programs, that are offered year round.
H&R Block has pretty much been a seasonal business. They operate mostly on a loss throughout the year, relying on tax season alone to make the company's revenue.
(Collective Collections Co. "H&R Block)
However:
After 60 years, H&R block has introduced a new tax preparation and year-round planning brand that could allow the company to surpass Intuit in its industry and become a top-ranked investment pick. Block Advisor's services will offer a year-round relationship to its customers, providing personalized tax preparation and planning for those with more complicated tax situations. They will also provide small businesses services such as bookkeeping, payroll, bill payment and more.
("From Main Street)
This could be a strong addition to the company as a whole, now that they have the tools to compete with the services that Intuit provides. This could prove so in their earnings after tax season for each year to come. With an addition like this, Intuit may need to step up its game in order to compete, especially after their Turbo Tax incident last year.
Nonetheless, the current earnings for H&R Block do not look to be reflecting the revenue influx that they normally expect at the time of year.
H&R Block's stock price has been on a steady decline since the beginning of the year. The outlook on H&R Block is already off to a poor start since this time of year is supposed to show some of H&R Blocks largest earnings. The company anticipated far more customers to file last minute tax returns, but it is clear that instead they choose to file with their leading competitor.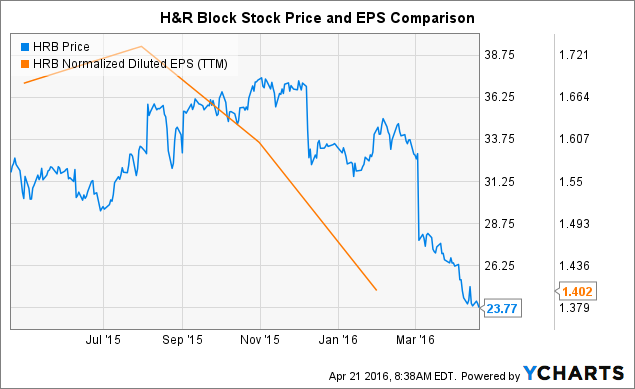 What is this to say about their stock price in the future? Well, if customers are not choosing them during their most stressful time of the year, why should they choose them for the remainder of it to handle their businesses and day to day needs?
Intuit's stock prices have seen a repetitive cycle, equating the similar prices compared to last year. Even better, the stock and its earnings seem to be on the rise, especially after taking into account Intuit's current strive for innovation.
Intuit is now embracing a cloud-based software as a service model, which is critical with rising technological developments. The company will continue to develop the year round services that it already provides, like QuickBooks online, payroll services, bookkeeping, bill payment, and much more, to administer the best products in the industry.Intuit is also able to foresee the customer base that it will retain throughout tax season as well as the remainder of the year because of the small business and personal services that it provides all year. They have proven to be very accurate in their estimates and it is reflected in their earnings.
(Cramer's Tax Day Showdown)
With rising numbers such as these, the company looks to have a very positive future ahead of them.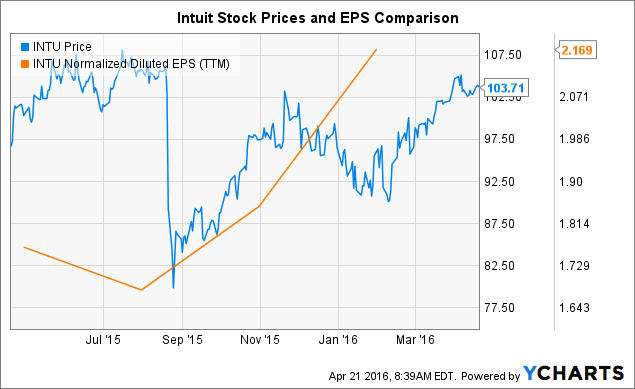 The way that customers manage their financial lives, the technologies they use, and the expectations that they have of their financial management providers have fundamentally changed.
Cece Morken, President of Intuit Financial Services.
Now that virtual customer relationships are the main form of service, financial institutions need to be able to provide connected banking experiences for customers! Larger institutions such as banks and credit card companies have partnered up with Intuit to provide these higher quality services! This is especially critical with online banking and bill payment use growing at an all time high. Intuit provides the most connected and highly personalized services to all of its customers.
Intuit has proven to be the leading Tax Titan thus far this year. Along with providing competitive tax services, Intuit has the tools to carry its weight year round. Since the company is developing better and better software and services each year, their earning will continue to be on the rise!
Unless H&R Block's Block Advisors program begins to pick up immediately, they are not going to see the numbers that are required for them to maintain the pace that Intuit is climbing at. This is the first time in 60 years that the company has make a major change to the services that it provides. Perhaps they are unfit to manage a full year of tax planning and small business services. They also have a lot of changes to make if they plan on competing with Intuit's innovative and personalized services. It is highly doubtful that they will be able to achieve this in a matter of months. Based on the earnings seen thus far in 2016, it looks like H&R Block is headed for a much worse non-tax season than ever before.
Disclosure: I/we have no positions in any stocks mentioned, and no plans to initiate any positions within the next 72 hours.
I wrote this article myself, and it expresses my own opinions. I am not receiving compensation for it. I have no business relationship with any company whose stock is mentioned in this article.