Q1 Earnings
Strong results with a quality revenue-driven beat, but the sustainability is an issue as well as little room for further improvement.
In all fairness, JPMorgan's (NYSE:JPM) Q1 results were strong across the board with a quality revenue-driven beat, but looking forward, I see two key issues: 1) The sustainability of these positive trends; and 2) little room for further improvement.
Let's take a closer look at the positives from the Q1 results:
1. Loan book grew 11% y/y.
This is a very impressive number that once again reinforces the franchise's strength. That said, I do not think that JPM will be able to maintain a double-digit loan growth rate, given that the US credit cycle has turned - its expansionary phase is over: a) US GDP growth is decelerating; b) US credit conditions continued to tighten further, according to the FRB loan officers survey; c) and bond defaults are on the rise.
2. Net interest income was better than expected on the back of strong loan growth and NIM expansion (+7 bps).
It is good to finally see an increase in NIM, but that was due to the Dec. Fed rate hike, which is driving yields up 12 bps vs. deposit costs +2 bps. Higher rates are crucial for JPM's investment story given its asset-sensitive balance sheet. But I'm assuming no rate hikes in 2016 - the Fed has recently surprised investors with a dovish policy statement and lowered projections for rate hikes this year from four to just two. Moreover, the market seems to be even more dovish than the Fed - look at the diagram below: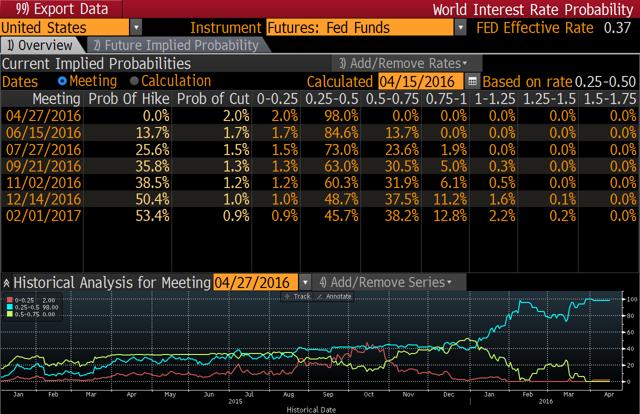 Click to enlarge
Source: Bloomberg
3. Expense control was solid, with costs ex legal down 3% YoY and CIR at 57%.
Cost cutting looks more sustainable now that it is occurring in the non-compensation side of JPM's business. However, the market has already priced in JPM's cost optimization program - look at the diagram below. The market expects non-interest expenses of $56.1bn while the management guidance is "$56+/- bn" (look at the table below). The sell-side analysts are now expecting a large chunk of the remaining c.$2bn in expense savings to accrue in 2016, which should keep operating expenses flat (-ish) YoY. Should it take longer for that to happen, JPM's earnings would be revised downwards.

Click to enlarge
Source: Bloomberg
4. The decrease in equity/FICC trading was less than expected given better market trends in March.
Although it's hard to argue that capital market conditions improved in March-April, I believe it is too early to call the turn. There are plenty of reasons to assume that capital markets turmoil could persist or even worsen, so one should bear in mind a significant downside risk for JPM's IB/trading revenues.
5. Asset quality deterioration in oil & gas and metals & mining was not a surprise.
Asset quality worsening has been largely limited to O&G/M&M so far, but could it spread to other sectors? I would not rule out that.
Valuation
JPM looks fairly valued compared to its peers, even if we take into account its above-average RoE.
Regression chart: RoE2016E vs. P/B 2016E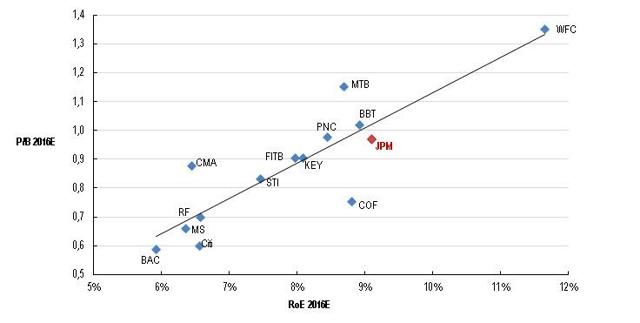 Click to enlarge
Source: Bloomberg, Renaissance Research
Bottom Line
Don't get me wrong: JPM is a high-quality asset. It is a strong banking franchise, which generating above-average RoE, and I believe it is a great long-term investment. Having said that, JPM is a HOLD for me (on a 12m time horizon) unless the Fed tone turns more hawkish and the market starts to price in at least two rate hikes this year - higher interest rates are the only factor which could significantly boost the company's revenue growth. Meanwhile, a risk/reward ratio does not look attractive: risks are clearly skewed to the downside while an upside potential looks limited.
Disclosure: I am/we are long JPM.
I wrote this article myself, and it expresses my own opinions. I am not receiving compensation for it (other than from Seeking Alpha). I have no business relationship with any company whose stock is mentioned in this article.