Blackstone Group LP (NYSE: BX) reported 1Q16 earnings today. While the market reacted negatively, my read of the 1Q16 results was positive.
Investors continue to miss the value transition that BX's common units are undergoing. Previously, the stock was being driven by the distribution, which was >50% comprised of volatile performance fee revenue that fell straight to the bottom line and the distribution. Now that valuation multiples have stabilized at historically high levels and performance fee revenue has predictably declined, the common units are transitioning to being driven instead by base management fee-related earnings ("FRE"), a stable profit stream driven by assets under management ("AUM"), particularly fee-earning AUM ("FAUM").
On these value-driving metrics - FRE, AUM, and FAUM - Blackstone's 1Q16 earnings showed continued strength. Furthermore, dry powder (capital that BX has raised but not yet invested/deployed) increased from 4Q15 levels. This dry powder represents future FRE potential, but the common unit price does not reflect this expectation. And lastly, net accrued performance fees stabilized at $3.2B following several quarters of sequential declines.
I remain cautiously bullish on Blackstone Group LP and believe the common units are worth $32-$33 per share, based on a 2% yield applied to fee-related earnings-based distribution ("FRE distribution"). In this article, I will outline my view of the puts and takes in 1Q16 and my valuation of Blackstone Group LP.
The Bad in the Quarter
1. Lower realized performance fee revenue
Realized performance fee revenue declined 63% quarter over quarter, from $708M to $259M. Notably, 4Q15 was a strong realized performance fee quarter, up 51% from 3Q15. In my view, declining realized performance fees should be expected by investors, as valuation multiples have stabilized at historically high levels for over a year, compressing excess return over BX fund's hurdle rates (and, remember, hurdle rates continue to increase at roughly 8% per year, even if valuations stagnate, meaning the difference between the two measures - BX's performance fees - becomes compressed).
2. Higher compensation expense
Compensation expense exploded higher in 1Q16, increasing 10% y-o-y and 20% q-o-q (adjusting for absence of the FA segment). This one is concerning, to say the least, because this is base compensation expense and not performance-related compensation expense. Optimistically, this compensation expense increase may be related to higher expected deployments in the future, considering BX's increasing dry powder position to be discussed).
Pessimistically, this increase could represent a higher compensation environment in the alternative investment space, but that does not appear to be in line with declining compensation packages on Wall Street. Therefore, while higher expense is never "good," this higher expense may indicate future deployments and therefore management fee revenues - which is most certainly "good," and a key value-driver for BX.
3. Lower FAUM reflected higher asset exits than deployments in 1Q16
Fee Earning AUM ("FAUM") declined by 0.7% q-o-q to $244.4B in 1Q16 from $246.1B in 4Q15. This reflects continued sale of fund assets, which apparently exceeded asset investments/deployments of $6.7B in the quarter. Ideally, FAUM would be increasing each quarter, driving FRE higher. My valuation and investment thesis is based on this assumption. But Blackstone management may have acted cautiously in 1Q16 due to market volatility.
The Good in the Quarter
1. Higher AUM demonstrated continued prolific fundraising, a critical value driver
Total AUM was up 2.2% q-o-q in 1Q16, to $343.7B from $336.4B in 4Q15. Total AUM represents the future earnings potential of Blackstone, and therefore is a critical value driver. Gross inflows of $17.1B in the quarter reflected continued prolific fundraising by company management. I expect growing AUM to continue driving management fee revenue and earnings higher.
2. Higher dry powder provides some comfort on the downside; Blackstone is prepared for any correction or recession
Dry powder increased to $88.6B in 1Q16 from $79.7B in 4Q15. This is capital that is currently earning no fees for the company, but could be deployed at discount valuations if the opportunity arises. I think Blackstone's high and growing dry powder positions the company optimally to take advantage of market volatility, particularly any recession or market corrections that occur. The growing dry powder position reflects management's understanding that valuation multiples are high, expected returns from these levels are low, and continued market volatility may provide the best investing opportunities.
3. Strong y-o-y growth in base management fee revenue means the value foundation of Blackstone continues to grow
Base management fee revenue increased 13.6% y-o-y, exhibiting continued strong growth in FAUM. Also, management claimed on the 1Q16 earnings call that BX is now commanding a higher management fee percentage than is typical (roughly 2%) as funds that were once new and risky become more attractive to investors. On a q-o-q basis, base management fee revenue declined 2.1% q-o-q, but this was in line with the 0.7% decline in fee-earning AUM. I expect management fee revenue to grow steadily on a sequential basis as Blackstone puts their dry powder to work and higher management fee percentages contribute.
4. Stabilizing unrealized performance fee revenue leads me to conclude that realized performance fee revenue will stabilize going forward
For the first time since 1Q15, unrealized performance fee revenue was positive, coming in at $55M. In my view, this reflects a valuable reset in Blackstone's fund asset market values relative to the performance fee hurdles established by fund documents. When fund asset values decline, the hurdle value continues to climb inexorably higher, causing unrealized performance fee revenue to turn negative. That unrealized performance fee revenue is positive in 1Q16 suggests stabilizing realized performance fee revenue going forward.
I Value Blackstone Group LP at $32-$33 per Unit
There is no good way to value Blackstone Group LP. One could use adjusted EBITDA, Economic Income, Economic Net Income, Net Income, or any other number of profit/cash flow measures. I choose to base my valuation of BX on a fee-related earnings distribution yield ("FRE distribution"). Put simply, I believe that BX should yield a 2% distribution that excludes volatile performance fees. In part, this is based on BlackRock's (NYSE: BLK) current 2.5% dividend yield. I believe BX's FRE distribution yield should be 50 basis points less than BlackRock's dividend yield to reflect the potential for performance fee revenue driving Blackstone's distribution higher and a higher earnings growth profile for BX compared to BLK (in my view).
In the analysis below, I update my FRE distribution analysis first shared in my last article on Blackstone Group LP. As can be seen, BX's 1Q16 FRE distribution performance annualized would yield 2.1% against the current unit price, whereas BX's 4Q15-1Q16 FRE distribution performance annualized would yield 2.5%. I believe both of these figures should be 2.0%, which leads me to value BX at $29-$36 per unit, for an average valuation of $32.50.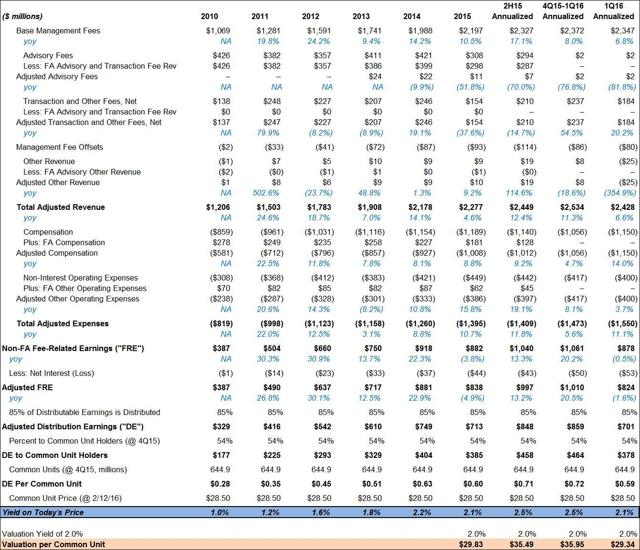 Click to enlarge
Investors are hyper-focused on the distribution and performance fees, and therefore missing the growing underlying value of Blackstone Group LP
It wasn't too long ago that I was alerting investors as to the inherent risks within Blackstone Group LP's business model and unit price. But that was at >$40 per unit. At current levels, and with markets stabilizing, I think management is doing a good job of cautiously putting capital to work, driving base management fee revenue and earnings higher, while holding back a substantial capital position (dry powder) should a market correction of recession present itself.
This gives me more comfort investing in Blackstone, as I know they have substantial capital to put to work in a recession scenario, and I therefore could average down with the expectation of long-term gains. There is now enough value being generated by management fee revenue and earnings and growing AUM to justify remaining long BX. I recommend investors already long the common units hold on into the $32-$33 range.
Disclosure: I am/we are long BX.
I wrote this article myself, and it expresses my own opinions. I am not receiving compensation for it (other than from Seeking Alpha). I have no business relationship with any company whose stock is mentioned in this article.