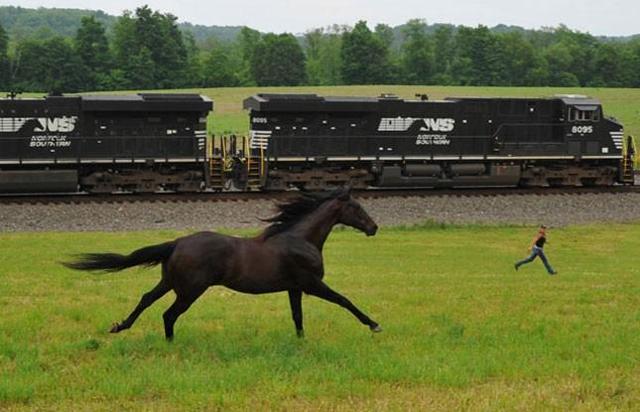 Click to enlarge
Norfolk Southern (NYSE:NSC) is set to report Q1 earnings after hours today. Analysts expect revenue of $2.39 billion and EPS of $0.97. The revenue estimate implies a 5.1% decline versus the company's Q4 2015 revenue of $2.52 billion. Investors should focus on the following key items:
Coal Exposure
Coal has become a dirty word in the railroad industry. Demand for coal has fallen due to clean energy standards adopted by the government and a shift towards cheaper natural gas. The company receives 18% of its revenue and 14% of its carloads (including intermodal) from coal.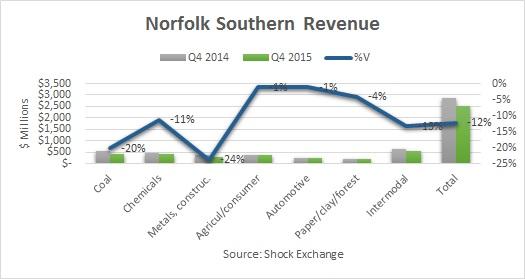 In Q4 the company's total freight revenue fell 12% Y/Y, yet coal revenue declined 20%. Norfolk Southern's unit volume and average selling price both declined 6%, while coal's decline in volume and average selling price was amplified. It will likely worsen. Cumulative year-to-date U.S. rail traffic for the week ending April 9th was down 7%; it was off 33% for coal. That said, coal will likely remain a major headwind for a company already experiencing declining carloads.
Cost Cutting Measures
Norfolk Southern was previously the target of a hostile takeover attempt by Canadian Pacific (NYSE:CP). The logic was that Norfolk Southern was inefficient; the efficiency gains from cost cutting by Canadian Pacific would inure to the benefit of shareholders from both companies. Canadian Pacific's EBITDA margins of 49% dwarfed Norfolk Southern's margins of 37%. The merger has been called off but Norfolk Southern still must respond to claims of being "inefficient."
The company recently announced a strategic plan to streamline operations and drive profitability. Management expects to achieve annual productivity savings of $650 million by 2020, of which $130 million is expected to be realized in 2016. Nonetheless, until revenue declines abate I do not see a compelling reason to own the stock. NSC trades at 9x run-rate EBITDA which is outside my 7x - 8x range for railroads. I expect revenue and earnings to continue to fall as global recessionary pressures continue to weigh. Avoid NSC.
Disclosure: I am/we are short NSC, CP.
I wrote this article myself, and it expresses my own opinions. I am not receiving compensation for it. I have no business relationship with any company whose stock is mentioned in this article.