Introduction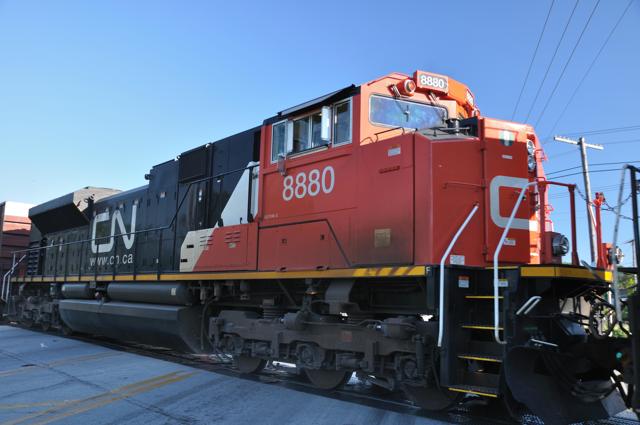 Click to enlarge
The rails are an interesting group as they have been facing headwinds in many of their segments, along with the brutal beat down of coal during the past couple of years. Low crude prices have helped on the cost front, but still many rails aside from Canadian National (NYSE:CNI) have had to lay off thousands of people.
Let's take a look at how CNI has performed, how much of that is due to currency effects, and whether CNI is trading at a reasonable price compared to the general market and its peers.
I wrote an article yesterday about Canadian Pacific (NYSE:CP) if you would like to compare the two. CP has reported Q1 2016 results, but CNI has not yet so we cannot directly compare the most recent results. This article uses 2015 full year results for CNI.
Coal Exposure
In all of my recent railroad articles and research, I have focused a lot on coal and how exposed each rail is to the commodity. This is because it is historically one of the most profitable segments for many rails and also the segment that has seen the biggest decline in the past year or two.
The reasons for this decline in coal may be familiar to you already, but if not, they include cheap fuel prices (both natural gas and crude) in addition to regulatory pressure stemming from environmental legislation.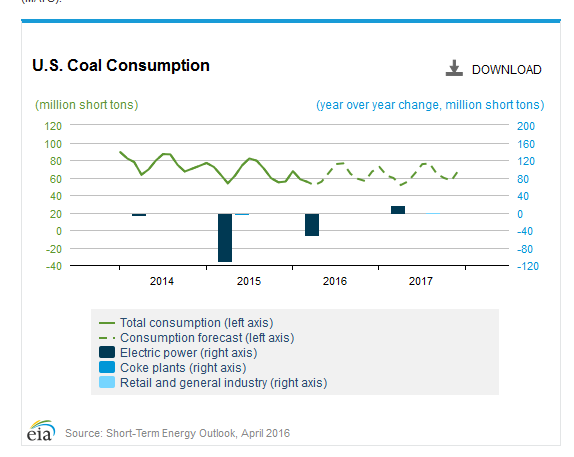 From where I am sitting, it is clear the clean energy movement is gaining steam in the developed world and coal is public enemy #1.
I was surprised to see how little Coal exposure CNI has, with coal making up 6.4% of 2014 revenue and only 5.14% of 2015 revenue.
This widening spread can be explained by coal revenues dropping 17% (25% on constant currency) basis, and revenues increasing at CNI 4% in 2015 (mostly due to currency, revenues declined in reality).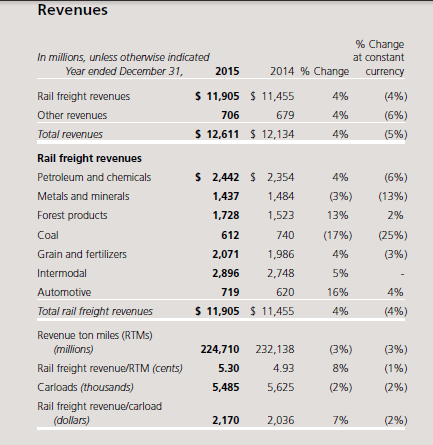 This compares favorably to Union Pacific (NYSE:UNP), with 16% coal exposure and CSX (NYSE:CSX) with 20%-30% exposure, the highest of all the NA rails.
Other segments
Automotive continues to be a big winner for all the rails as they all reported high to mid single digit increases in automotive revenue. The problem is that this segment is small for many of the rails, including CNI.
Intermodal, Grain, and Petroleum/Chemicals saw flat or slightly declining revenues. I expect this to continue in 2016 with a slight pick up in Intermodal and Grain pressured by continued weakness in the Pertroleum segment.
Operating Expenses
From what I can tell, CNI has had less shrinkage of head counts than most of the rails. Labor expenses for 2015 increased modestly over 2014.
One of the big expense boosts that many rails are not highlighting enough because of coal and general freight weakness is the enormous cost savings they get from the drop in crude prices.
You can see below CNI got a 39% cost savings over 2014 in Crude.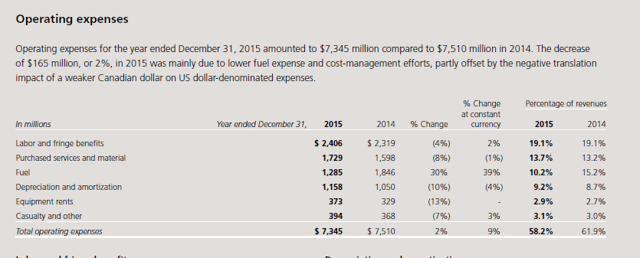 Click to enlarge
Other expenses were pretty in line and nothing else stands out to me. The one benefit I see is that if freight continues to deteriorate than CNI does have more costs they could take out as they are well behind other rails in terms of cutting/furloughing personnel.
Obviously, investors hope that freight turns around as soon as they invest but this does give a small margin of error if crude starts rising in price but does not drag general freight and commodity traffic with it.
Financials
Every rail is going to have a good chunk of debt, it is inevitable. CNI has been piling the debt on recently and added another $1.1 billion in 2015.
As interest rates, hopefully, start to rise and money becomes less affordable I look for the company to slow down their bond/debt offerings and rein this in a bit.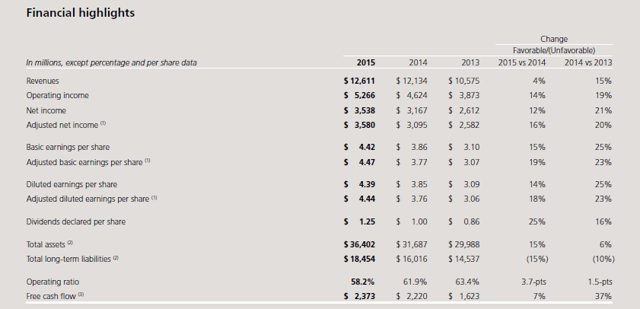 Click to enlarge
I understand that it has been all the rage the past few years to buy back stock with debt, but there is a point that it can get out of hand. I do not think, however, that CNI is close to that point yet.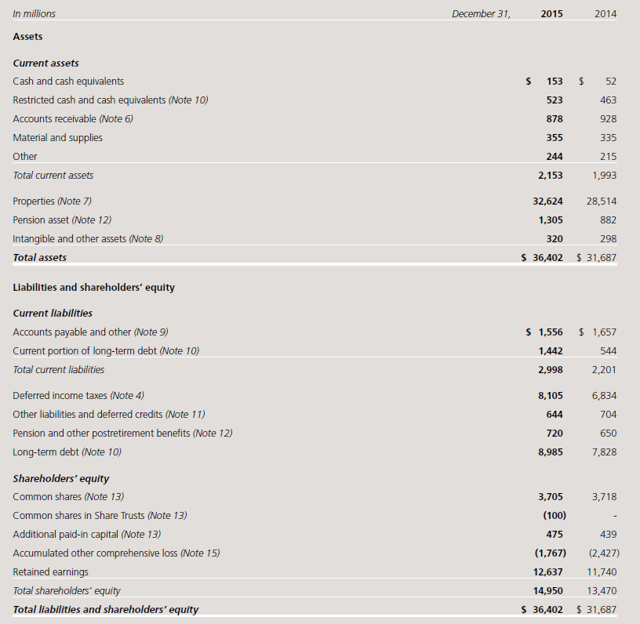 Click to enlarge
Shareholder equity and retained earnings are positive YOY and moving in the right direction.
The stock trades at ~18 times TTM earnings on the TSX and Fidelity has a 14.4 times TTM earnings when using the NYSE US price and earnings.
I think the Canadian ratio is closer to reality while the US one reflects the exchange rate differences that still persist. Even using the 18 times earnings figure that seems reasonable for one of the better players in the sector. The S&P500 is somewhere around ~17 times earnings currently.
While freight is not yet headed in the right direction, these companies have clearly been managing their expenses. Additionally, a turnaround in a few segments can have all the rails headed in positive territory even if coal remains in the doghouse for longer.
The company trades at 22 times TTM free cash flow. A high number when compared to less capital intensive industries but above average when compared other rails.
Return on Equity is 32.47%, above the rail group average and return on assets 13.31%, again above the rail average of ~8%, according to Fidelity.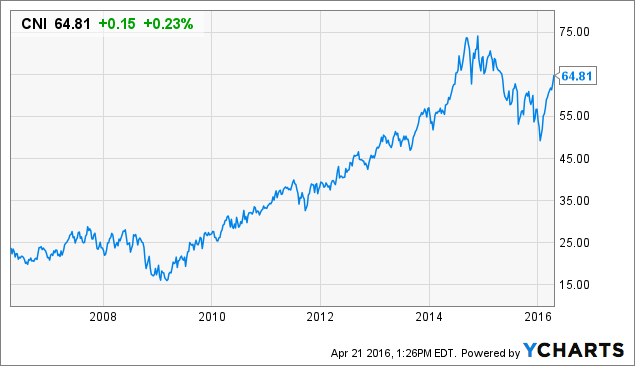 CNI data by YCharts
Dividends and Share Repurchases
The company continued their share purchases in 2015. The last two years, the company has used 92% and 80% of their authorized share repurchases for the year.
The company is authorized 33 million for October 2015 to October 2016, so using a middle ground of the last two years, I expect 26 million to 28 million in share repurchases this year.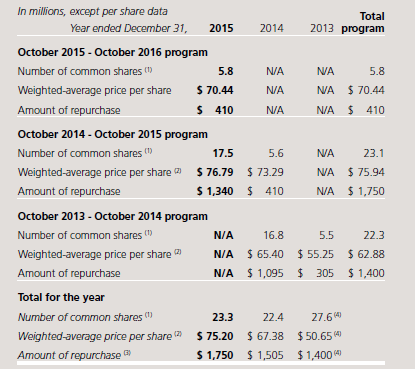 The company paid out $996 million in dividends in 2015 and increased their 2016 dividend by a whopping 20%. Free cash flow data from the company was $2.3 billion for 2015.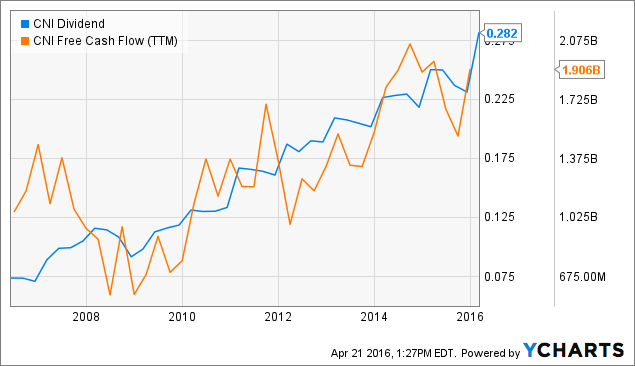 CNI Dividend data by YCharts
The dividend is very well covered when compared to net income as well. Net income for 2015 was $3.5 billion or ~$4.39 per diluted share.
The 20% increase seems justified considering the company's strong 2015 performance in a tough operating environment, helped partially by a weak Canadian dollar that helps with their US business.
2016 1st Quarter Expectations
Analysts are looking for $.71 in earnings for Q1 2016. I expect CNI to meet or slightly exceed that forecast, not due to fantastic operating results but mainly due to low expectations for the whole rail cohort and share repurchases doing the heavy lifting.
For revenues, I expect another 2%-4% decline in constant currency, similar to what CNI saw in 2015.
CP's first quarter results saw similar revenue declines and I see no reason that CNI's revenue should be drastically different.
Since the dollar has weakened slightly since last quarter, I expect revenue in adjusted currency to be slightly negative or just slightly positive, depending upon how much of a boost currency gives, but I don't expect it to turn a 4% revenue decline into a 4% revenue increase like it did in 2015's full year results that you saw above.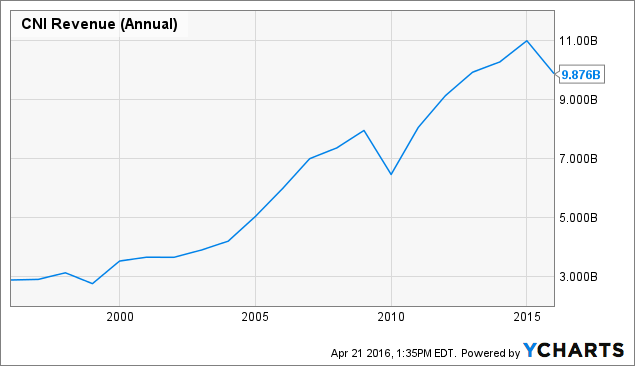 CNI Revenue (Annual) data by YCharts
Conclusion
CNI is trading at a premium to its rail brethren, especially the US rails, and I feel that is a fair price given its below-average exposure to coal and transitory strength from the weak CND.
I believe that CNI is well positioned looking out 3-5 years as their primary segments turn the corner. Even if the tough freight environment persists, they have many more costs cuts they could utilize to right the ship that the other rails have already implemented.
I feel today's price is fair, but not a screaming bargain, for a multi-year investment into this Canadian railroad.
Disclosure: I am/we are long CNI.
I wrote this article myself, and it expresses my own opinions. I am not receiving compensation for it (other than from Seeking Alpha). I have no business relationship with any company whose stock is mentioned in this article.