A few days ago, a loyal subscriber asked my opinion of Ameren (NYSE:AEE) and Westar (NYSE:WR), two Midwest utilities. These are two mid-caps I don't own or usually follow, so the answer involved a bit more research. My findings in a nutshell: Not much value here and if income is the motivating factor, potential prospects are unexciting. These stocks remind me of a concept offered by Chuck Carnevale a while ago: Utility stock buy prices matter.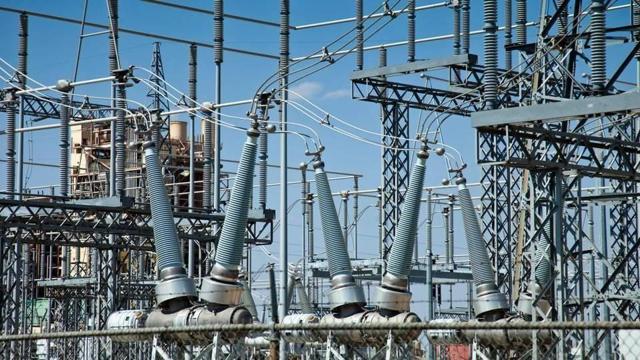 Click to enlarge
Ameren is an electric and natural gas utility servicing 3.4 million customers mainly in Illinois and Missouri. Westar is the largest electric utility in Kansas servicing a much smaller customer count of 700,000. WR sold its natural gas business in 2003. Ameren owns 10,200MW of power generation capacity while Westar operates 7,200MW of generating capacity. Both are reliant on coal as its largest fuel source. AEE owns 4,600 miles of FERC-regulated transmission assets and WR owns 6,300 miles. AEE is the 15th largest operator of transmission-mile assets while WR ranks 18th, both out of 28 utilities with transmission businesses.
Ameren services Illinois and Missouri, both with relatively difficult regulatory environments. Missouri recently reduced its allowed ROE of 9.50%, which is lower than the average 4th qtr 2015 national rate decisions of 9.62%. The national average is the lowest in three decades of data compiled by eei.org, an industry trade group. Illinois has recently revamped their rate structure a bit higher after several years of low allowed ROE and is considered more business friendly than Missouri for utility investments.
In an article published in the St Louis Post Dispatch last Sept, AEE is favoring investments in FERC-regulated transmission and in their Illinois infrastructure over Missouri due to higher allowed returns and less regulatory lag time. Management has announced $3.2 billion in investment projects over the next five years for transmission and Illinois-regulated assets, with the potential to increase this amount by 25% to 50%. Over the same time frame, Missouri's projects total $800 million. There is a real possibility Missouri assets will fall from two-thirds of total regulated assets to under half.
Westar's regulated business in Kansas also offers middle of the road allowed ROE of just under 10%. Like AEE, WR's focus is on increasing its investment in the higher returns of transmission assets. In addition, WR is increasing its exposure to wind power generation, mainly due to its geographic location in the sweet spot of wind power generation in the Midwest.
Overall, share prices for utility stocks have climbed over the past year, and the sector represents a difficult place to find value. This week, Morningstar recapped their outlook for utilities in general:
U.S. utilities haven't been this expensive in at least a decade. But utilities' dividend yields look incredibly attractive relative to bonds. So, are utilities stocks set to fall (and yields rise) or are yields set to fall (and stocks rise)? We think the former.

On many measures, utilities are exceedingly rich after a 14% run year-to-date and 21% run since mid-2015, well ahead of the S&P 500 (2.5%) and every sector. The 1.14 median price/fair value ratio for the 46 U.S. utilities Morningstar covers is a historic high after adjusting for a valuation methodology change in 2015. We are reaffirming our fair value estimates, moats and moat trends.

Utilities we cover trade at 19 times our 2016 earnings estimates and 22 times trailing earnings, well above the sector's average 15 trailing P/E during the last decade. Utilities are also trading near double their book values, higher than the 1.6 average during the last decade. The sector's 3.7% dividend yield is well below its 4.5% 20-year average.

But utilities' dividend yields have rarely been so attractive relative to interest rates. And we think utilities' dividends, credit metrics, and growth prospects are as strong as they have been in decades. The spread between utilities' 3.7% yield and the 1.7% 10-year U.S. Treasury yield is as wide as it has been since May 2013, a historically bullish signal for utilities and bearish signal for bonds.
Ameren and Westar are expected to match earnings growth by an industry average of 5% to 6% over the next few years. The growth is driven by investments in transmission assets, and in the case of AEE, in higher return projects in Illinois. Dividends are expected to mirror earnings growth. However, this average growth profile is more than priced into both the current yield and share price.
Ameren and Westar have generated returns on invested capital ROIC that look attractive compared to an industry average of between 4% and 5%. Below are Fast Graphs of their respective ROIC over the previous 15 years.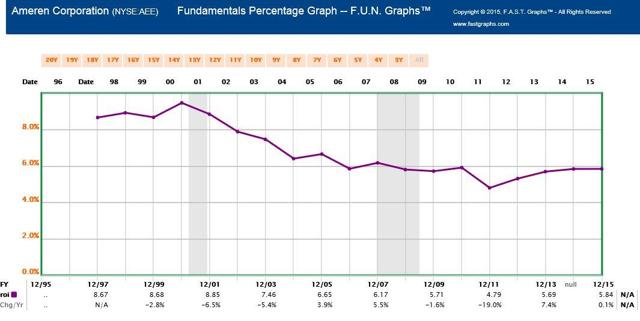 Click to enlarge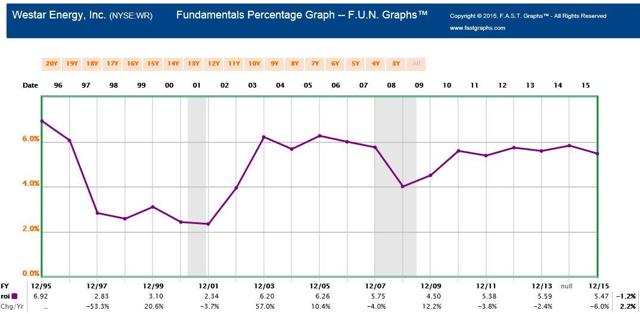 Click to enlarge
According to thatsWACC.com, AEE has a weighted average cost of capital WACC of 4.77% and WR has a weighted average cost of capital of 5.50%. These would calculate to a Net ROIC (ROIC-WACC) of 1.07% for AEE and -0.03% for WR. While not as negative as some of their peers who do not earn sufficient returns of invested capital to cover their weighted average cost of capital, AEE and WR's net ROIC are not very exciting.
Below are two Fast Graphs outlining current market valuations for AEE and WR: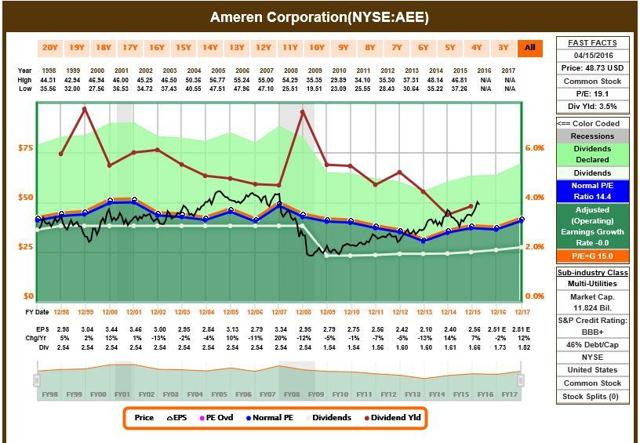 Click to enlarge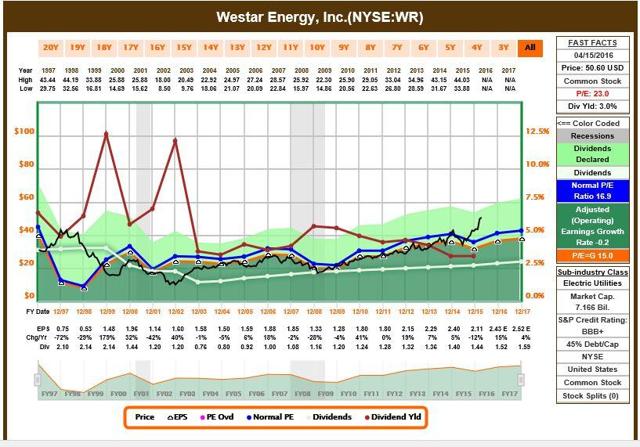 Click to enlarge
As shown, both the current share price and current yield should not be considered as undervalued based on historic performance. Both traded at P/E ratios above sector averages and with current yields at or below sector averages. Again, not a recipe for claiming undervaluation.
Morningstar recaps the Bull case for each:
•Ameren's regulatory relationships have improved in Illinois. The IMAP provides regulatory stability through 2017.

•Ameren's upcoming transmission projects offer higher returns than the company's state-regulated asset base and should support modest earnings growth.

•Ameren's healthy dividend provides some downside protection for shareholders.

•Westar has raised its dividend every year since 2005, and now pays $1.44 per share annually.

•Westar's regulatory capital base, which is a proxy for utility profit growth, should grow at a 5% average annual rate the next five years, mostly due to transmission investments.

•Westar's new rates in 2015 and 2016 should boost companywide earned returns on equity to near 10% again.
In a discussion with the loyal subscriber, his contention was Westar could be a merger candidate for larger Ameren. Both are expanding in the transmission business, they serve almost contiguous areas, and their increased size could be an advantage in project cost negotiations. WR has the advantage of being in the hot spot for wind power generation and this is driving not only an ease of compliance of required renewable power generation but for added transmission projects as well.
However, I would prefer to pass on investing additional capital in either of these stocks, not because of fundamental business flaws but rather due to their current expensive price. There are better stock selections either for growth of principal or for income.
Thanks Mr. T.D. for the article idea and the chance to review two utilities I don't usually follow.
Author's Note: Please review disclosure in Author's profile.
Disclosure: I/we have no positions in any stocks mentioned, and no plans to initiate any positions within the next 72 hours.
I wrote this article myself, and it expresses my own opinions. I am not receiving compensation for it (other than from Seeking Alpha). I have no business relationship with any company whose stock is mentioned in this article.