The film industry is in full swing. Studios are releasing record-breaking movies, particularly franchises and superhero movies are doing very well. Global box office recorded more than $38 billion revenue in 2015, which is attributable to continued momentum in China and several blockbuster Hollywood movies, such as Star Wars: The Force Awakens, Avengers: Age of Ultron, Jurassic World, and Fast & Furious 7.
It seems that the growth story of the toys and games industry is linked to the film industry. The toys and games industry witnessed an impressive 6.7% increase in sales last year driven by strong demand for Star Wars, Minions, Jurassic World, and Avengers related toys. Over the past few years, the bond between the film and toys industry has strengthened due to increased licensing of superhero movies and franchises.
Hasbro (NASDAQ:HAS), the maker of NERF and PLAY-DOH, has built a stronger relationship with Disney (NYSE:DIS) to compete with two major rivals, Mattel (NASDAQ:MAT) and The Lego Group. Disney-licensed toys have enabled Hasbro to kick start 2016 on a high note with upbeat performance in the first quarter. The addition of Disney Princess and intact demand for toys tied to Frozen drove 41% growth in Hasbro's girls' business. Mattel, on the other hand, is struggling to revive its iconic brand Barbie, which dropped 3.4% in the first quarter of 2016.
Can Hasbro continue the momentum? It depends on how aggressively Hasbro expands the new princess lineup to benefit from the competitive edge it recently gained against Mattel. Hasbro is flooding the market with new products, which is evident from the 36% increase in inventory level. As the initial response is positive, the outlook looks promising and the addition of two new properties, Elena of Avalor and Moana, will further strengthen Hasbro's position in the girls' toys business.
Hasbro's strong arm, the boys' business, is also in good momentum as sales went up by 24% during the first quarter of 2016. Star Wars toys are still showing positive growth and the release of Rogue One: A Star Wars Story will bring a lineup of new toys. Thus, Hasbro expects sales acceleration to continue with Star Wars-related sales reaching $500 million this year. Hasbro's other brands such as NERF and Yo-kai Watch are also driving growth while launching a new system of play with PLAY-DOH will continue to attract the kids.
Started in 2008, Marvel Cinematic Universe is the highest grossing franchise on the global box office. Hasbro's Marvel based toys are selling like hot cakes. As Marvel enters the new phase, the addition of new characters will bring additional revenues. For example, Captain America: Civil War will introduce Black Panther and Spider-Man for the first time in the Marvel Universe. With the release of Civil War on May 6, Hasbro intends to roll out the full array of characters to fuel the sales in the coming quarters.
Hasbro is well poised to grow in the U.S., Canada, and other major European markets, but the company is lacking spark in the emerging markets. The international business registered 13% revenue growth due to falling sales in Latin America and lackluster growth from emerging markets. Unfavorable currency movements hammered the sales, but the expected ease in currency headwind will bode well for the company.
Another challenge for Hasbro is the weakening sales of the Transformers lineup in the absence of a new movie. The sales of Transformer toys may remain muted until the release of the fifth Transformers movie, which is expected to hit theaters in June 2017. However, the second season of Transformers: Robots In Disguise may boost the performance to some extent.
Hasbro engages designers from outside the company, which would allow it to incorporate flexibility when generating ideas for developing new products. Hasbro's crowdfunding contest will collect ideas from game designers from the U.K., France, Germany and most of Canada till 15th May. The winners will work with Hasbro in developing the game and bring it to store shelves. As a part of its innovation strategy, this move will bring expertise and ideas, particularly from Europe where the toys and games market is growing at a steady pace.
Hasbro has started 2016 with full potential, but the company should overcome its weaknesses quickly. Although Hasbro gained 270 basis points in operating margin, its overall profit margins are significantly less than Lego's margins. Hasbro's margins are much better than Mattel, but there is room for improvement when compared with Lego.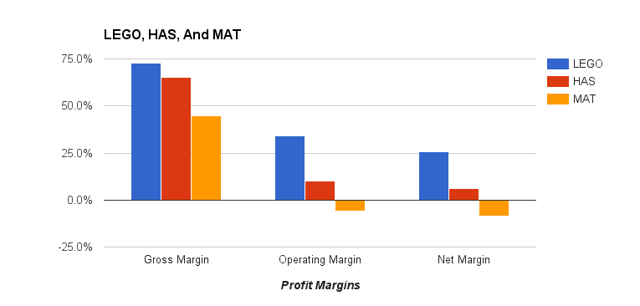 Source: Financials
A small digging reveals that a bad debt provision of $13.8 million, or 23% of EBIT, due to inefficiency in the emerging markets hammered the margins of the international segment. Hasbro expects double-digit revenue growth from emerging markets in 2016, but the company should revisit its receivables strategy for those markets to protect the profitability rather than just trying to boost the sales.
Final Words
Hasbro's fundamentals have improved in the recent past. The company is making strong progress in girls, boys, and pre-school businesses, and is gaining market share in nearly every major market. Hasbro's winning streak may continue, but it would require a lot more efforts in the emerging markets due to stiff competition. Lego is aggressively expanding in China, and will open the world's largest Lego store in Shanghai followed by the first factory in China in 2017.
Hasbro's presence in China is quite small as compared to its other markets, but the company intends to focus on e-commerce in China to boost sales. However, Hasbro will need more brands in addition to Transformers to strengthen its footings in China.
The dividend yield of 2.36% is not very attractive, but Hasbro's dividend growth profile is impressive as it has hiked the dividend at a CAGR of 16% over the past ten years. The rising profit margins and healthy cash flow position (Hasbro had $1.1 billion cash at the end of the first quarter) will continue to support the dividend hikes in the future.

Source: Company Presentation
Hasbro's stock has surged more than 20% over the past twelve months primarily due to upbeat performance. Hasbro currently trades at a forward price to earnings multiple of 19.8 times, but the strong growth momentum, improving fundamentals, and favorable industry dynamics suggest that Hasbro's story is still intact.
Disclosure: I/we have no positions in any stocks mentioned, and no plans to initiate any positions within the next 72 hours.
I wrote this article myself, and it expresses my own opinions. I am not receiving compensation for it (other than from Seeking Alpha). I have no business relationship with any company whose stock is mentioned in this article.