Mattel (NASDAQ:MAT) announced Q1 results Wednesday, 4/20, after the bell. Although the company topped the revenue estimate like we forecasted, shares dropped ~6% as a result of a miss on the bottom line. In our previous analysis, we expressed an interest in the company as we believe the emergence of the DC Theatrical Universe will put the company on the same long-term upward trend as Hasbro (NASDAQ:HAS). We were not buyers of the stock, however, as we remained concerned about the rich valuation. This sell-off has cheapened shares some, but we do not think enough to make the stock a compelling buy. We will wait for more of a pullback.
Quantitatively, here is how the quarter stacked up versus our expectations.

Click to enlarge
Barbie performed slightly better than we expected (-3% actual versus -5% forecast). While Barbie will certainly not be a driver of growth for MAT in the future, we do think the segment has reached a steady state for sales. We believe the Barbie segment is an annual $800-900 million business, and think sales will stay at those levels over the next five years.
Other Girls performed much worse than our expectations (-62% actual versus -10% forecast). Success of Hasbro's Disney Princess line clearly affected sales in this segment more than we initially anticipated. We expect huge declines to continue throughout 2016, putting Other Girls' sales somewhere in the ballpark of $400-$450 million. We expect gradual declines thereafter.
Wheels slightly underperformed our expectations (+2% actual versus +5% forecast). Hot Wheels do seem to be gaining some traction in the toy market, and while we do not believe there will be extreme growth herein, we do think sales will continue to grow at an LSD pace this year. Into 2017, we believe tailwinds from a new Cars movie will thrust sales growth into the MSD range before slowing back to LSD growth thereafter.
Entertainment performed in-line with our expectations (+30% actual versus +30% forecast). Entertainment sales this year should continue to dramatically outpace entertainment sales last year due to the launch of Batman v. Superman in Q1 and Suicide Squad later this year. Suicide Squad will introduce a new array of action figures to MAT's portfolio, and this novelty could generate huge revenue tailwinds. We think Entertainment sales are set for a huge year in 2017, with the theatrical release of Wonder Woman, Cars 3 and Justice League. Wonder Woman action figures will help MAT recapture a lost girl audience that left with the Disney Princess line, and there are several characters from both Cars 3 and Justice League for MAT to sell a variety of toys.
Fisher-Price slightly outperformed our expectations (+3% actual versus flat forecast), American Girl underperformed (-12% actual versus -5% forecast), and Construction outperformed (+62% actual versus flat forecast). This underperformance of the American Girl segment can likely be attributed to a strong audience overlap with the Disney Princess line. We think Fisher-Price sales still have room for growth (2% CAGR into 2020), while we see American Girl sales as roughly flat over the next five years. We think the Construction business can reach $600-700 million in annual sales by 2018.
Our long-term revenue forecasts can be seen below. We think there's upside to both the 2016 revenue estimate ($5.69 billion versus consensus estimate of $5.54 billion) and the 2017 revenue estimate ($6.08 billion versus $5.92 billion).

Click to enlarge
The company is targeting operating margins of 15%-20% versus 2015 operating margins of 9.5%. Management believes the company can reach the low-end of this range in 2017. That is 550 to 1,150 basis points of operating margin expansion, which should flow into cash flow margin expansion, assuming proper management of working capital. Last year, MAT netted OCF margins of roughly 13%, so we believe the company can hit OCF margins of roughly 19% by 2017 and 24% by 2020. Assuming capex remains right around 5% of net sales, then we see free cash flow growing from $635 million in 2016 to $1.1 billion by 2020.
Applying a 2% perpetuity growth rate and 10% discount rate to our forecasted free cash flows, we arrive at a fair value of roughly $32 per share.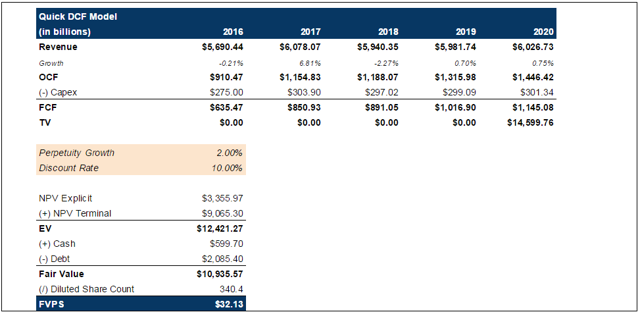 Click to enlarge
While we believe shares are slightly undervalued following the post-ER sell-off, we do not think there is compelling enough asymmetry yet to pull the buy trigger. We like the secular growth story here behind the emergence of the DC Theatrical Universe, but the valuation remains too rich. We will watch the stock closely and hope to buy if the stock drops to around $27 (15% margin of safety).
Disclosure: I/we have no positions in any stocks mentioned, and no plans to initiate any positions within the next 72 hours.
I wrote this article myself, and it expresses my own opinions. I am not receiving compensation for it (other than from Seeking Alpha). I have no business relationship with any company whose stock is mentioned in this article.