A weak telecom capex environment has claimed another victim: Ericsson (NASDAQ:ERIC), historically the biggest player in the mobile infrastructure and mobile network services markets (the Nokia (NYSE:NOK)/Alcatel-Lucent deal may have changed that), saw revenue fall 2.4% Y/Y to SEK52.2B ($6.4B), missing a SEK54.4B Bloomberg consensus. Gross margin fell to 33.9% from 36.3% a year ago, and missed a 36% consensus. Job cuts helped operating margin rise to 7.9% from 5.1%, and net income rise 45% to SEK2.1B ($258M). Shares fell 15% in the U.S. on Thursday.
The numbers arrived 10 days after Juniper (NYSE:JNPR), the carrier router market's #2 player (behind Cisco (NASDAQ:CSCO)), issued a Q1 warning while blaming both weak enterprise demand and delayed deployments with tier-1 U.S. and EMEA carriers. And they arrive less than two months after optical networking hardware firm Ciena (NASDAQ:CIEN) posted a sales miss and offered soft guidance while noting EMEA sales were weak.
For its part, Ericsson says its Networks sales (dominated by mobile infrastructure, and down 2% Y/Y) were hurt by emerging markets weakness and European 4G project completions. Global Services sales (down 4% Y/Y) were hurt by "lower Network Rollout activities in Europe and Latin America." A look at Ericsson's geographic performance shows revenue fell in every region except North America and Southeast Asia/Oceania. The "Other" reporting segment grew with the help of M&A and Ericsson's Apple (NASDAQ:AAPL) licensing deal.

Click to enlarge
Source: Ericsson's Q1 earnings report
Ericsson arch-rival Nokia fell modestly today; its Q1 report arrives on May 10. Telecom equipment providers in general have to cope with the reality that their traditional carrier customers are often seeing minimal or negative revenue growth as various web services cannibalize lucrative revenue streams such as mobile voice, SMS, and landline phone connections. As a result - even though mobile data and online video traffic are still seeing healthy growth - the carriers are often hard-pressed to meaningfully grow their annual capex, at least after adjusting cyclical investments in technologies such as 4G and 5G.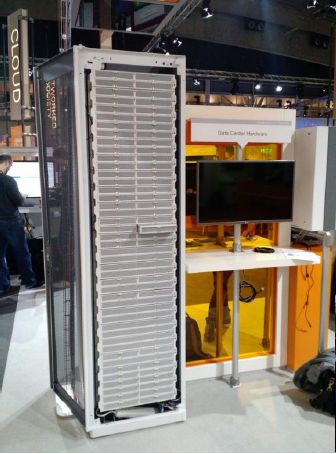 Ericsson's HDS 8000 hyperscale server/storage system. Partly targets the cloud deployments of telecom carriers.
Ericsson, like various peers, is trying to compensate by growing its exposure Internet/cloud service providers, as well as providing hardware, software, and services for the cloud infrastructures being built by its traditional telecom clients. The company is also hoping a management restructuring announced with the Q1 report will help it better go after cloud, IoT, and 5G opportunities.
But given the size of Ericsson's traditional business, making cloud and IoT revenue a large portion of its total sales is going to take a while… at least unless the company makes a big acquisition or two.
Disclosure: I/we have no positions in any stocks mentioned, and no plans to initiate any positions within the next 72 hours.
I wrote this article myself, and it expresses my own opinions. I am not receiving compensation for it. I have no business relationship with any company whose stock is mentioned in this article.