The consumer staples sector offers steady growth with above average dividends. Typically, most of the companies in this area are well-known names that have stood the test of time. Consolidation via mergers can augment profitability through the art of cost cutting as the combined entity should realize significant deal synergies. This article will discuss the prospects of Kraft Heinz (NASDAQ:KHC) my top pick in the sector.
Overview
The newly formed KHC is a case study of consolidation brought forth by 3G Capital. The story begins with the takeout of Heinz orchestrated by 3G and blessed by Warren Buffett in 2013. 3G worked its cost cutting magic, striping out a ton of costs which directly led to Heinz rapid EBITDA margin expansion.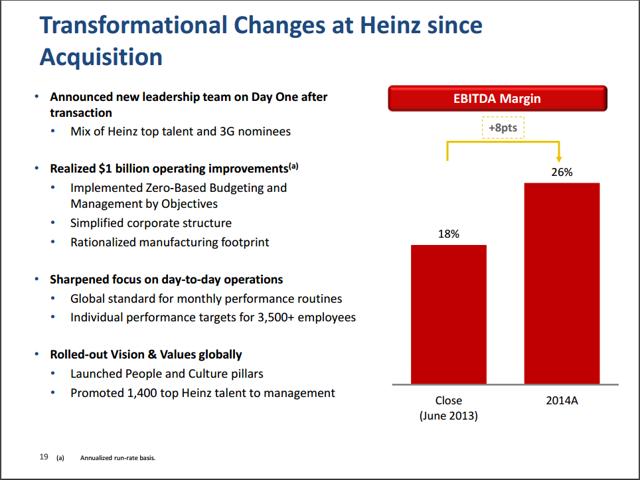 Riding the success of the Heinz Deal, 3G again enlisted the aid of Berkshire Hathaway (NYSE:BRK.A) to take out Kraft and further consolidate the food sector. According to the Berkshire Hathaway (NYSE:BRK.B) portfolio tracker courtesy of CNBC, KHC is now BRK.A largest individual position. The plan here is rather straightforward; 3G will again ring out significant cost savings while raising margins.
Consolidation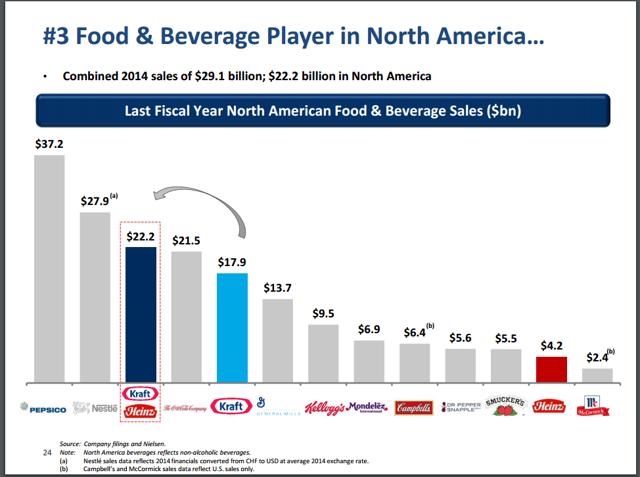 The following slide piqued my interest when analyzing the deal last year. The overarching goal of the current management team is to build KHC into the largest player in the industry similar to the work done in the alcohol sector. The template before us is analogous to the story unfolding at AB Inbev (NYSE:BUD) as they prepare to gobble up SAB Miller (NYSE:SAB). In the BUD template, 3G would acquire competitors to bolt onto their existing stable of brands. Cost cutting would ensue in an effort to raise overall margins which they have accomplished. In the interim, shareholders have been amply rewarded with a share price appreciation coupled with above-average income growth via dividends.
I can easily envision a scenario where the exact playbook will unfold in the food sector. Thus far, KHC has lived up to its potential from an income perspective, delivering a $16.50 dividend to shareholders upon the completion of the Kraft deal. Management then hiked the dividend to 57.5 cents per share versus the 55 cents paid out in the July time frame.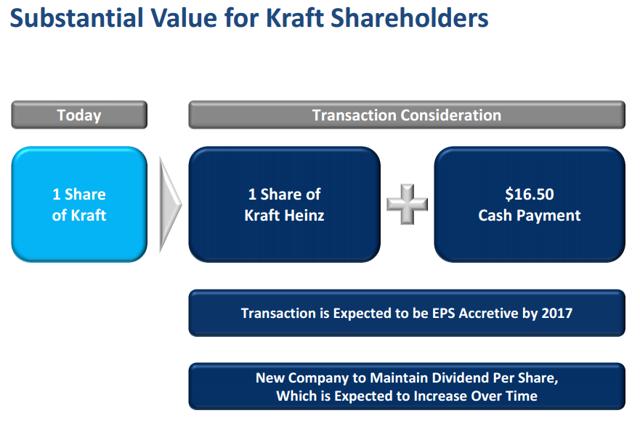 The central question that should weigh on investors minds is when will the next deal come and whom are they targeting. I suspect the next deal will more than likely be announced after the second half of 2017. KHC current debt burden is roughly 4x EBITDA, with management's goal of lowering this to 3x. A key upcoming event is a callable period on KHC debt in June. Management expects to refinance the debt at a far more attractive rate which will be immediately accretive to earnings.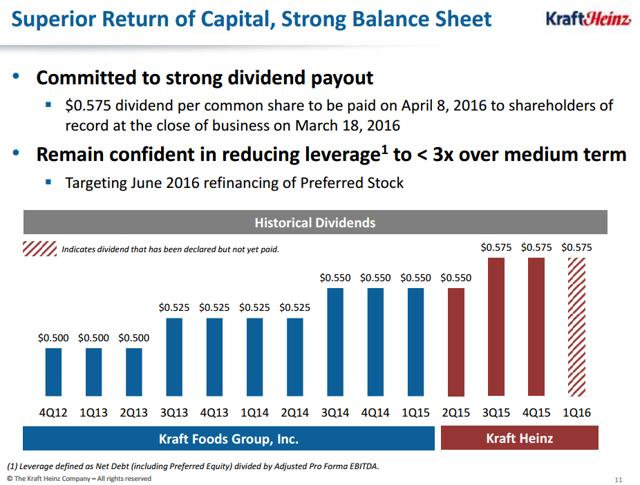 Is Coca-Cola a possible Target?
Using the BRK.B roster of holdings offers some attractive clues at potential targets for KHC. With the outsized position in the company, Warren Buffett will be influential in further deal making which further adds to the intrigue. BRK.B holds a 9.7% stake in Coca-Cola (NYSE:KO) a position that has been held for a number of decades. Buffett is intimately aware of KO strengths and weaknesses very well. The second company is Mondelez International with a stake of 0.04%. KO earnings growth has gone flat over the past few years with earnings stuck in a range between $1.97 and $2.00 since 2012. While there are scant guarantees, a deal would be had or even discussed a merger would make sense. KO has a vast distribution system built over decades. KHC product lineup is strong in the US yet relatively weak overseas. A deal for KO may allow for rapid worldwide distribution for KHC products versus the widely speculated deal for MDLZ. MDLZ holds the rights to market certain KHC products overseas. Thus far, MDLZ has done a relatively poor job of it.
On the other hand, KHC may decide to take-out an entirely different entity in its quest to become the largest purveyor of food. In my view, instead of purchasing shares in a company on buyout speculation I would prefer to buy the acquirer especially if they are well managed. In the case of KHC, the management team's prior track record is very impressive and warrants the benefit of the doubt here.
My current fair value on KHC is $90.51 per share. I have built in a premium to the shares to account for an acquisition at some point over the next few years. My initial foray into the shares last summer is up over 12% due to reinvesting the special dividend and a slow and steady share price appreciation. While KHC is far from a high flyer, adding shares of such a company to one's portfolio can dampen some of the volatility from growth names.
Chart Patterns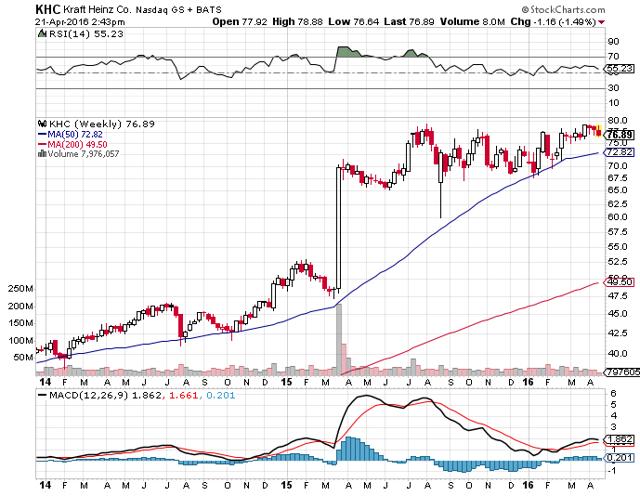 Conclusion
The chart above for KHC remains attractive. The chart is a weekly closing price going back to December 2014. The rising 50-week moving average (blue line) has halted each weekly dipped going back to March of 2015 time frame. The 50 week MA is poised right at the $73 handle, which should serve as support in the case of any pullback. A strong earnings report should act as the upward catalyst needed to spur the share price to new all-time highs while limiting downside potential for those who prefer to engage in short-term trading.
In my view, shares of KHC remain a compelling choice for an investor seeking a combination of low volatility growth coupled with a rock-solid dividend that will increase every year. The underlying product sold by KHC is impervious to recession making revenue prediction relatively stable and consistent. I am content to hold the share here while awaiting the next acquisition. The dividend received in the interim will be reinvested to compound gains. Thank you for reading, and I look forward to your comments.
Investors are always reminded that before making any investment, you should do your own proper due diligence on any name directly or indirectly mentioned in this article. Investors should also consider seeking advice from a broker or financial adviser before making any investment decisions. Any material in this article should be considered general information, and not relied on as a formal investment recommendation.
Disclosure: I am/we are long KHC.
I wrote this article myself, and it expresses my own opinions. I am not receiving compensation for it (other than from Seeking Alpha). I have no business relationship with any company whose stock is mentioned in this article.