Over the past 12 months, TerraForm Global Inc.'s (NASDAQ:GLBL) stock has fallen approximately 80%.
Below is GLBL's 12-month stock performance chart. (The chart was provided by FINRA).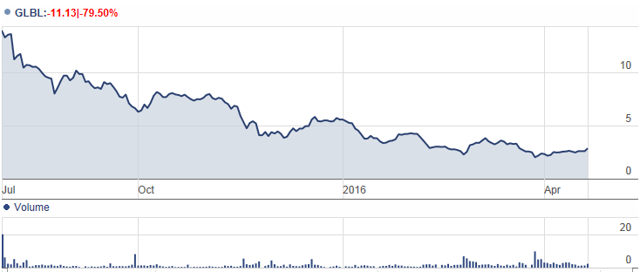 Click to enlarge
GLBL was created by SunEdison, Inc. (NYSE:SUNE) and was designed to own and operate renewable energy generation assets worldwide. Given SunEdison's bankruptcy, the long-term sustainability of this company has been called into question. In fact, GLBL's 08/15/2022 bonds are currently trading at approximately $0.85 of par and have a yield to maturity of 13.27% (As of 04/21/2016) well in excess of the current High yield OAS of about 6.31%. However, after looking at the options market, I discovered options traders were still pricing in a full dividend payment for the month of June.
Options Implied Dividend Payments
The table below contains all the information needed to compute implied dividends. Implied dividends are based on the put-call parity with the addition of borrow costs. All the information used to calculate implied dividends must be acquired simultaneously because the value of each input is dependent on the value of the other inputs. The information on the table was gathered on 04/21/2016. (The 3-month risk-free rate represents the yield on 3-month US Treasuries as of 04/20/2016.)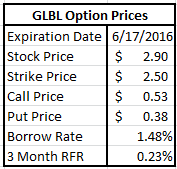 Put - Call + Interest - Borrow = Implied Dividends
0.38 - (0.53 - 0.40) + 0.002 - 0.01 = 0.2408
Based on the calculations outlined above GLBL is expected to pay out a $0.24 dividend vs. the current quarterly dividend of $0.275. However, when you consider the effect of spreads, liquidity, and transaction costs, it is reasonable to conclude the options market is currently not expecting GLBL to cut their dividend and $0.03 discrepancy is due to market frictions. Regardless, given the crash in GLBL stock and SUNE's bankruptcy I am completely surprised GLBL options traders still expect GLBL will pay a dividend in the month of June. (The $0.40 adjustment to the call value is an intrinsic value adjustment.)
Risks and Assumptions
The following is a list of some of the risks associated with my methodology as well as some of the assumptions I take when calculating implied dividends.
1.) The equation I use requires the stock price to equal the strike price. When this is not the case, I adjust by subtracting the options intrinsic value. This will subsequently create a discrepancy partially due to differences in the delta of the options being used.
2.) I rely on the option and stock price information I receive to be accurate.
3.) The borrow cost my broker quotes me might not necessarily be the going market rate at the time.
4.) I do not take transaction costs into consideration when calculating implied dividends.
5.) I rely on the notion of efficient pricing for stocks and options.
6.) Implied dividends change constantly, so the usefulness of the information provided by calculating implied dividends changes over time.
Lastly, keep in mind implied dividends represent an average expected dividend among investors, not a median expected dividend. So, rather than looking at an implied dividend as a target, you could be better served by seeing it as investor confidence in the ability or willingness of a company to continue to payout a dividend.
Conclusion
When dealing with a company like GLBL, it is important to point out dividends are not necessarily indicative of long-term survival nor will they enhance total returns. Nonetheless, even after everything that has unfolded over the past few months, options traders still believe GLBL will payout a dividend in June of 2016. While I am extremely skeptical of GLBL's willingness and ability to payout a dividend, I think it is important for investors to know options traders continue to believe in GLBL's ability and willingness to pay a dividend.
Disclosure: I/we have no positions in any stocks mentioned, and no plans to initiate any positions within the next 72 hours.
I wrote this article myself, and it expresses my own opinions. I am not receiving compensation for it (other than from Seeking Alpha). I have no business relationship with any company whose stock is mentioned in this article.
Editor's Note: This article covers one or more stocks trading at less than $1 per share and/or with less than a $100 million market cap. Please be aware of the risks associated with these stocks.