It has been some rough years in the metals market. Since 2011, copper has been on a long road downhill as shown by the iPath DJ-UBS Copper Total Return Sub-Index ETN (NYSEARCA:JJC). This slide downhill was caused in large part by the combination of reduced economic activity in China and a reduction in using copper as a financial arbitrage of the Chinese interest rates. China uses around 40% of the world's copper and holds nearly 80% of the copper stockpiles, according to Bloomberg.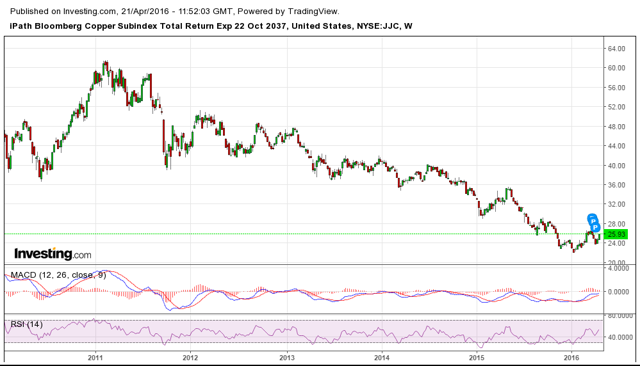 Click to enlarge
Source: Investing.com
Like gold, oil, grains, and other commodities, copper looks to be potentially forming a bottom near these levels. Just as commodity prices tend to overshoot on the upside, they also tend to undershoot on the downside. This makes copper attractive to investigate at this time. The definition of a down trend is lower highs and lower lows; conversely, an uptrend is higher highs and higher lows. With this in mind, we are anxiously watching the current price move and seeing if JJC can burst through the $26.75 level from its current price near $25.90. This will be the first indication that copper may have reversed its fortune and started an uptrend.
Disconnect between S&P 500 and Copper
Copper is an industrial metal and used as a barometer for economic growth. Typically, there is a high correlation between the S&P 500 and copper prices. The problem is we have lost that correlation since 2011, and currently show a stark divergence, as seen in the chart below.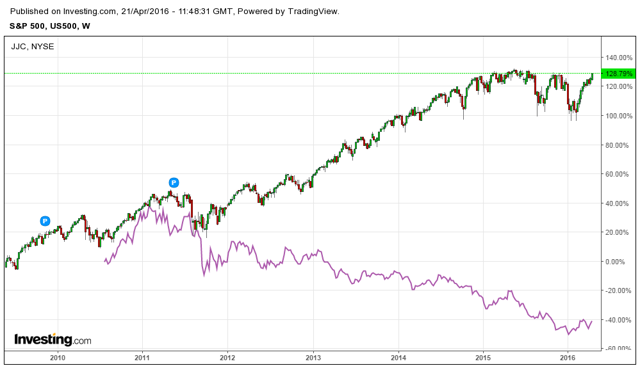 Click to enlarge
Source: Investing.com
This begs the question: Is copper no longer a barometer for economic growth? Do we just have a significant divergence between the S&P 500 and copper that will revert to the mean? I think investors will begin to realize the equity asset class has run its course and there are other asset classes that present a better value at the present time. William Koldus, another Seeking Alpha contributor, had a great article on the macro level rotation out of equities and into other asset classes: The Last Innings of An Aging Bull Market.
China Increased Demand for Copper
China had record imports of copper in March of this year both as a sign of increased demand and also to use as a hard asset hedge against fluctuations in the yuan, according to Bloomberg. China has made some economic changes to spur domestic growth, of which copper would be a natural beneficiary. With China looking to unload large federal stores of cotton and grain, it's very interesting that they are increasing their stores of copper. To me, this is a very positive sign that there is the prospect of increased demand, or at a minimum, copper is very attractive at current price levels.
Conclusion
Multiple commodities are making cyclical lows including oil, gold, and grains. I think copper is in the early stages of joining the party. A rotation out of the equity asset class should provide some speculative demand, leading to increased prices. I'll keep a close eye on Chinese growth to see if actual demand continues to increase.
Disclosure: I am/we are long JJC.
I wrote this article myself, and it expresses my own opinions. I am not receiving compensation for it (other than from Seeking Alpha). I have no business relationship with any company whose stock is mentioned in this article.
Additional disclosure: The information contained in this article is taken from sources believed to be reliable, but is not guaranteed by AgTrades, LLC, nor any affiliates, as to accuracy or completeness, and is intended for purposes of information and education only. Nothing herein should be considered as a solicitation to trade commodities, equities, or a trade recommendation by AgTrades, LLC. Futures, equities, and options trading involves the risk of loss. Past performance is not indicative of future results