Despite numerous design wins for its industry leading Snapdragon 820 processor, Qualcomm (NASDAQ:QCOM) reported 19% y/y declines in chip shipments, referred to as MSMs in QCOM speak. Even getting a share of Samsung's (OTC:SSNLF) Galaxy S7 didn't help much. Despite near-term headwinds, the broad industry trends of the ascendancy Google's (NASDAQ:GOOG) (NASDAQ:GOOGL) Android OS and ARM Holdings (NASDAQ:ARMH) processor technology will probably lead to Qualcomm becoming the most important processor maker in the world.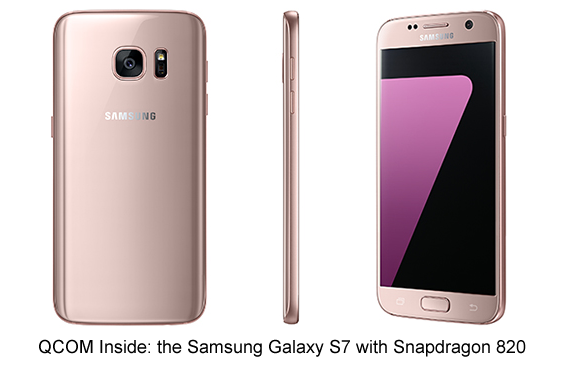 Source: Samsung
Understandable Reaction
Following Qualcomm's earnings report on Wednesday, the stock sold off a little and closed the following day down a percent. I don't normally pay that much attention to Mr. Market, but I could sympathize in this case. I was a little disappointed myself, although not enough to sell. I had expected the wins that Qualcomm announced at the Mobile World Congress to translate into a better revenue showing for the QCT (chip) division.
This expectation was fueled by the Samsung win since the year-over-year comp would be with the first quarter in which Qualcomm really missed not being on the Galaxy S6. Such was not to be. Chip shipments were down 19% y/y to 189M. QCT revenue was down even more, by 25% y/y to $3.337 billion. QCT earnings before taxes were down a massive 77% y/y to $170 million.
At the conference call, analysts were naturally curious to understand the shipment and revenue decline and received a plethora of somewhat conflicting answers. There were numerous references to "softness in the premium tier", without specific references to either Samsung or Apple (NASDAQ:AAPL). It's clear that the slowdown in iPhone sales had an effect on thin modem sales to Apple, but I would have expected the positive delta of getting on the S7 to overwhelm that. It may be that S7 sales haven't been quite as strong as people have assumed, and I'll try to get a better reading on this after Samsung's earnings report.
Tavis McCourt of Raymond James tried to pin Qualcomm down a little better on the y/y unit shipments decline and got this answer:
On the MSMs, as you look at year over year, there's definitely a significant delta from one major customer that is contributing. And what you're seeing in China is a shift in low/entry to mid and high, and so it's one of the reasons why you're seeing strong pickup in revenue per MSM in the quarter. So it's a story more of mix shift.
This reply was pretty representative of the entire teleconference. I think the best explanation is that the Snapdragon 820, despite numerous design wins, hasn't actually sold that well in unit volume (the overall softness in the premium tier). MSM ASPs are actually down about 7% y/y at $17.65.
Licensing revenue in the QTL segment was also down y/y by 12% to $2.135 billion. Overall financial performance for the company is still quite strong, as Qualcomm pursues cost reductions of $1.1 billion it has outlined in its Strategic Realignment Plan. GAAP operating income was up 6% y/y to $1.415 billion, and net income was up 11% y/y to $1.164 billion.
Near- and Long-Term Expectations
Qualcomm's guidance for fiscal Q3 (June quarter) wasn't particularly impressive either, calling for a decrease in revenue of 3.5% at the midpoint of the guidance range to $5.6 billion and an 18% drop in MSM unit shipments to 185 million at the midpoint of the guidance range.
There seems to be consensus that Apple is going to second source modems in the iPhone 7, and that modem may well come from Intel (NASDAQ:INTC). Qualcomm expects revenue from the 820 to ramp up through 2016, but QCOM didn't offer specific projections.
Qualcomm did offer full fiscal-year guidance for QTL revenue of $7.3-8.0 billion, but many analysts questioned it. Qualcomm admits that it still has only about 75% compliance in China and is assuming significant progress on the remaining 25% in order to make its target.
If Qualcomm's performance in fiscal 2016 were the only basis for making a decision, I would probably have to bail out, but I still regard its long-term prospects as good. Following Intel's Q1 earnings report and that of ARM, I'm persuaded that the ARM ecosystem has unstoppable momentum.
Qualcomm's position as the largest (and arguably best) merchant supplier of ARM systems on chip, which often are combined with QCOM's industry leading modems, positions the company as the heir apparent of Intel as a supplier of personal computing processors. Mobile devices, smartphones and tablets are becoming the personal computers of the 21st century.
And there are growing indications of an axis forming between Qualcomm and Alphabet's Google along the lines of the WinTel axis that dominated personal computing in the late 20th century. I just haven't been able to come up with a catchy name for it. Alphacomm? Andromm? Qualdroid? I'm open to suggestions.
Investor Takeaway
Given Qualcomm's opportunities in servers, IoT, and automotive, I'm willing to wait and see how things shake out in the mobile space. The 820 is a great processor and expectations that it will gain market traction are realistic.
I think a reasonable threshold of tolerance for Qualcomm investors is based on end of calendar 2016 results. If Qualcomm has reversed its revenue and unit sales declines by the end of the year, that's a good sign that QCOM has turned the corner. If it hasn't, I will definitely be reevaluating the stock. In the mean time, I consider Qualcomm a buy for those with a long-term (3-5 year) investment horizon.
Disclosure: I am/we are long QCOM, AAPL.
I wrote this article myself, and it expresses my own opinions. I am not receiving compensation for it (other than from Seeking Alpha). I have no business relationship with any company whose stock is mentioned in this article.
Editor's Note: This article discusses one or more securities that do not trade on a major U.S. exchange. Please be aware of the risks associated with these stocks.